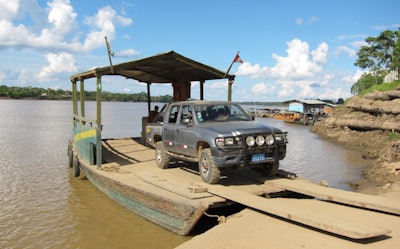 Last year Amy Smith, senior program officer for GFTN-North America, and I were trying to get to an FSC forest area in Peru. (See Part 1 and Part 2 of my posts about this.) We had missing trucks, flat tires, a rickety ferry and then made our way past several small brush fires to eventually, about 5 hours past our scheduled arrival, get to this tiny Peruvian town on the border with Brazil called Inpari. The town had three restaurants—two pizzerias and a chicken place that was closed because it was out of chicken.
My room was the best the town had to offer-it was $17/night (U.S.) and I was proudly told that the price included toilet paper. (But of course no toilet seat.) No hot water, either, and, of course, no AC. They turned off the power around 2 a.m., which meant the meager fan trying to keep me cool went off as well. Power was restored about 6:15 a.m. I know all these times because the roosters were up at 2:30 a.m., apparently upset about the loss of power, and continued crowing right outside my window until I left about 6:45 a.m. (I have a suggestion about how the chicken place could replenish its stock.) I am told that Peruvian roosters often get confused and crow at the moon.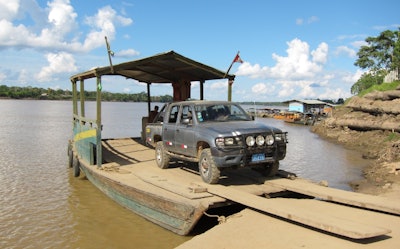 For breakfast, we went to Brazil.
After breakfast (unbelievably, Brazil was out of coffee, so no one was very happy), we went 3–4 hours into the forest to visit logging sites, and to watch skidding operations and a biomass counting project. My boots died somewhere along the way; we tied them up until I got out of the forest.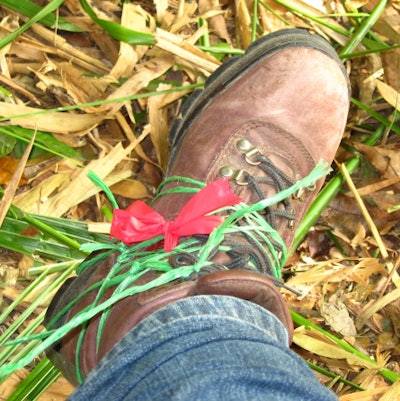 An important part of making an FSC forest economically viable is developing a market for LKS, Lesser Known Species. I asked Amy about the GFTN's work.
What is GFTN doing to develop markets for Lesser Known Species?
GFTN has been compiling technical, workability and use information for over 50 lesser known wood species from across the globe with the aim of reducing pressure on threatened or endangered species, increasing the commercial value of forests and enhancing the economic viability of forest management.
Using lesser known species from well-managed forests actually enhances the health of the forest. We look at the potential for these species to be a substitute for other species with high market demand. Using our information, buyers can identify potential alternative wood species and can be pointed directly to suppliers that offer these species within the GFTN network to source the products they need.
If other people want to walk their boots off and experience the first-class luxury of a jungle trip with you, do you have any upcoming missions?
In an effort to drive lasting and positive change in Amazon forests, the GFTN-North America and GFTN-Latin America and the Caribbean programs will be offering their fourth trade mission to South America to help link responsible demand to responsible producers. U.S. buyers will be invited to visit GFTN forest manager and manufacturer participants in Colombia, Peru and Bolivia.
These trips are an invaluable way for buyers to gain firsthand knowledge of what it means to source responsibly all the way from the forest floor to the factory, and to illustrate the benefits that GFTN provides to its participants. They're an opportunity for buyers pull on their boots, and get out into the rainforest to see what FSC certification looks like on the ground and how that differs from traditional logging operations. They'll also have a chance to hear directly from responsible forest operators about the ways that GFTN is assisting them in reaching their certification goals. Boot repair is just part of the service.
These trips have proven to be an effective means of linking up buyers and producers that share a similar commitment to responsible forestry and trade. The face-to-face interaction between buyer and seller and the ability for buyers to see forest and factory operations in person are instrumental in building business relationships. Once those connections are made, it's much easier for a buyer to find the credibly certified products he or she is looking for.
If you're interested in attending our next trade mission and would like more information, please contact me at amy.smith@wwfus.org