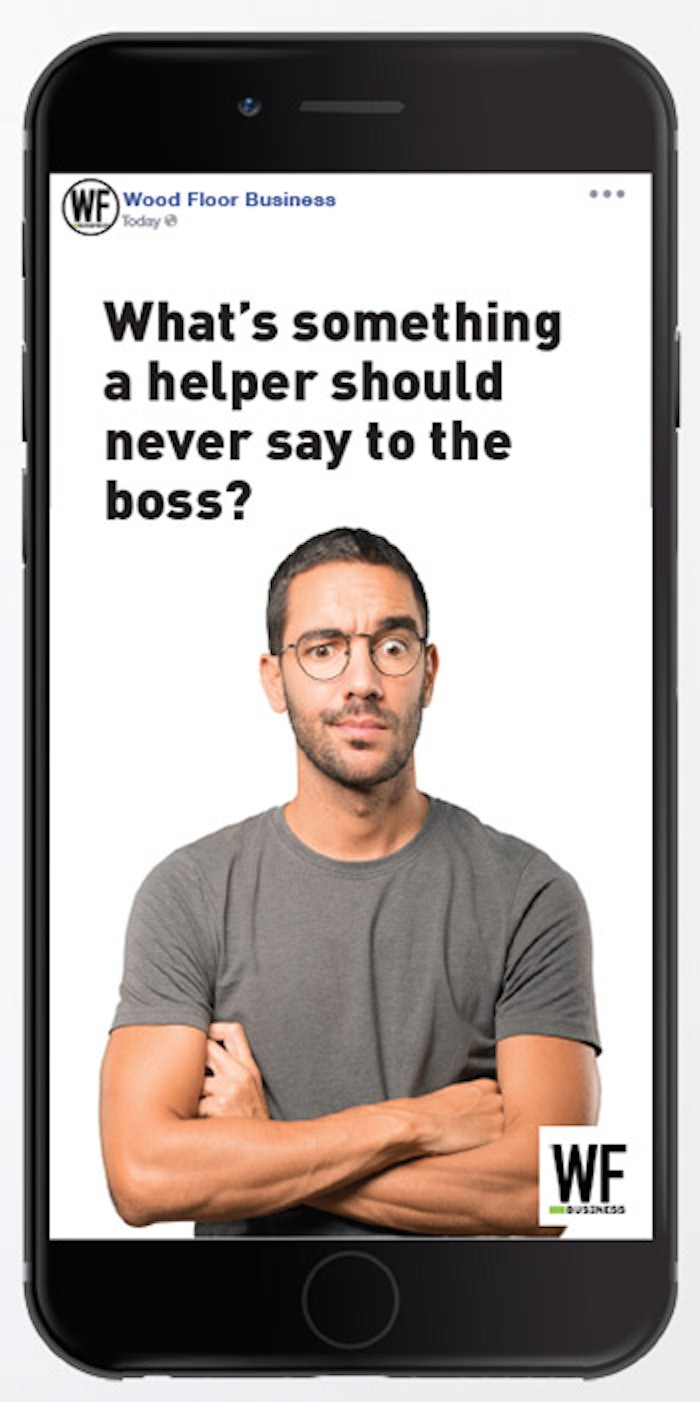 We asked you what an employee should never say to the boss. Here are our favorite responses shared by our readers on the WFB Facebook and Instagram pages:
---
David Diaz
I spilled a little bit of stain in the driveway.
Do you mind grabbing me some Swisher Sweets or White Owls?
Do you mind if I change this radio station?
Oh my god, that homeowner is hot as hell.
You won't believe what we found under the bed when we were moving the furniture.
Damn, I never thought those rags would ever catch on fire.
---
Brad Lawson
I forgot to add the hardener.
---
natureshardwoods
I'll be in the van on my phone if you need me, you can just text me!
---
mrboards
You know how I get a bonus at the end of the year—can I get it early?
---
Paul Alexander
How come I can't use my phone all day when you get lots of phone calls all day?
---
Wesley Elliott
I started seeing your daughter a few months ago.
---
Danny Urioste
"I know." That used to drive me bonkers. "I know, I know." No! You don't know. If you knew I wouldn't have to keep telling you!
---
RELATED: What's the Klutziest Thing You've Ever Done on a Job?
---
grahamfloorcovering
You're making good money.
---
Nicholas Washburn
I just woke up, still need me?
---
highclassimprovements
If I work harder, can I get a raise?
---
Bob Goldstein
Remember the company van? Well ...
---
Jaymes Rinker
I think after a few weeks I'll be on your level.
---
Ron Begg Jr.
Can you bail me out of jail?
---
Tim Mikels
Why don't you scrape corners?
---
Cody Thoman
Can I borrow the van to sand a floor for a friend?
---
James Welchko
I think I'm still drunk.
---
Jared Rawlins
My edger wasn't cutting right.
---
Justin Boone
What time are we getting off today?
---
John W. Saunders
It's your fault for not checking my work.
---
Glenn Harris
Can you pay me at the end of the day?
---
Mike Hanning
"Why aren't you doing it?" Because I put my name on the front of your check!
---
Alfredo Graham
I need to slow down, the job is going too fast.
---
Chuck Kutchera
Let's do it my way.
---
RELATED: What Complaint Did You Get About Your Employees?
---