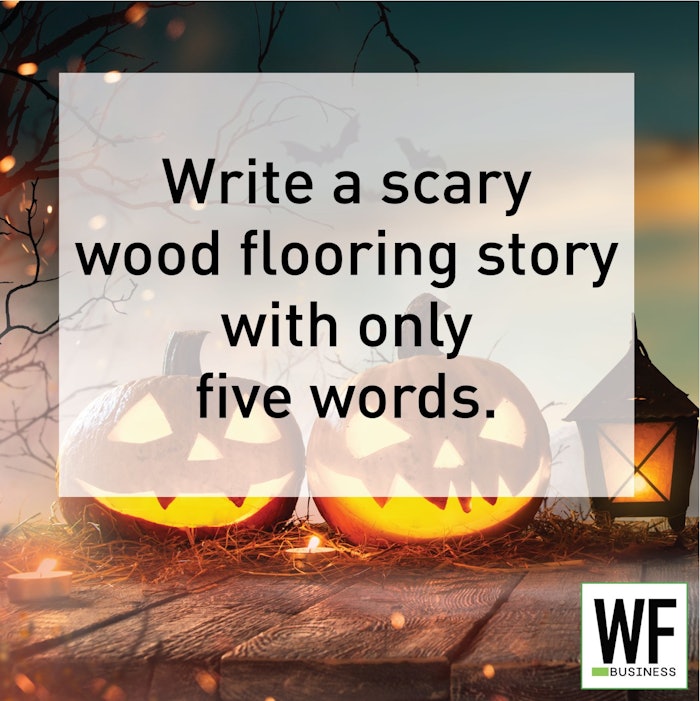 For Halloween, WFB asked its followers on Facebook to write a scary wood flooring story using only five words. See their terrifying responses below:
Bill Powell III
Hardwood floors are easy work.
Neal Garcia
My dog urinated on floor.
Genia Smith
Marked problems with sticky notes.
Bob Alberding
Forgot to bring my checkbook.
Andy Castona
Let me pull up Pinterest.
Chuck Kutchera
I'm always cheaper than them.
Jorge Perez
Homeowner didn't like stain color!
Ryan Michael Campos
Want my red floor white.
Brian Mailand
Dog walked across wet floor.
Paul Massey
Found body under the floor.
Daniel Frederick Reddy
I'd like a free estimate.
Mike Butler
Stop! That is too dark.
Charles Carroll
Taking up water soaked particleboard.
Junior Gutierrez
Eight litter boxes, one room.
Stephen Garza
Tape on every single board!
Wesley Elliott
Your check's in the mail.
Kristopher Lee Butler
I started sanding it myself.
Jim Clarey
We have to work Friday.
Jimmy Elrod
Not the color I picked!
Dean LaPointe
Let's see another stain sample.
Lou Buono Jr.
The designer showed up today.
Anton Djokic
The homeowner is an engineer.
Rob Hayes
Dog ran across the floor!
Robyn Miller
Sanded through to my underlay.
David Diaz
I spilled stain on driveway.
Jeremy Summerford
I'm a social media influencer.
Donnansteve Ray
Please work around my couch!
Wayne Walker
The color isn't dark enough.
Michael Schuetz
I rented this floor sander.
Brian Mailand
Sander hits the bedroom wall.
David Runyon
They wanted a bamboo floor!
William Burnam
I need to hire employees.
Gene Pelosi
The floor is not straight.
Mike Hanning
The dishwasher sprung a leak.
John Palmer
That's not the color I chose.