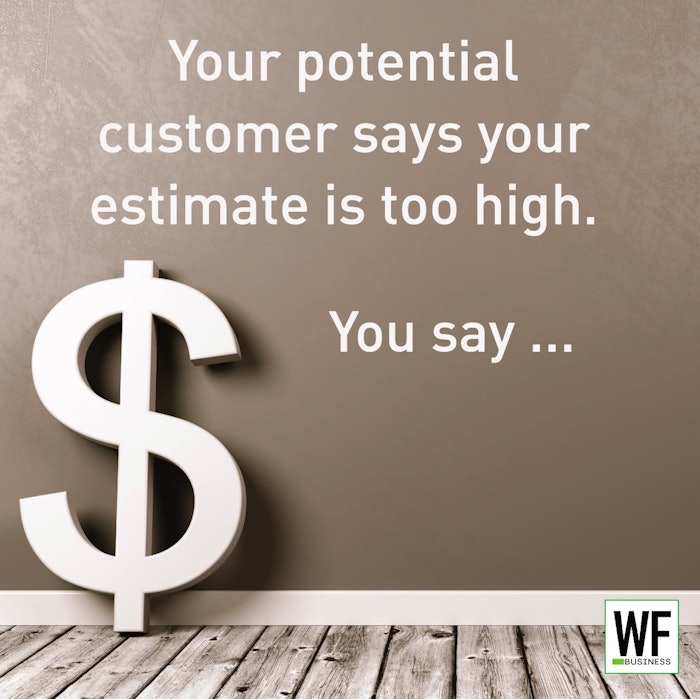 WFB asked wood floor pros on Facebook and Instagram how they respond when a potential customer says their estimate is "too high." Here's what they said:
Josh Marques
"If you think this is too high, imagine the cost of having to do it twice!"
Myra Smallwood
I don't tell them anything. At the end of the day, we aren't trying to be the cheapest option. I don't know what the other guy's process is. I don't know what products they're using.
David Runyon
"I'm sorry we couldn't agree. Good luck with your project!"
Chris J. Compton
I ask the client to consider why the "other" company is so cheap.
Matt Garcia
Just stare as awkwardly possible.
Patrick J. Russell
I'm willing to haggle a little bit. Also depends on the situation or persons. Most of the time I will stick to my guns. I also like a good barter.
Josh Rollins
"Good luck and I hope you get what you're looking for."
Jeff Munsch
You get what you pay for and I NEVER want to be known as the "cheapest contractor."
Nancy Jane Cardinal
"Compared to what?"
Rob Chewning
"There may be someone out there that will align more with your budget. Check Craigslist."
Bill Powell III
"Thank you; if you have any questions or concerns, don't hesitate to call me."
Prestige Wood Flooring
"Why do you say that?" Uncover some of their objections and see if they value the service you are offering. If not, part ways in a professional manner.
Sarah Dickhaus
"Give me a call when you need the repair done."
Joe Dawson
"Sorry we can't do business."
Anthony Magaro
"OK, let's compare apples to apples."
Matheus Leonel
"Thank you for your consideration, sorry we didn't come in within your budget."
Jake Schlichte
Nothing and move on to the next project. Clearly not the right fit.
Bee Ha
Literally two weeks ago:
HO: Would you match the other floor company's price?
Me: Depends, what is their number?
HO: About 50% less than you, but since you're highly recommended, we prefer your work.
Me: NO.
Lou Buono Jr.
"Your expectations are too low."
Wayne Walker
"Quality work isn't cheap and cheap work isn't quality."
Josh Marques
"This is my process, which of these steps would you like me to skip to bring the price down?"
Fino Oficio
"You will find out soon enough it wasn't … All the best."
Frank Strohecker
"Thank you for considering us for your project. Have a great day."
Tchardwood Floors
My old boss: "That's our price for our work."
Chuck Kutchera
"Thanks for your time, and here's our card if you change your mind."
Dan Hill
"Sorry, but I don't like to cut corners, and if anyone is cheaper they will cut corners."
Lorie Davidson
"Good luck and thank you for letting us bid your flooring project. We offer repair services as well if you need us in the future."
Nathalie Lindsay
"Thank you for the opportunity, but one word of caution: You know that old saying, 'You get what you pay for'? Well, that phrase really rings true in the wood world. Good luck on your project."
Jennifer McGill Pitts
"Let's look at some other options."
trumanhardwoodfloorservices
"Have a nice day."
dawsonhardwoodfloors
"Sorry for your loss."
wildwoodfloorscr
"Thanks for the opportunity to bid your job! Have a nice day!"
plankd_flooring
"Quality isn't cheap but cheap comes at a price … might see you in a few months."
mscsinc
"We don't expect to be the best fit for every project. It's OK to go with someone who thinks their quality is worth less than ours."
scfllc
"Then I may not be a good fit for you."
oldfieldflooringny
"That's our price. It's a fair price for a quality job and we stand behind our reputation. We are never going to be the lowest price and if that's the kind of work you are looking for, we are not the right company for you."
woodfloorsbybooksmart
"Let me know if you change your mind; I have your information on file."
universal_floors_dc
"If you don't go with us it will cost you zero."
mattsprofessionalflooring
"No hard feelings; thanks for having me."
godwinflooring
"No worries."
jameslobawakol
When we hear this, we assume that we either lower our price or don't get the job. That's not always the case. They're telling us we are "too high," yet they are on the phone with us. We can assume that this is the end of the conversation and end it. Or, we could transition it into a couple questions. "Why do you think we are too high? What were you expecting this to cost you? What kind of research have you done? How many estimates have you got? Are you sure we are comparing apples to apples?" Not everybody shops by price. In fact, very few do. Some don't know what else to say, so they just say we are "too high." Sometimes they just want to know what value we bring. By navigating this potential conversation stopper, we can find out what their real needs are and then address them. At that point, they might be the right fit for us and they will hire us at our price. If not, no harm, no foul. We will have gained experience handling the situation and it only cost us 90 seconds. When I got this, I was able to turn about half of them into signed contracts. Not because I am a genius, but because the statement "you're too high" was just something they said to get a dialogue going.
ddtngcbb
I lead with it. "I encourage you to get multiple bids. I won't be the cheapest for these reasons (insert all the reasons). But if price is your deciding factor and not quality, call (give them the number of the local hack).
michaelpat80
"Well there's a lot of guys cheaper out there than me, but you get what you pay for and I stand by my work 100%."
roguewitness1
Well they are asking and telling you two things with that statement. And an experienced contractor would know by meeting them what they really want. Are they saying they can't afford it or do they want a discount?
westwayhardwood
"You get what you pay for in this trade!"