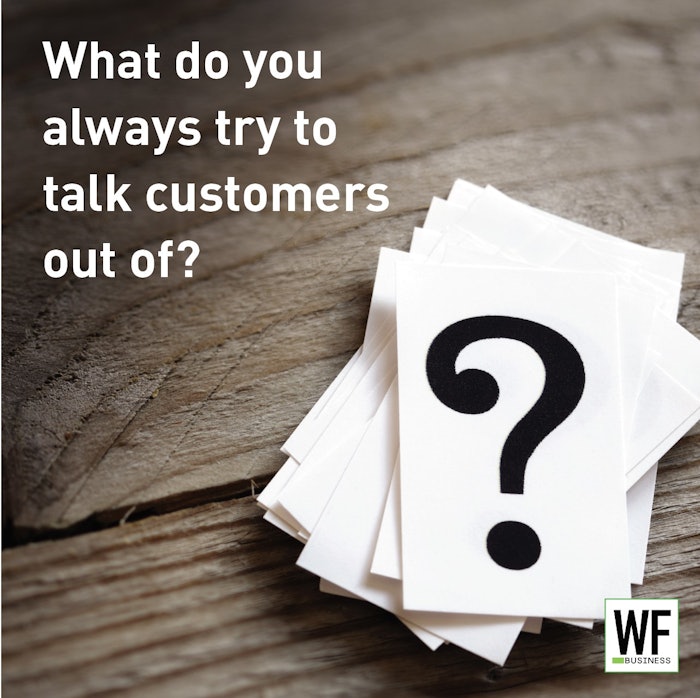 WFB asked wood floor pros on Facebook and Instagram what they always try to talk customers out of. See their responses below:
soulbrotha09
Re-coats on floors you didn't sand.
rabelohardwoodfloors
After finishing, repairing a board for a small detail can be a trap.
emorystansal
Tearing out/covering a re-sandable hardwood floor.
anthonyflicausi
Wood in the kitchen.
epichardwoodfloors
LVP.
mrboards
Carpet.
cottonwoodfinishesllc
Sanding black cutback off of crappy 100-year-old fir floors.
ryebread75
Dark colors.
plankd_flooring
Shopping on price alone.
ds_hardwood_flooring
Hiring the other guy.
eternity_floors
Filling gaps with wood filler.
florguy
Extremely dark colors or high gloss!
stisowoodfloors
White stain. And gray.
backtothewoodfloors
Stains.
abstractfabrication
Gray, all day.
ftwoodfloors
LVP for sure. Can't stand that $hit.
woodslanger25
Laminate floors or country white stained red oak.
Lars Frohnsdorf
Hiring someone else.
Gillespie Hardwood Floors
Using Murphy's oil soap to clean their new floors.
Dan Caffo
Scraping risers.
Chris McElroy
High-gloss and black floors.
Bobby Finch
Refinishing risers and stringers, "They look so good white!"
JimBro Kramer
Removing an existing floor because some flooring store said it can't be refinished.
Clint Fudge
Money. I always talk the customers out of their money.
Ron Teljeur
Covering or removing perfectly good flooring.
Daryn Stead
Going with another tradesman, i.e., a handyman/decorator (not a flooring guy) because they're cheaper … there's a reason for that.
Danny Stenhouse
Nothing really; it either be done or it can't, and if it can be done then we will do it.
Jim Hyde
Staining the floor white.
William Burnam
Having a wood floor installed in a new-build while their home is in the hands of a GC that is absolutely clueless about what conditions are required for a wood floor to be any part of his project.
Gregory Dozorec
Replacing a perfectly good floor with prefinished or LVP. Refinish and do your part to be environmentally responsible.
Wesley Goetz
Walking/living on their floor while we're working on their floor.
Kent Chavis
Gloss and prefinished floors.
Dave Mitchell Jr.
Going with a laminate floor.
Nicholas C Maxson
I won't work with cheap wood.
Estill Pence
Bamboo 100% of the time.
Mark Wagner
White pine, staining maple, and laminate.
Lou Buono Jr.
Staining whatever the newest trend is.
Iuke Biello
I don't talk them out of things. I give them the facts and let them make decisions for themselves.
Suzy Weaver
Dark stains.
Keith Elberson
Staining exotic woods!
Chad Reagan
Ebony.
Osiel Betancourt
Bamboo.
David Friedland
I try to do the world a favor and talk them out of honey oak.
Chris J. Compton
Stain. Enough fake in the world. Staining is an unnatural color and therefore fake.
Charles Brown
Using underlayment made for floating floors under hardwood, plain stupid.
Jon Weeks Jr.
Looking at Pinterest.