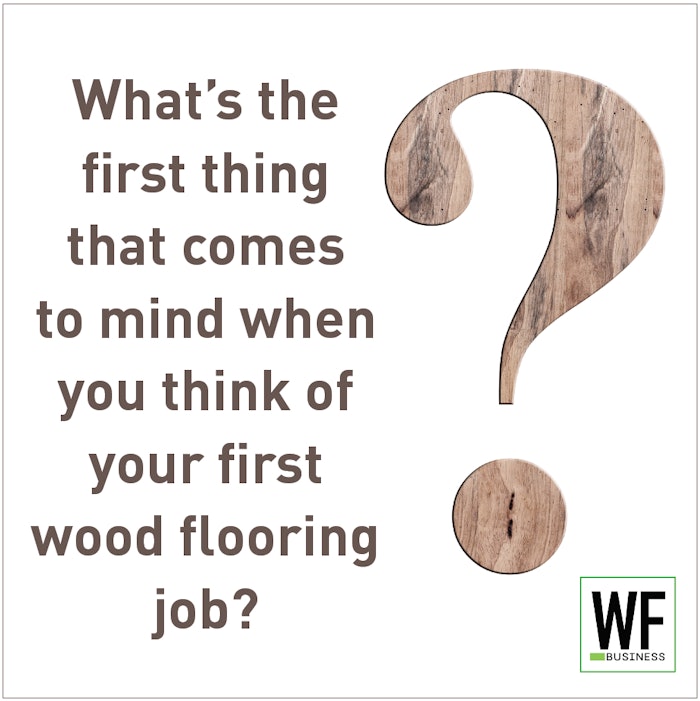 WFB asked pros on Facebook and Instagram to share the first thing that comes to mind when they think back to their first wood flooring job. Here's what they said:
Keith Elberson
Getting sent to the truck for a board stretcher and looking for one. If you never heard of that one, you're still wet behind the ears!
Shane Jones
Punching nails in the Bondi Beach club house. Even though it wasn't my first time on site, it was the first time I actually saw abrasive marks from an edger; and everything changed from there.
Michelle Lundberg Reichow
Ask my kids—Roy had them filling nail holes at an early age. Then came his granddaughter:
Mike Somodean
Stabbed myself in the leg while cutting bundles open with a razor knife.
Brian Adams
A breakfast taco with my cousin, who was working for my dad. I was about 10. He was about 18. It was raining and he was standing on plywood at the breaker box trying to wire up 220. Circa 1990.
Jerry Curran
On my own, hand-scraping 14 treads risers and stringers; my dad wanted nothing to do with it and told me I was crazy but to go ahead and learn the hard way. Well, in 1977 I had $250 in cash in my pocket after 20 hours of work; the minimum wage at the time was under $2 an hour—I WAS HOOKED. 
Paul Digiore
Damn I was slow.
Steven Fiscus
Pulling staples for 8 hours … I almost walked off the job, lol. Happy I didn't.
Mike Butler
Grrrr scraping aluminum oxide out of corners. And learning how to use a manual kleater with my wrong hand.
Daniel Caffo
Carrying 2,000 square feet of oak to the second and third floors of a house on Fairmont Ave. in Philly.
Lorie Davidson
The overwhelming smell of polyurethane and stain in the work truck.
Michael Schuetz
How my body didn't hurt.
Jim Hyde
The edger. I was given a 5-minute instruction and was off to the races. Boss had a bad back and I was his only employee at that time.
Clint Fudge
My hands were as soft as a kitten's paws… By the end of the day I had two cauliflower-sized blisters on the palms of both hands. I loved it. My first day of "real work."
Diego Arroyo
Cutting my thumb while sharpening the scraper blade.
Steve Houts
Scraping corners.
David Friedland
Why do I see all these scratches in the stain? Did I pick the right carrier? The "I'm pretty good at drinking beer" song came on the radio when I left the job to go back for the big machine.
Wesley Goetz
Classic rock, heat, folks smoking in the new construction jobs.
Bob Alberding
Being left alone with a Lägler trio in 1998 to figure it out on my own. Red oak long length with cherry boxed out as a border.
Bob Jewell
Grinding up tar using a Galaxy Omega solo with very little experience.
Jorge Perez
Nasty carpet, dog piss, dark walnut stain and poly. Uh uh, that smell!
Glenn Harris
Moisture cure.
Anthony Caffo
I don't necessarily remember the first job I worked on, but the earliest thing I can remember is going to a job with my dad and doing an estimate. He took me to McDonald's for lunch afterwards. I was probably four or so. Otherwise, my grandfather would always take me to the floor supplier with him. I always knew what I was gonna do when I grew up, there was never a question about it. I was gonna be a Flo man like my dad, his dad and his dad's dad.
Steve Smith
Pain.
Gene Pelosi
I drilled holes in the tongues for my 8 penny finish nails … an 8x8 area took me two days...
David Wood
Edger.
Paul Alexander
Blisters.
Micheal Seeley
Day 1: Rushed lesson on how to run a stapler. Nailing up half a racked-out room solo and leaving for the day.
Day 2: The huge bottle of pneumatic oil tipped over and leaked all over. Board replacement was the lesson. Oops.
David Runyon
Breaking gunk off 20-grit discs for the edger man while the boss went to get more paper.
Donnansteve Ray
Cross sanding.
Lou Buono Jr.
I remember the first time I sanded and finished a job by myself. The terror in my heart when I was about to lay the sealer, scared to see stop marks, swirl marks, sanding lines. But it looked beautiful. And that got me hooked.
Kristopher Jeter
5-inch hickory. I fell in love with the trade.
mariothehardwoodfloorman
Help!!!
j_rapaport_wood_floors
Lacquer sealer.
proelitefloors
"Why did I sign up for this?"
stevefretwell
Overwhelming anxiety.
emorystansal
Excitement and awe—first multi-million dollar home I'd ever been in, first time I ever felt like I was witnessing/part of true craftsman-style construction. I loved it then, and still do 18 years later as an owner/operator!!
vancouverhardwoodrestoration
I didn't know they made sandpaper this rough … was handed a 16-grit disc to sand a painted fir floor. We had the first coat on by the end of the day and it looked great. I was hooked from then on.
greenbayhardwoodfloor
"I should have stayed at a Holiday Inn last night."
plankd_flooring
How long the small job took compared to how quickly I'd do it now.
adams_hardwood_flooring
Holding the chord for my dad.
nhwoodflooring
Rental equipment, a 5-gallon bucket of oil poly, and a whole lotta dust …
definitivedesigns
Yowzas…
highsierrahardwoods
Failure—and from failure comes determination and success.
scfllc
Terrified hack.
saunderswoodfloors
Almost lost my big machine out the door of my van driving down Main Street.
williamsportwoodfloors
First job in the business I think of is very thick paint on a pine floor in a Victorian in Pittsburgh. First job working for myself I think of how the smell of Mega One is burned into my brain and the feeling of relief that it brings me.
floor_artisan
Working with my dad at 13, edging behind a fridge for a friend's house.
buonos_flooring
Buffer through the wall.
johnnyrodriguez6791
"Shoulda written down the number to that truck drivin' school."
jjhardwood
"What did I get myself into?"
waunakeedawson
16-grit edger discs and a ton of wax!!
hle.flooring
"I need better tools."
robjohnson9663
"How should I split the $35 with my helper?"
coquito_nava
My dad teaching me how to use a scraper and burning my hand under the old steam radiator in NYC.
dmhrdwd
"I found my calling!"