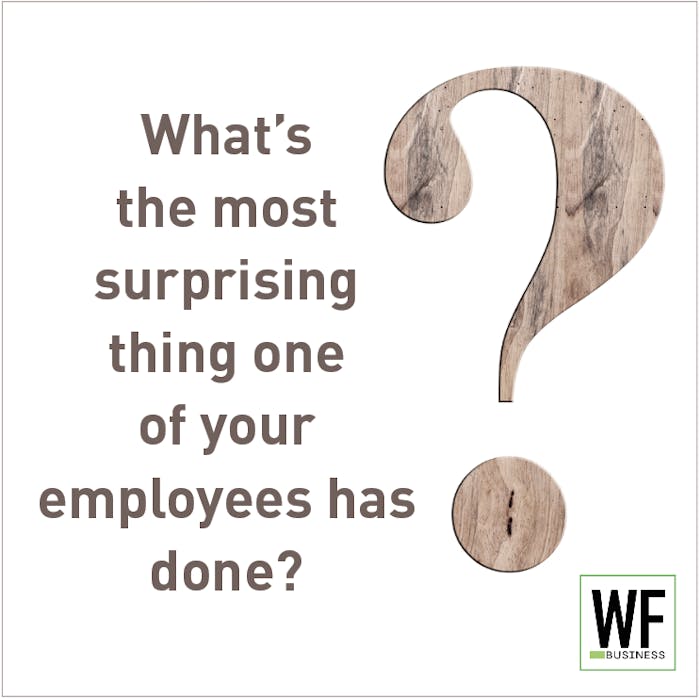 WFB asked wood floor pros on Facebook and Instagram to share something an employee has done that's surprised them. Here's what they said:
Bill Powell III
My employee made me this for my birthday:
Jim Hyde
Showed up for work the day after the Eagles won the Super Bowl!
Aaron Lee
He made mixed drinks at the homeowners' basement bar.
Brad Moore
Busted up an entire tile fireplace that we were not supposed to tear up. Also, had two coworkers a long time ago who stayed at the customer's home while they were out of town for the week.
Billy Cooney
Wore Winklepickers on the timber, STEEL CAPPED!
Dustin Bolin
Edged a whole kids room that we weren't supposed to do. It was full of toys and furniture, he actually pushed everything to the center of the room. We wound up doing that room for free.
Ricky Ammons
Trying to sand a knot out of a board with the nose of the edger.
Mark Hanes
Left skidders in customers' toilets. I got that awkward phone call the next day.
Kenny Williams
$hit on the floor in the basement of a new construction because it was winter and he didn't want to use the Porta Potty.
Joe Smith
Shown up.
Anton Djokic
Showed up on time.
Glenn Harris
Took a shower.
hardwoodman_
Finished the job on the weekend without me knowing.
mrboards
Showed up to work, lol.
acustomfloors
Bundled up rags with stain in a bag inside the van.
plankd_flooring
Tipped a full 16-kg bucket of glue in the storage compartment of my old vehicle. Spent the rest of the work day cleaning tools, materials and, of course, the vehicle.
cottonwoodfinishesllc
We split up for lunch. Come back from lunch ready to stain the floor we just water-popped. He's gone. Never heard from him again. Next day a garnishment order comes. And this is the weird part. After calculating his hours, they were exactly to the minute to the threshold of the garnishment, i.e., he left the minute a single penny would have gone to the garnishment. He was a weird dude.
durasealdave
Mixed 3 gallons of 2K finish when I only wanted him to bring it in the house to warm up for the next day.
dmhrdwd
Show up on time!
mjs_uniques
No comment—the trauma is too much.