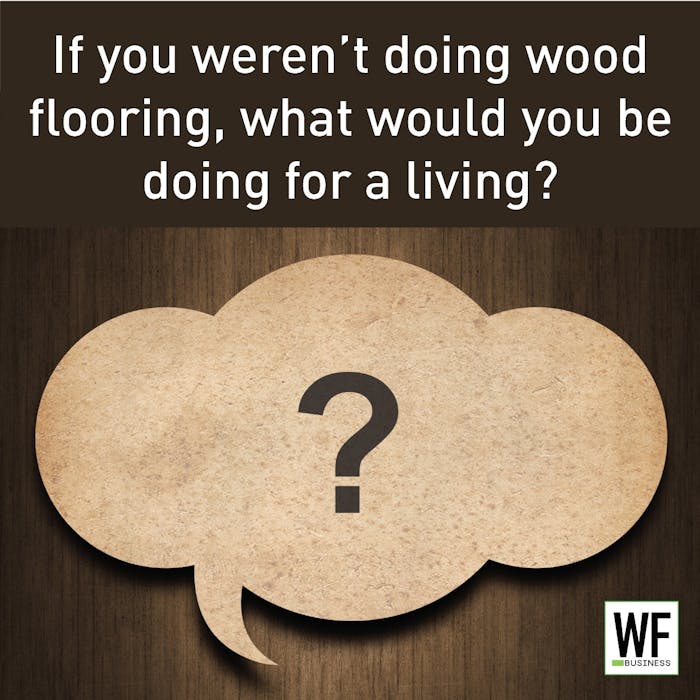 WFB asked wood floor pros on Facebook and Instagram what they'd be doing for a living if not wood flooring. Here's what they said:
floorgal1680
Photographer/graphic designer … like I was before wood took over my life.
habitatfloors
Either paramedic or pizza maker. Still not sure if I made the right career choice…
montereybayhardwoodfloors
Day trading.
sj_hardwood_floors
Probably be dead from trying to play music for a living.
fremont_hardwoods
Artist.
isandnewyork
I will keep this answer to myself. Let's just say, "Thank God for my uncles!"
stevefretwell
Plastic flooring, and hating it.
mrboards
Custom fabricator working on Harleys and race cars.
daniels_floors
My second career choice, in the event I can no longer be a flooring contractor, would be a career in fashion.
dbdurr53
Frog farming.
soulbrotha09
Working at Costco making the big bucks!
polycure
Librarian.
curtisbenge
Wood art.
robjohnson9663
Actor/singer.
fridhemgolv
Fireman.
deschuteswoodfloors
Probably law enforcement like my parents.
rios_flooring
Ironworker/ornamental horticulturist.
wenthurflooringllc
Cowboyin' or veterinarian.
twebb119
Probably back to the fire department.
charliefraser2
Mowing yards. Basically the same thing as floors.
allaround_flooring
Scuba instructing full-time.
markmeidra
Fisherman.
upstateflooringdesigns
Waiter.
roxanac202
Wholesaler of wood floors.
heartpineknot
Commercial fisherman.
peak_wood_floors
White collar criminal … duh!
Ron Teljeur
Well, if I went with my degree I should be a physicist … but ya, still banging boards...
Pawel Kolodziejski
Wood something else.
Jim Clarey
If i wasn't doing hardwood, it probably means I couldn't cut it as a hardwood guy. Pretty much just leaves drywaller or painter as an option.
Crystal Morgan
Legal secretary. Came back to the flooring business to work with my family. Now we are three generations.
Mark Seven
Musician. Applied myself in flooring more. Campfires only now.
Wesley Elliott
I don't know ... maybe ruling the Earth.
Joe Smith
My former field: Bicycle and ski technician/race tech.
Dan Hawkes
Airline pilot.
Daniel O. Saucedo
Own my tire business.
Claudio Nascimento
Tile … but I'm doing tile, as well … lol.
Jim Hyde
Carpentry, but knowing what I know now I'd be an electrician. Work smarter not harder.
Paul Digiore
Tile or stone.
Dean LaPointe
I started doing online college classes while still doing floors. Made for some long days and almost no weekends for four years. After 10 years of doing floors, I started as an entry-level accountant. Ten years later I am now an accounting manager for a publicly traded company.
Michael Ritchey
Recreational land manager/land realtor.
Neal Garcia
Trim carpenter.
Shannon Miller
Police detective. Oh wait, I do that now along with flooring. Haha.
James Mayfield
Autobody tech.
Christopher Bock
Sandwich shop and bee keeping.
Jeff Munsch
Welding and fabrication.
Michael Velli
Commercial fishing, as I did before wood floors.
Andrew Ogden
Firefighter.
Josh Lammi
Cooking BBQ!
Leroy Brookens
Teaching math and science.
Dennis Cudd
Commercial artist. My original intention out of high school. Forty-five years later … I'm still a hardwood flooring contractor. Lol.
Charles Elrod
Selling something.
Dennis Willbrand
Engineering.
Keith Dalton
Probably doing a little bit of strange for a little bit of change.
Brian Cooley
Something outdoors hopefully.
Jaime Espinoza
Prize fighting most likely.
Christopher Northmore
Something in boutique food manufacturing, probably using NZ-grown and manufacturing for export.
Mitchell Canter
Well, if I quit now I would probably go try to be a supervisor for a construction company. But if I had never gotten into it in the first place I'd probably be a mechanic.
Mark Hanes
Professional chair tester.
Chip Fauber
BBQ food truck.
Staci Sour Martinez
Weld, which I do as well already.
Nicholas C Maxson
Should have opened a pizza shop instead.
Ricky King
Professional poker player.
Danny Stenhouse
Be a big pharma CEO.
Aaron Fobert
Growing weed. Was a nice change actually when I did.
Jim Romaine
Flooring is my side hustle. Been in the commercial airline business going on 37 years.
Miguel Melendez
I'm a certified welder … so that.
Randy Golaszewski Sr.
I would probably be president or a circus clown.