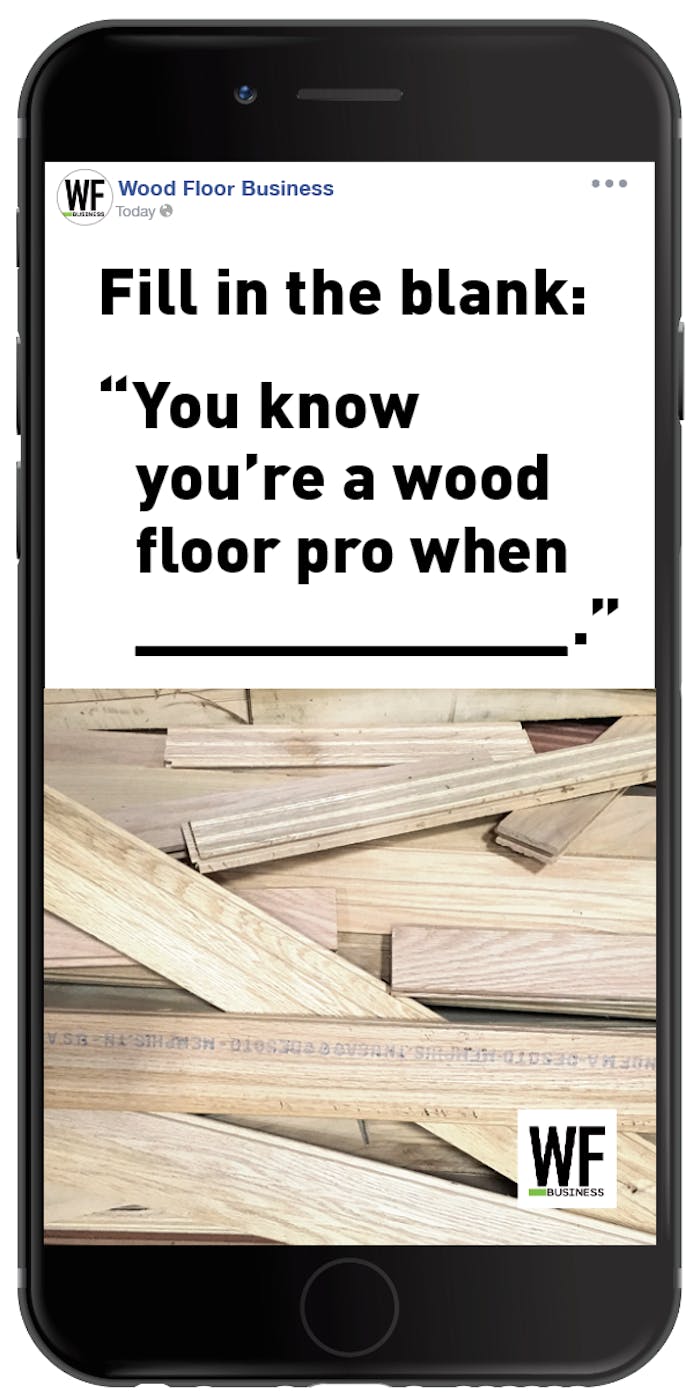 We asked our followers on Facebook and Instagram about how you know you're a wood floor pro. Here's what they told us:
geddeshardwood
You use the feeling through your feet to determine how flat the subfloor is!
Jim Hyde
You use blue tape as bandaids.
Benny Powell
When you wake up in the middle of the night and run outside in your skivvies to get a dust bag out of the van!
tierneyfloors
Your children (not just you) critique (good and bad) flooring installs in restaurants, stores, etc.
clintfudge.floorsander
When you pass wind, there is a small plume of dust.
soulbrotha09
You notice a good-looking floor but get down on your knees to get a closer look at the edges and corners. Sorry, not sorry.
Chuck Balek
When you drive through a random neighborhood with your family pointing out every house you've done the floors in.
artisanhardwoodllc
You can't enjoy your nice dinner because the floor needs sanded in this restaurant.
steve_suntup
When you look at a Playboy mag and notice the hardwood floor.
moosecardinal
You can tell whether the stain you're sanding out is from a dog, a cat or a human.
Timothy Winzell
You annoy your spouse by interrupting movies and TV shows to point out a wood floor.
HY Floor and Gameline Painting Inc.
When you go to a museum to look at the floors. Or watch a basketball game to comment on the floors.
Josh Hansman
When you're running the big machine and can hear a shake in the floor.
AmericanSanders Roy
You can walk through a room and never see what's on the walls.
Yolande Pfister Du Toit
You dream of floors at night.
Bill Powell III
When you walk across a floor and you hear crunching, and it turns out it's your knees, not the floor.
Eric Nylin
When you can spot other wood floor pros by looking at their shoes for poly.
T.J. Haas
You pick your nose with your thumb.
Chris Traver
One forearm is noticeably bigger than the other from swinging the mallet.
Casey Ditsworth
You have to eat your lunch with a putty knife.
Harbour Precision Floors
When you see a few pieces of No. 1 common in what is supposed to be a select floor.
---
RELATED: Create a Hashtag From Something You Frequently Say to Customers
---