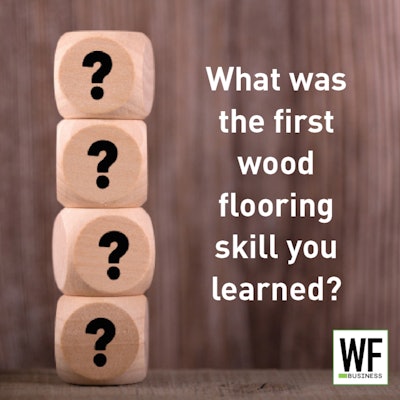 WFB asked readers on Facebook about the first wood flooring skill they learned. Here is what they said:
Michael Schuetz
Scraping and edging. Both jobs that are not liked.
James and the Giant Floor Sander Co.
Puttying edges and scraping corners for $50 a day.
Daniels Floors
Scraping corners and troweling wood filler.
Danny Stenhouse
Sanding—I hired a floor sanding machine, it was so bad (like all the hire machines) … Then, I sanded and finished my own floor about six times in a row, until my Mrs. had had enough and was going to kill me. This then gave me the confidence to ask local guys if I could come help them out … The rest is history!
Rob Prest
Still learning every year! Main skill I learnt was there's many ways to sand and finish a floor, keeping standards high is a constant skill 👍🏼
Bee Ha
Scrape. Many bloody cuts.
Daniel Frederick Reddy
Hand scraping. Like entire floors, not just corners.
Jason Vivash
Cutting the head maple bowling lane on a 45 with 36-grit using a 12-inch drum, without falling in the gutter. Luckily it had double wheels.
Joe Smith
Edging, and more importantly, how to edge without leaving swirl marks in the floor.
Chuck Kutchera
How to sweep the warehouse, and to load a truck properly.
Ryan DeGrange
Scraping corners, edging and filling. Which, to this day, I don't mind doing any of them. My son hates scraping and complains about his hands hurting after trowel filling. 😂
Luke Biello
Mid 90s. My dad's boss needed more bodies to run big machines in a local school gymnasium. So dad goes over the basics with me and says, "OK, get to work. I'll be over here running the edger." I grab a drink of water, head back to my machine and flip the switch. I hear a funny noise coming from the machine and look up. Poof, the cord is on fire at the connection about 75 feet away.🤣 That's the first thing I learned.
Cash Pyle
Before vacuums got good: Sweeping a floor for finish. As dad would say, "Sweep it so you can eat off of it."
Rob Griswold
Day 1: edging.
Shawn Myers
How to carry wood and place it properly ... first and second skills I learned.
Matt McGrew
Fetching.
Lorie Davidson
How to properly hold someone's big machine cord.
Paul Digiore
How to strip wax off stairs, learning how to apply wax and buff.
Wood Floor Chuck
How to properly vacuum a floor for a coat.
Chris J. Compton
First day doing floors I was being taught to run the edger. The guy I was working with walked me through it and let me have a go at it. He watched me for 10-15 minutes before letting me go on my own. He only let me first-edge to get the hang of it. Then he'd do second and third edging to correct any mistakes I made. Did first-edging for several jobs. Maybe a couple months before I started edging jobs to completion. That was over 22 years ago. I started my own company over 12 years ago.
Tina Darling Boone
Scraping corners.
Ron Teljeur
Sweep the floor.
T.J. Haas
Dumping bags.
Chuck Helt
Using a manual nailer, before you softies got air nailers. 😁
Lars Frohnsdorf
Very first job, I was handed a hammer and told to pound down every single nail in the subfloor. 1,100 ft and I never really swung a hammer before. I could barely lift my arms by the end of the day.
Neal Garcia
Hand-cutting jambs. Am I showing my age?
Chris Kritzer
Scraping corners, and spot-filling.
Dave Mitchell Jr.
Holding the big machine cable.
Jim Hyde
Put on the edger on day one with a 5-minute lesson.
Tim Mikels
How to cut 36-grit edger disc with a roll of drum paper, wooden mallet and a metal disc cutter.
Craig Charleston
Hand-sanding edges for a dark stain.
Tony Robison
The job ain't done until you collect the check!
Glenn Harris
Hand-scraping underneath radiators, vacuuming.
Gregory Brown
Hold the cord and empty the dust bags. I was nine.
Zach Smith
Edging and Scraping.
Russell Jackle
Hire a professional.
Travis Morse
Cutting paper for the drums, and punching edger discs.
Josh Lammi
Punching nails!
David Friedland
The Belt Sander.
Jonas Starita
Corners.
Dean Milazzo
Sharpen scrapers.
Karla Contreras
🧹Cleaning 🧹