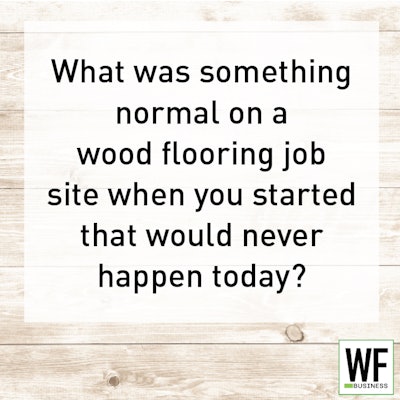 We asked readers to share something that was normal on a wood flooring job site when they first started out that would never happen on a job site today. Here's what our readers on the WFB Facebook and Instagram pages said:
Ron Teljeur
Model 45 nailers and no sign of a compressor...
Harvey Penner
Answering the phone at the customer's house because that's how the shop contacted you. It was normal.
Chris Kritzer
Back in the day the first thing that got set up was the stereo, and louder than the machines.
Stephen Gunneson
Using moisture cure.
Bill Powell III
New construction installation before the windows are put in.
JimBro Kramer
I used to be the paper cutter. I'd have to cut the paper for the drums and the edgers before I could even run a broom. We also used to not be available during working hours. We checked messages and faxes and made phone calls after we returned to the shop. I really miss that, lol.
James Garasha
People that wanted to work.
Steven Triplett Jr.
Beer in the lunch box.
Derek Fenderson
Installing non-nested bundles and using a chisel before the multitool.
Patrick Smith
Drumming a floor. The Pallmann Spider has pretty much made the drum obsolete.
Brendon Newell
Staining by hand with rags. Hand-sanding all edges to blend drum/edger.
Bradford Lawson
Undercutting door jambs by hand. What a waste of time!
Reddy Freddy
Hand-nailing starter rows and the last four rows.
Mark Crooks
Sealing the area in plastic…
Luke Biello
Driving to the job sitting in the back of the van on the BM because the job is only a few miles away.
Harbour Precision Floors
Buffing with a big screen.
Alfredo Graham
Cleaning glue off the floor with paint thinner.
Chris Allred
Lambswool coating pads.
Shawn Myers
Bags on the machines. Don't miss coming home covered in dust.
Plankd Flooring
Working an actual 8-hour day 😅.
Trent Langton
Buffing by hand because we couldn't afford a buffer.
Jim Hyde
We had the whole house to ourselves. Now it's a free-for-all.
Mark Hanes
Printed Yahoo maps. And you'd still get lost trying to find the jobs. This is how the wrong house gets sanded. 🫠
Glenn Harris
Hand-brushing moisture cure.
Rob Hayes
Using edger bags!
Bill Loba-Wakol
Employees making it a straight month without calling in with some excuse.
Harvey Penner
Sending estimates by mail, waiting for a mail reply, this could take a month or more. Now it's THIS SECOND!
Mike Hanning
Not being sore!
Beaver Hardwood
Dust bag on an edger and hand-nailing with galvanized nails.
Ron Schuetz
Hand-scraping under radiators…
Justin Waddell
Smoking cigarettes while working in new construction.
Joe Dawson
Non-pneumatic tools ⚒️.
Larry Putnam
Cell phones hooked to vehicle's horn. Everyone looking to see if it was their vehicle's horn.
Jim Dalton
Using a foxtail broom and coat, no vac.
Jeff Foster
Dual buffer!
Jorge Perez
Lots of dust.
Daniel Caffo
Mixing filler with gasoline and spreading it all over the floor.
Lars Frohnsdorf
Smoking on site.
Carlos Garcia
Smelly varnish.
Tony Horsman
Driving to find a payphone if you needed to call the shop.
Shane Scheimann
Talking in a house while putting down water-base, lol.
William Burnam
An empty place ready for your arrival…
Rob Griswold
Chisel and hammer board repairs.
Shane Jones
Smoking inside other people's homes.
Sean Tupper
Scraping or applying stain on hands and knees.
Reddy Freddy
5-gallon buckets of poly and gallons of stain.
Jeff Romero
16-hour days.
Daniel Springer
Vacuuming the whole house.
davidpotterflooring
A general contractor telling us what to do 😝.
david.shafer512
A clean subfloor. Now it's under an inch of drywall mud,
walnutgrovehardwood
Top-nailing the opening and closing rows. Especially the last three rows.
cottonwoodfinishesllc
SWEEPING up the dust from the buffer.
nemocockrell
Spraying diesel on the floor.
woodyshardwoodflooring
Having a helper!!!!
robjohnson9663
Hard plating with a 16" single-sided 80 grit paper with a 4" hole bolted on to a steel buffer plate with a 1/2" felt backing pad glued to the plate. Removin' some chattah! Lol.
onestopfloorsanding.co.uk
Getting paid on time.
jake.hilbert
36, 80, buff and coat.
soulbrotha09
Hand-nailing last three rows. Barb from Powercleats messed up my thumb and index finger.
traditional_floors
The client understood what they wanted…
wearmax_ceramic_coatings
We started out using a Dremel Roto Zip for repairs, now we have the Fein multitool, so much easier.
nickmaxson.eth
Palm-sanding without a vacuum.
tonyrod231
Hand-nailing rips with case-hardened nails, and edger bags with holes in them dusting the house up.
kelleyswoodfloors
Customers actually wanting some squeaks and creaks in the floor, because it's actual wood and that's what wood does. You know, it still thinks it's a tree.
ventura.bj
Lacquer-based finishes.
michael.james74
Sticking raw wires in 220 outlets 😁.
fioormstr
House was clean. Concrete was clean.