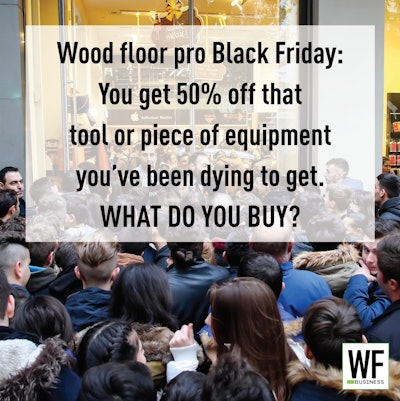 WFB asked readers to share what tool or piece of equipment they'd buy if they knew they'd have 50% off. Here's what they said:
David Friedland
4x4 Mercedes sprinter van 🤣.
Maxwell Flooring, LLC
Get me a remote control sander so I can eat and sand 🙂
Zurc Jos
Bona Power Drive.
Timothy Winzell
The most expensive I can imagine, a new van.
Gregory Dozorec
Semi load of white oak; if that's not acceptable I will take a semi load of Festool equipment.
Jordan Hall
Power Drive 💯.
Travis Morse
An entire truckload of FG Floortec equipment: one of each.
Oscar Ulises Carrillo
Bigger grinder with bigger vacuum!!
Kyle Thompson
New truck.
Karla Contreras
Does a new knee count as a tool? 🦵🏽🦿.
Bruce McRae
Full line of Festool with Sustainer system and vacuums to accommodate.
Larry Israel
Bionic limbs.
Bob Jewell
Smelt LED.
Jared Rawlins
New big machine, a Pallmann.
Saunders Wood Floors
Flip.
Casey Ditsworth
110% new boat.
David Runyon
Power Drive or Spider.