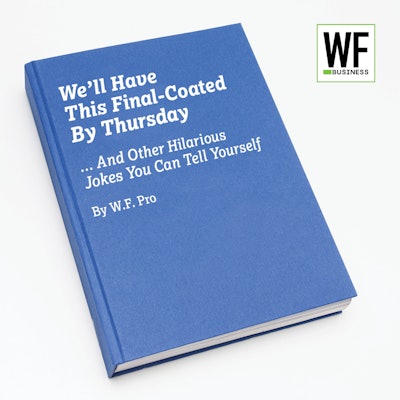 WFB asked followers on Facebook and Instagram to share the title of their book with us. Here's how they responded:
Josh Hansman
50/50: Find a way to finish, make it look good.
Ron Teljeur
It'll be smooth sailing from here...
Paul Shirley
That will buff right out.
Wesley Goetz
The Color Will Catch Up.
Steven Triplett Jr.
Blood, Sweat and Blue Tape: Surviving a career in wood flooring.
Gregory Dozorec
Well that didn't f*#kin go as planned.
Benny Powell
Yea, we can floor that!!
Bill Powell III
Homeowner/contractor is ready for us.
Travis Morse
As the drum turns: the young and the dustless. Memoirs of love and brain cells lost to oil base.
Michael Schuetz
Stains and how to sand them out. Yes, they all sand out (not).
Jorge Perez
Real Hardwood Floor Mastery For Dummies.
clintfudge.floorsander
We're determined to get this one right. We say that at the start of every job, as we're unloading our gear.
oldschool_hyde
Don't listen to me, I didn't wear my respirator today.
mn_floors
This shouldn't take too long.
plankd_flooring
It'll go fast once we're in open space!
grahamfloorcovering
Once the prep is done it's all easy from there.
cottonwoodfinishesllc
A flawless floor, every time.
bostonfloorsanders
It just needs a light sand.