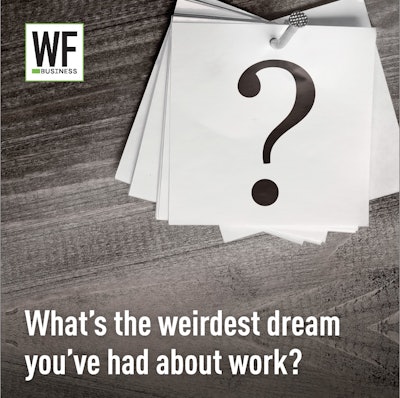 Most pros have a dream wood flooring job, but have you ever had a dream of your wood flooring job? WFB asked followers on Facebook and Instagram to share the weirdest dreams they've had about work. Here's what they said:
Dane Smidt
My "dreams" are about wood floors. My nightmares are about my carpet install days.
James Harbour
I've had dreams of jobs I've never quoted or even looked at before, and for some reason I'm stressed that I haven't even started or finished them yet. 🤷🏼
Mike Wong
Don't know about weird but those 2¼ dreams make a restless night. ☠️
Benny Powell
I do each job in my sleep before I go do each job.
Bill Powell III
Back in the old days when we were using the manual nailers, I still nailed the floors in my sleep. Swinging my arm and giving it my all. Punched my wife right in the face. Well … first ex-wife now.
Karla Contreras
I work all day and come home go to sleep and dream all night that I am working.
robjohnson9663
I was talking in my sleep, told my wife how to load the truck. I did have a dream that I was sanding a two-lane outdoor bowling alley but the lanes were like 500 feet long (actual length is 60 feet foul line to head pin). Kept trying to explain to my uncle that they will not be able to bowl on this, it's ridiculous! He never said a word, just pointed down the 500-foot lanes and left.
cottonwoodfinishesllc
The year is 2040. I'm 60 years old leading my squad to their almost certain death in a final assault on a burnt out neighborhood in Scranton, Pa., in what used to be called the United States. All because there was a single hair in the final coat of that quirky and aggressive software engineer's floor. If only I'd had a plan of attack.
grahamfloorcovering
At the job site but can never get started.
hd_wood_floors
My guys show up earlier than me ... on Monday ...
jimdevins
That I made a ton of money!!!!!
woodyshardwoodflooring
It was such a weird dream, so unreal … I was doing this job for a customer and they were happy and wanted to pay as soon as I was done!