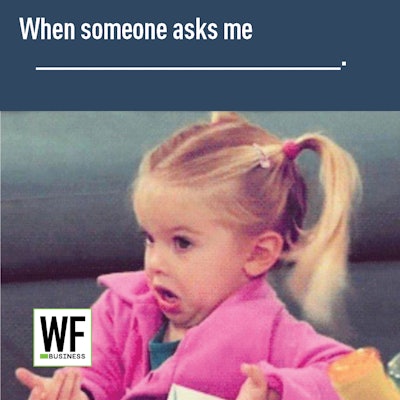 WFB asked followers on Facebook and Instagram to fill in the blank for this popular meme. Here's what they said:
Jeremy Summerford
"Why does it look darker than the sample?"
Daniel Caffo
"Why was the other guy's price 1/3 of yours?"
Bill Powell III
"Are you hiring? My grandson needs a job."
Chuck Kutchera
"Seriously, I've never seen this in all my 40 years of hardwood."
Mike Stauffer
"Can you just refinish one room at a time?"
David Merrill
"When will you be done?"
Yolande Pfister Du Toit
"Does your coating take away the energy of the wood?" 😅😅😅
Mikie White
"Why don't you give price breaks on natural floors?"
Rylee Bush
"Why did my white trim turn yellow?"
Wesley Elliott
"Can't we just do a light sanding?"
Elise Jenna Djurinovich
"So I can just rent the sanders at Home Depot and do it myself?"
Angel Olalde
"What do you use to get in the corners?"
Michael Gwin
"Does that look like a footprint to you?"
Jimmie Luckey
"That's not how they do it on YouTube."
Bill Loba-Wakol
"When will your guys be here!!!"
Timothy Winzell
"How long will the floor take to dry out?"
Daniel Springer
"Do you give discounts for cash?"
After he asked, "Can't you just take the check that just bounced to the bank?"
Rogelio Longoria
"Hey, can you finish on the 18th? Homeowner wants to move in the 19th cause their lease is up on the rental." 😡🤦🏽‍♂️🤦🏽‍♂️🤦🏽‍♂️
Beaver Hardwood
When someone else if my back hurts for the millionth time.
Ron Teljeur
"Do you know where I can buy good cheap flooring?"
Van A Stahl
"Can this be sanded?"
Cairoh Chapman
"When can you start the job?"
Jessica Colpron
"Where's the board stretcher?"
Anton Djokic
"Why do you charge more for oil-base?"
Bryan Seaman
How the stain got on the wall.
David Page
"It's going to cost HOW much?"
plankd_flooring
"Can you come tomorrow to sand my floors?"
woodyshardwoodflooring
"Where are your guys?"
freshwoodswoodflooring
"How long until we can walk on the floor?"
floorsbytheshore
"If you can lower the price by half, the job is yours. I'll even let you start tomorrow."
john_booth502
"How long should this floor last?"
brown_oaks_flooring
"Do you know what you're doing??"
teal_toys
"What do you think of the LVP I purchased?"
ds_hardwood_flooring
"We moved our fridge and gouged our floors, can you fix it?"
ewfreeland0815
"What should we do about these gaps?"
nexconceptdesign
"Can you stain and apply three coats by the end of the day?"
charliefraser2
"How does your price compare to Home Depot?" 😂
banks_xv
"What will the next flooring trend be?"
iansquirefuller
I swore it looked like red oak. 🤷
kshardwoodfloors
"Can you match the floors to our LVP?"
javincenti
"Who ran the edger over the tile?"
sgv_hardwoodfloors
"Are you going to clean the walls after?"