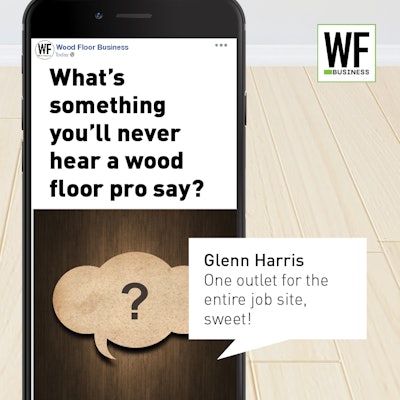 We asked wood floor pros this question. Here are some of our favorite responses shared by our followers on the WFB Facebook and Instagram pages.
Matt Keys
Put blue tape on the spots you're not happy with.
kulfloors
Yeah, sure, invite every other trade over at the same time.
Glenn Harris
One outlet for the entire job site, sweet!
justinsane_v3.0
Yes, I would love for you to help me with the project so I can do it cheaper!
Dean LaPointe
I'll put down as many stain samples as you want.
beaver_hardwood
My back feels great today!
cottonwoodfinishesllc
Sure, we'll move that piano you said would be removed before the project we scheduled two months ago, free of charge, of course.
b_joy_2
I agree, you should totally install waterproof laminate over those old wood floors.
witkumhardwoodflooring
Beautiful carpet!
Everett R Barnsley
You're in luck, we're running a "light sanding" special to the end of the month for only 25¢ a foot.
Cairoh Chapman
That paint spill should wipe straight off …
Joe Smith
No, you don't need to place a deposit. Just call me when you're ready and I'll come runnin'!
bvlconstruction
My favorite part of the job is scraping corners.
Mike Hanning
We'd be happy to move all your furniture in and out!
leonardjj95
I love patching dog pee on a Monday.
Clint Fudge
Nah, the dog's fine, she can come and go.
Bill Bagley
That old shellac sanded off way too easily! I feel cheated.
jeremydaniel7069
My job is too easy!
Alan Lovstad Hardwood Floors
Just leave the flooring on the first floor. I will carry it up.
dustless_collingswood
You're right, it does just need a little bit of sanding.
Chuck Kutchera
I'll work Saturday and Sunday, my wife won't mind.
Bill Powell III
This was such an easy job I'm giving you a discount.
David Runyon
You should just cover that up with carpet.
Follow WFB on Facebook and Instagram to see the next chance to be in the Talk Back column.