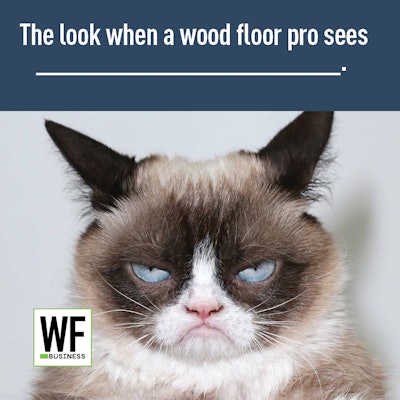 WFB asked followers on Facebook and Instagram to fill in the blank for this popular meme. Here's what they said:
David Friedland
A floor that they recently finished that's now cupping and has construction debris all over it.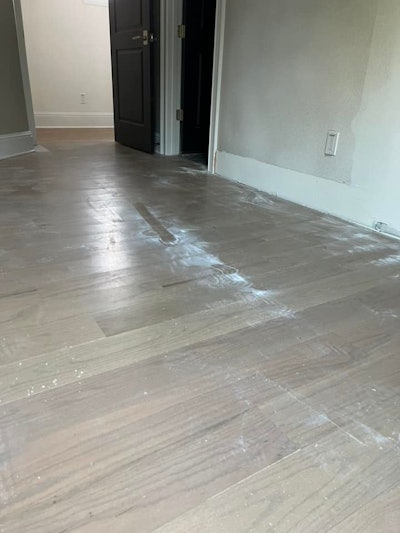 Mikie White
Electricians. At the job, leaving the job, at the store, in traffic, wherever really.
Daniel Springer
Grease and water spots in the kitchen you just got done sanding.
Andrew Halabrin
The new guy not edging how you just showed him to for the umpteenth time!!
Ed Sheridan
The room I was supposed to work in this morning: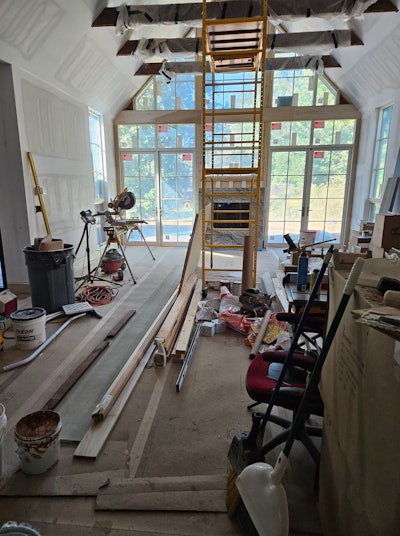 Leroy Brookens
Electricians on our just-finished floors.
Sean Papierowicz
A house full of furniture on the start day.
Tara Jensen
Other trades in the house on the day you show up to do the final coat. 😖
Wesley Elliott
A cat standing at the top of the stairs looking at you as you're closing the door on the final coat!
Jason Bequette
An electrician.
Chris Betts
Someone "sAnDinG tHeIR OWn fLlOorS" got their orbital and rental buffer.
Christopher Morrison
Horrible sand job in a billion-dollar hospital!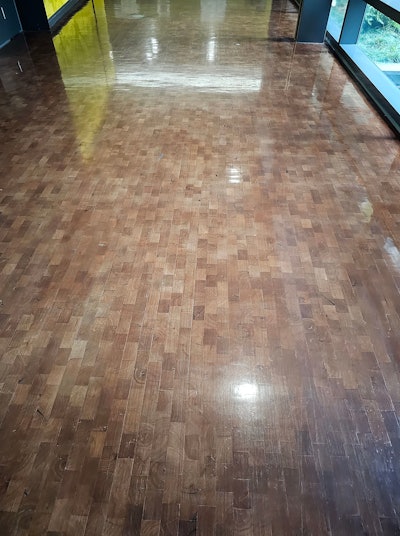 Nick Spano
The heating and air guy is there when you pull up.
Michael Gwin
Paper taped to a freshly coated floor.
Anthony Boccia
A customer walking on a wet coat.
Eric Nylin
Painters with no type of floor protection.
Glenn Harris
Literally anyone walking to the front door while I'm doing the final coat.
Dan Hill
The painter painting on the day you have to sand floors.
Timothy Winzell
After you drive to a site for an estimate, only to find they already have someone doing the work, and they weren't courteous enough to cancel the appointment. Then you realize that you probably don't need that kind of customer.
Ron Teljeur
The general contractor's repair job.
Jim Hyde
Blue tape on naturally occurring character in wood.
Jarrod Wellmann
When someone touches my big machine.
John W. Saunders
The arrogant cat that just walked across your wet polyurethane floor.
Christopher Cook
The tape and sign I put up torn down and footprints all over the floor I just spent two days UFOing…
Cory Schubert
A carpet installer with a brand-new staple gun.
Kenny Williams
Pieces of blue tape on the floor when you go back to do the final coat.
Michael Stevens
Paint on the floor. 🤷
Troy Stanfield
Anything that has settled in the finish…
Anthony Boccia
Another contractor starting their job.
Silas Dittmer
Carpet protector with adhesive rolled out on a freshly coated floor…
Michael McDermott
A speck of dust in the finish.
David Runyon
Post-it notes all over after the sealer went down.
Kristopher Jeter
Wet finish pics.
Mark Dittmer
They don't like the color the next day after you spent an hour figuring it out for them.
sgv_hardwoodfloors
LVP ads.
floorsbytheshore
Short boards on a wide plank floor. Or any floor for that matter.
weloveparquet
"It only requires a light sand."
norman_jewell_hardwoods
Dusty shoe prints all over a taped off floor.
ddtngcbb
Stair steps and H joints.
delaware.valley.hardwoods.jim
LVP being labeled as "Real wood."
johnnyrodriguez1976
Six trades at a new project commence day. 😫
cottonwoodfinishesllc
The piano in the middle of the room the client said they would remove.
vintagefloors1
The wrong type of TAPE on a newly finished wood floor, put there by a painter who should know better‼️😡
hawkman1968
A customer whipping out their DuraSeal stain chart and expecting you to have ALL the stains on your van.
cordova_floors
Showing up to a job that has one hot 110 and four other trades in the house.
robesmith357
Blue tape party from the night before.
hardwooddoctor
When you get onsite and the contractor has stacked four or five other trades in there with you because he's behind…
alabama_hardwood_specialist85
They want you to use a new technique they saw on Pinterest.
whats_an_absoun
Trinkets still layed out all over the furniture the morning we're supposed to start.