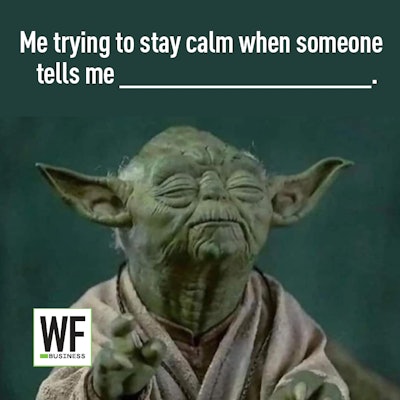 WFB asked followers on Facebook and Instagram to fill in the blank for this meme. Here's what they said:
Fino Oficio
"But the other team is way cheaper…"
Dalibor Iveljic
"We want to install laminate over the old wooden floor!"
Daniel Caffo
"There might be some footprints. My kid had to walk across to get his/her soccer gear."
Elise Jenna Djurinovich
"This looks nothing like the sample color I picked."
Mark Hootselle
"There isn't any 100-grit in the truck."
Doug LeClair
"I've done a LOT of research."
Connecticut Wood Floors, LLC
"I want you to hold off on the final coat until all the other trades are done."
Robb Bentley Maxwell
"Stay calm."
Bill Loba-Wakol
"There's this color stain at the paint store we really like but we need this done in four days."
Daniel Springer
"The tile guy dumped a 25 pound bag of grout down a shower drain, we need to cut it and it's where you're working so we can pass inspection on Friday!"
Nathan Kelly
They mixed three finish brands.
Robert Urban II
"That's not the right stain color."
Steven Triplett Jr.
…some advice from a YouTube channel made by a guy that has 1/10th the experience I've got.
Kale Paul
"The painters are here."
Mike O'Conner
"My husband and I were watching HGTV and…" 🤯🤯🤯🤯
Kristopher Jeter
"We don't want wood, we want LVP."
Joe Smith
"We're having a party this weekend, will you be done by then?"
Chuck Kutchera
"I know you've just stained my floor dark, but I decided I want it natural. Can you still be done on time?"
Ron Teljeur
"It's not great finish, it dented when I rolled the fridge out and scratched when I dragged my kitchen table in place."
Rob Griswold
"Can't you just glue over the old glue without removing it? Glue sticks to glue, right?"
Bob Alberding
They dripped something in the kitchen last night, but don't worry—they wiped it up.
Chris Traver
"The resand is aluminum oxide."
Van A Stahl
"There's no paper in the port-a-potty."
Johnny Albers
"I'll have three more houses you can do if you do it for this low price."
colonialfloorsofva
"Can you choose the color stain for me? How do you think this color would look?"
martyd_83
"Get the red out." 😣
christieshardwoodflooring
"I know it's the color we picked, but now that we see it finished we might want to change it."
ican_fixitman
"Always clean with Murphys oil soap, I do."
justwoodflooring
"I don't like that particular knot, can you swap the boards around!!" 🙄
prohardwoodflooringniagara
"When I tilt my head down the hall in the morning…"
originalflooring
They seen it on YouTube. 🤨🤨🤨
robjohnson9663
"Can you hold off on the final coat so we can paint this weekend."
angushardwoodflooring
"Can you please come tomorrow? We are not ready yet."
chrisstraitiff
"Nobody will see it."
tobywasafloorguy
They want red oak to look like white oak.
towncountrywoodfloor
"The stair risers are part of the floor."
cashpyle_loba_wakol
"I marked all the spots I have questions about with blue tape." (I lose it when they use sticky notes.)
darin_dupree
"We don't like the sheen."
samsaraino
"I love it BUT…" 😢
anthony_boccia
"Thanks for coming over, this is the architect."
markmeidra_woodfloorpro
"I need you to get in touch with my interior desecrator." 😂😂😂😂
americashijo
"…I went from 36-80…"
micah_loberg_and_lobawakol
"My last floors held up for 40 years."
hpedro_94
"I didn't have time to move the furniture."
commongroundsales
"There's a small speck in the finish over there. I noticed it while crawling along the ground with a flashlight to make sure you did a good job. Please repair it or give me a discount!"
kingratchet904.3
"Why does my floating floor sound hollow?"
dmspolishing_floorsanding
"It only needs a light sand…" (What they actually mean is they want a cheaper quote.)