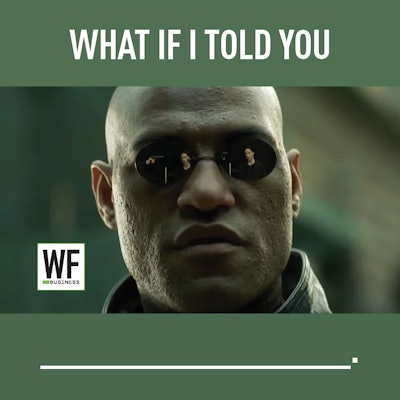 WFB asked followers on Facebook and Instagram to fill in the blank for this popular Matrix meme. Here's how they responded:
cedar_valley_wood_floors
... the guy on YouTube has no idea what he's doing.
alberdinghardwoodflooring
... you could charge double and afford to lose half your estimates.
robjohnson9663
... I can take the red out of red oak.
darin_dupree
... yes, these real hardwood floors will outlive you and your entire family!
ds_hardwood_flooring
... the truth about LVP.
johnnyrodriguez1976
... it will get back to its normal state, just give it time.
prohardwoodflooringniagara
... that is the baseboard shadow. Not the picture frame staining you think it is.
jenkins_hardwood_flooring
... LVP is not an upgrade to anything.
cottonwoodfinishesllc
... the floor is lava.
beaver_hardwood
... there is more to life than wood floors.
weloveparquet
... that you won't be paid.
dodenhoffhardwoodfloors
... if you do a good job on this one I've got more work for you.
doug_hamburger
... that machine should run left to right.
joshfayek1
... there is no floor.
dmufford
... hardwood floors used to be solid wood and could only be nailed down to a wood subfloor. 😳
advantagerefinishing
...white and gray aren't as popular as you think they are.
alabama_hardwood_specialist85
... a buff and coat will not give you the outcome you're hoping for.
Fino Oficio
... that vinyl and laminate flooring are actually the worst thing you can put inside your house…
Jenny E Riddle
… that the wood floors you see are not real. They are an unnatural illusion created by machines.
Ken Ballin
...that acclimation has nothing to do with how long your flooring has been in your house and everything to do with moisture content and humidity...
Anthony Perl
... the customer is RARELY right.
Eric Nylin
... that bamboo isn't wood—that it's actually grass…….
David Runyon
... there's no such thing as a light sanding.
Bill Loba-Wakol
... it's cheaper to do it right the first time.
Troy Stanfield
... wood floors will outlive plastic floors.
Robbie Allen's Custom Hardwood Flooring
... the filler won't hold…
Daniel Springer
... I don't wanna sand your floor. 😎