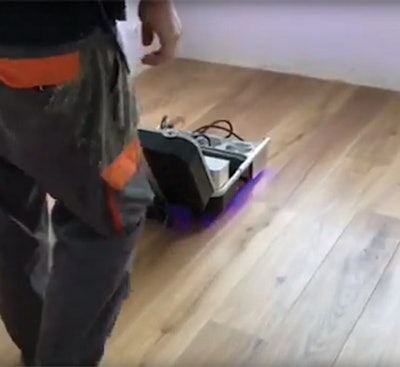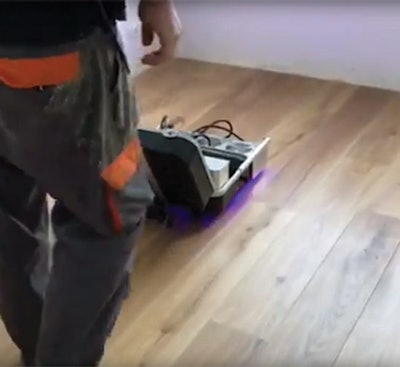 I've heard some guys talking about LED-cured job-site finishes. I've never heard of them. What are they and how do they work?
Rick Southern, director of U.S. operations for Vesting USA, answers:
The idea for these products is similar to UV-curing job-site finishes: The finish is applied as it normally would be on any job, but then it is cured instantly on the job site using LED light. Currently the finishes on the market for this technology are hardwax oils. Just as with UV-curing job-site machines, there is a stand-up machine as well as a smaller handheld machine to cure areas that the larger machine can't reach, such as next to baseboards and toekicks.
Using these finishes is very much the same as any other finish, with the difference being in the curing process and timing. Once the finish is applied, it can be cured with the LED light machines immediately. You walk slowly while pushing the LED curing machine, with the light curing the finish before the wheels contact the surface. It doesn't matter what direction you walk in, as the curing process doesn't care about grain direction, but you need to figure out a route so you're not putting the machine wheels into wet finish. I like to do half the room at a time, using tape to mark off the area, curing that half, then doing the rest once the first half is cured. When walking behind the machine, it's important to stay on a straight line because if the back wheels veer into wet finish, they will leave marks that will show in the finish.
---
RELATED: Familiarize Yourself with Site-Cured UV Finishes
---
There are some key differences in the LED process compared with the UV process that some contractors are used to. The LED machines are 120-volt and have a bulb life of 30,000 hours. Because the bandwidth of LED light is so much narrower than UV light, the users don't have to wear protective clothing or UV goggles, although some LED users still like to wear sunglasses (as with any light, the user should avoid looking directly at the light). Skin irritation is not a problem with LED products, but as always when working with finishes, it's best to wear nitrile gloves to protect your skin. The difference in light also means the LED machines don't generate significant heat and won't burn the finish or platform. Additionally, customers who are interested in green products might find these products particularly appealing, as they don't create any ozone or emit solvents or VOCs.