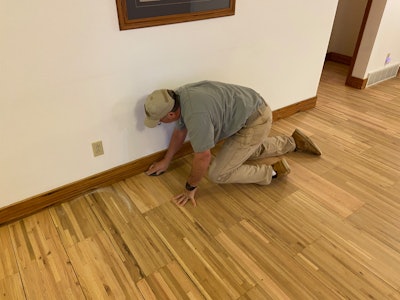 I spend every day helping contractors, and I'm surprised by how many questions I get about intercoat abrasion. Doing it correctly is extremely important, because if you don't, you can end up with a resand. Here are some general guidelines for intercoat abrasion (always be sure you check the directions for the products you're using).
Waterborne finishes
With waterborne finishes, you have the option to either abrade the floor between coats or hot-coat, which means applying another coat without abrading. Either way, the minimum dry time for most waterborne finishes before another coat is two hours.
For abrading the floor, typically you'll use between 180–220-grit, which is usually a maroon pad with hook-and-loop paper or one of the flexible abrasive pads.
The hot-coating window for most waterborne finishes is 2–24 hours. However, that doesn't mean that you can apply four coats of waterborne finish in a day. I don't like to see more than two coats of waterborne in a day—you need to allow ample time for drying (and it being dry to the touch doesn't necessarily mean it's dry enough for another coat). If the floor has too much finish applied with too little dry time, you can get micro-cupping/edge curling, particularly if you apply with a technique that floods the floor, like a T-bar.
---
RELATED: Wood Floor Finish 101: The Low-Down on Today's Finishes
---
Oil-modified urethane
With OMU finish, your only option between coats is to mechanically abrade—you can't hot-coat poly. Because OMU has a higher solids content, you can be slightly more aggressive, usually between 150–180. Screens are still frequently used between coats, as well as maroon pads with paper strips.
It depends on the finish, but typically you must wait a minimum of 6 hours before abrading and applying another coat. Most pros let OMU dry overnight before applying another coat.
Tips for either finish
You must use the same abrasion around all the edges and in corners as you do in the field. Personally, I find hand-sanding just as fast as using a random orbital sander.
You want to see the same uniform scratch pattern across the entire floor.
Times recommended by the manufacturer are based on ideal drying conditions, which are not subjective—they are specified on each container of finish. Your times may vary depending on the temperature and relative humidity.