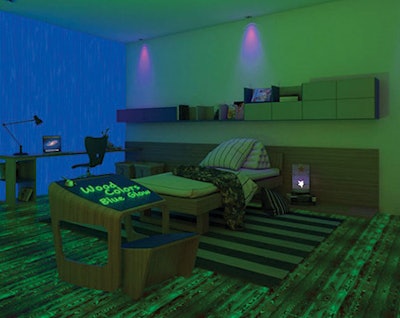 It was a background in medicine—along with a desire to have fun—that led Carlos Mongalo Jr. and his father, Carlos Mongalo Sr., to develop a wood floor finish that glows in the dark. With the playful name of Glowry, their eye-catching water-based finish illuminates wood flooring in the dark and produces a fluorescent neon-like shine under black lights. "I want to do something fun and, to me, Glowry is very fun," says the younger Carlos, 29. The idea for the finish came after his father showed him a florescent stain he had been developing and he wondered: "How can I make this wood glow in the dark?" Luckily, both father and son have backgrounds in chemistry. The elder Carlos practiced as a doctor from 1982–87 before founding wood flooring company Mongalo Designs in Miami, Fla., 29 years ago. Carlos Jr. also studied pre-med in college before switching his major to business, an experience he says aided in the creation of Glowry. "I thought it wasn't going to work, to be honest with you," Carlos Jr. says of the mixture he'd concocted for the finish. Then he turned off the lights. "And I was like, 'Whoa,'" he recalls, "'it works.'" Available in multiple colors, the finish is most effective on ash and currently is offered only as a prefinished floor. Kids' entertainment rooms have been some of the most popular projects for Glowry so far, and the company has also done bowling alleys, lounge restaurants and bedrooms. And though the Mongalos both left medicine for wood floors, they're not done working with hospitals. Earlier this year, Holtz Children's Hospital in Miami reached out to have Glowry installed in some of its patient rooms. "Kids and colors, it brings the joy to their heart," Carlos Jr. says. "When you're living at the hospital and it's dull, I think this will give them some excitement. Especially the glow."—R.K.
Watch how Glowry floors illuminate under black light:
Find out more about Glowry at the company's website.