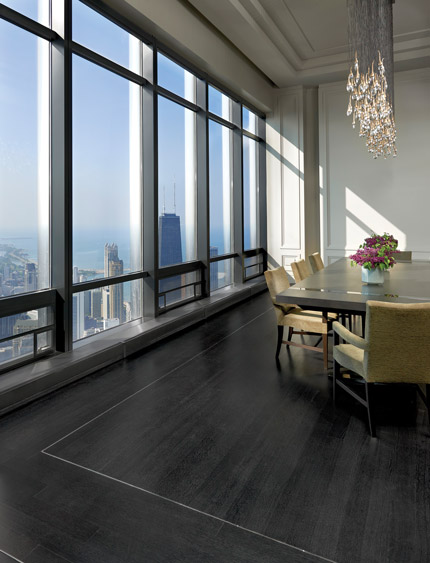 Photo by Tony Soluri
You know you're sitting in the upper echelon of Chicago real estate when you're looking down over the city's famous landmarks, including Navy Pier and the John Hancock Center. Such is the case for this wood floor project, which covered more than 3,000 square feet in a penthouse on the 87th floor of Trump Tower.
The goal for this project was to create an elegant backdrop for the million-dollar view (or, rather, $12.7 million view, if the penthouse's recent listing is any indication), says Kevin Mohring, who handles sales and design at Apex Wood Floors Inc., based in Lombard, Ill. The result was a jet-black floor with polished stainless steel feature strips that match the fixtures throughout the penthouse.
Although many of these high-end projects are going with prefinished flooring to meet construction timelines, on this job the customer didn't want the distraction of seeing microbevels, Mohring says. To accommodate the clean aesthetic, a 3/4-inch unfinished engineered select-grade rift white oak floor was glued to a sound isolation mat that was glued directly to the concrete subfloor, then sanded and coated with a European oil system. Mohring says because of their repairability, Apex encourages oil finish systems in its high-rise projects, which present logistical challenges when recoating traditional hard-coat finishes.
As for the myriad challenges of working in high-rise projects in downtown Chi-Town? Mohring says their crews are unfazed: "We do this all the time."