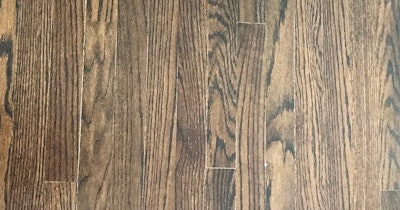 Is it ever OK to double-stain a wood floor?
Toby Merrill, senior technical and training specialist at Cleveland-based DuraSeal, answers:
Generally speaking, there are three situations where you may want to apply a second coat of stain: when the first coat is too light, when the first coat of stain is uneven, and when you are intentionally layering stain color.
In the first scenario, the stain color is too light. Maybe you stained the floor, and the homeowner said it was too light, so you put on another coat of the same color, expecting it to be darker. To try to get it darker, you leave it on heavier or longer. This may or may not work, depending on the brand of stain you are using. Rather than take the chance of wasting time and product on a second coat, your best bet is to resand the floor and stain with a darker stain or water-pop the floor first before staining. If you stained the floor medium brown and it isn't dark enough, the solution isn't another coat of medium brown, it may be a move to a darker shade, such as ebony. Additionally, leaving any extra stain on the floor can cause problems with finish adhesion.
---
RELATED: Sponsored Blog: How to Use the Color Wheel to Get the Color You Want
---
In the second scenario, the first coat of stain is uneven because it went on too thin, possibly from buffing it on too thin or trying to spread the stain too far. In that case, another coat of stain (after the appropriate dry time) might even out the color, especially when you are using a lighter color. It's important to remember, though, that a second coat of stain will NOT hide sanding marks.
In the last scenario, you are intentionally planning to layer different stain colors for a custom effect. In those situations, always apply the lighter color first, because it has fewer pigments. Then wait as long as necessary before applying the second, darker coat. Depending on the stain, you might want to abrade with a maroon pad between the two coats (if the stain is a combination stain/sealer, abrading is a good idea).