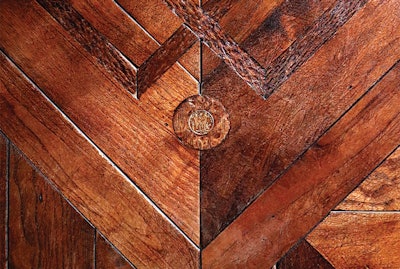 After nearly 30 years in the hardwood flooring industry, Lorraine Vojack doesn't put up with what she calls "fugly ugly." "Some projects you really want to say, 'I wish you could buy some taste,'" says Vojack, who owns Houston-based Custom Floors Unlimited. "In the early days, I had to take 'fugly ugly.' Now when I see it, I can say no to the job."
This Palace of Versailles-inspired walnut, cherry and Australian lacewood project is the perfect example of the kind of work Vojack has become known for in the Houston area: elaborate, creative and the furthest thing from "fugly." It takes a certain tenacity to reach that level, and this project, installed about 25 years ago, was a major stepping stone for Vojack's career. So when the architect, who was searching for designers in London for the project, told Vojack the client might be "difficult," Vojack responded, "I'm a pretty difficult person myself." She got the job.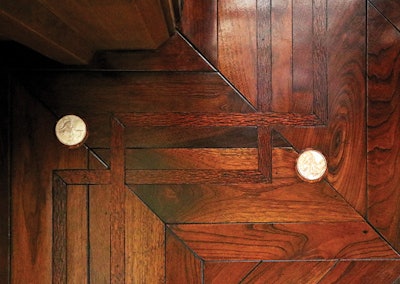 The task was to recreate the Palace of Versailles floor panels, and Vojack and her team cut all the pieces using a table saw and chop saw. "I wanted some character, so we ordered a mill run of everything so I could get some burl and some flame and everything I wanted to see," Vojack says. They installed a chevron pattern in the adjacent hallway, and when they got to the radius of the stairs, they steam-bent the walnut and Australian lacewood. It was there that Vojack got the idea to embed a gold doubloon in the floor. The homeowners liked the idea so much they tracked down doubloons from 1631—the year the Palace of Versailles was built. "I got nervous when they gave them to me," says Vojack, who spent the rest of the project with the coins in her pocket to keep them safe. They sanded the flooring, then stained it. After the coins were chiseled into the corners of the border, the floor was coated with wax.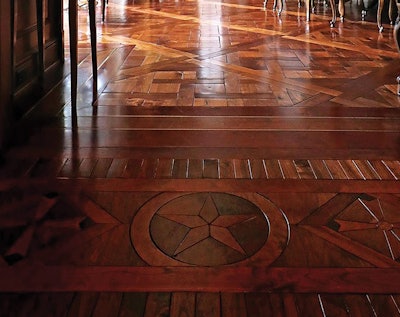 Vojack was invited back to the home last year to install more coins—this time, American Eagle silver coins from the birth years of the client's grandchildren. Seeing the floors again was a reminder of the longevity of the work and its importance to Vojack's clients. "I'm honored that I can step to whatever level they need me to step to," Vojack says of her clients. "I know that, God forbid it goes underwater, my work will be there 200 years from now. When you know that, it sets the bar so high."