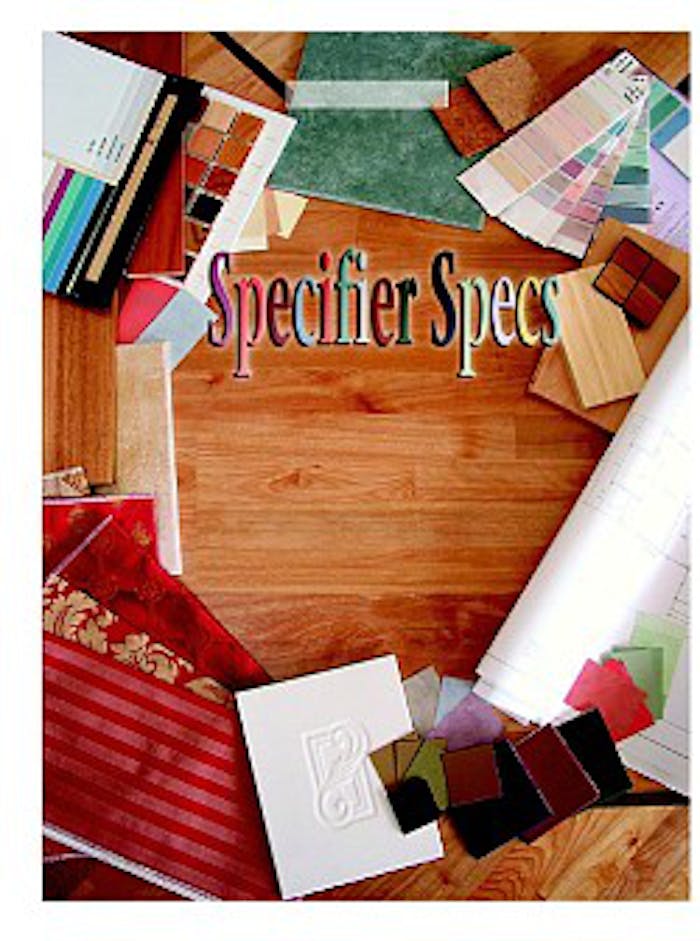 The architect and interior designer each have a certain aura. Architects are notorious for being aloof and intellectual, while designers' creative flair leaves them with a
reputation for being fussy and difficult to please. Unfortunately, those stereotypes scare some hardwood flooring professionals away, keeping them from making contact. When they do try, they are left frustrated, grumbling about how all those stereotypes are true. Occasionally, they'll bid on a project and waste hours trying to interpret specifications that seem to call for outdated products in all the wrong places.
Yet, there are others in the hardwood flooring industry whose businesses flourish because of their connections to those two groups. Local architects and interior designers turn to them almost exclusively when they need help trying to write specifications for a project or are looking for design ideas. These wood flooring professionals notice that an increasing amount of wood is being sold and, as time goes by, they have fewer callbacks.
From high-end residential installations to large commercial projects, specifications increasingly call for wood floors. Just as demand has grown, so has the quality and variety of available products, and proactive contractors, distributors and manufacturers have made the effort to keep their architect and designer customers up to speed.
Without these wood flooring professionals' efforts, the A&D community often is lost when it comes to wood floors, and their specifications may reflect this. Given the nature of what architects and designers do, it's hardly surprising that they aren't experts on wood flooring. "Most of them have to be experts on everything from the thermal dynamics of concrete as it cures to the tensile strength of steel; they have to know just about everything that goes into a house,"explains Kevin Evans, president at Denver, Colo.-based contractor Rock Solid Hardwoods, which does extensive high-end work for the A&D community. "The architects are more concerned with the structural and engineering aspects of what they're putting together."
Interior designers face much the same challenge. Although they receive extensive education on creating interior spaces, they can't be experts on every material they use, either. "Being an interior designer myself, I can tell you it's not like they have Wood 101 when you have a design degree," says Susie Alderman, vice president of sales and design at contractor Palmer Hall Floors in Jacksonville, Fla., and an American Society of Interior Design (ASID) interior designer before her career in the wood flooring industry. "You get in the field and are trying to specify it, and you have no vocabulary about it; you don't know thicknesses or the technical aspects of it at all."
Unfortunately for the wood flooring contractors, this can result in some confusing or complicated situations. "We still have people writing old specifications for sanding and finishing a floor from 40 years ago," says Jack Schroeder, secretary/treasurer at Romeoville, Ill.-based distributor The Bahr Company. Similar stories are echoed by hardwood flooring professionals across the country. "One of the biggest problems we have in the hardwood flooring industry in dealing with architects is there is a lot of misinformation out there, whether it be from Web sites or misinformation perpetuated by old specs they pull off the shelf and use time and time again," says David Rowe, general manager of distributor Denver Hardwood Co. Although architects and specifiers increasingly turn to updated Web-based sources, experts say the most common resource used when writing a new specification is an old one. This results in specifications still calling for wax finishes burnished by steel wool and other products uncommon today.
Another issue is spec writers who simply don't understand wood flooring products. "It has always been a struggle to educate architects and specifiers," Alderman says. "You'll get a bid with these specs in it, and you're like, 'What? They've got some ridiculous amount of poly specified.'" Or the product chosen might be wrong for the below-grade installation, or the spec might say "clear select No. 1 common red oak," leaving the contractor in total confusion as to what he should door what products he should bid on.
"The hole when you look atspecs is that the architect has not gotten any education from the industry per se," says Woody Hilscher, Atlanta-based commercial business manager for finishing products manufacturer BonaKemi USA, and a former Construction Specifications Institute member. "I don't put the blame on anybody, but the architects are starving for information on what to do, so they usually throw everything in the book and let the contractors determine what they do in the end."
Ambiguous or wrong specifications can create a host of problems for the wood flooring contractor. Specifying an inappropriate product could result in a floor failure, which leaves a black eye both for the wood flooring contractor and for wood flooring in general.
Confusing specs also make the whole process more complicated. "From a contractor's perspective…the more precisely and accurately the spec is written, the easier it is for them to bid properly and have a high degree of confidence that the people reviewing the bid are doing an apples-to-apples comparison," Rowe says. At Denver Hardwood, they makea concerted effort to review specs with their contractors, ensuring that the appropriate products are specified, and asking for exceptions when necessary, he says.
At high-end contractor Janos P. Spitzer Flooring Co. in New York City, a majority of the company's projects involve working with architects. President Janos Spitzer explains how a lack of good specifications frequently leaves his company, like many others, caught in the middle. "We have an eternal problem with architects. As subcontractors, we're always between the contractor and the architect … the general contractor does not want to do anything that is not in the specifications, so it leaves a guy like me in between. It's always a conundrum how to navigate between these two entities." He points to subfloor preparationas a typical problem. The fact that wood flooring installations aren't as cut-and-dried as something like electrical work, with its rigid codes, makes it even more difficult, he explains.
Proactive Education
Rather than simply complain about it, Spitzer decided to take a proactive approach. He became an American Institute of Architects approved continuing education provider, and now regularly holds seminars for architects at his shop to educate them about wood flooring. At the same time, they fulfill requirements from the state and the AIA to maintain their licenses.
"I thought it would be very beneficial to once and for all familiarize architects with what the wood flooring industry is and how we work. What's interesting is they are all too eager to admit they really don't know anything about specifying floors," he says.
Once he has his captive audience, one of the first things Spitzer does is try to emphasize the importance of wood flooring in the job's final appearance. At the outset of a project, the wood flooring may be only 5 to 7 percent of the budget, but when the job is complete, it is largely what is noticed, he says, adding that it also causes a disproportionate number of lawsuits. That's a "powerful message," he adds.
Spitzer's seminars cover everything from product overviews to subfloor preparation to sound deadening products. Spitzer says architects are eager to learn and amazed to discover how easy working with wood floors can be. "They are surprised how simple it would be to avoid failures, because they don't understand where failures come from—bad specifications," he says.
Architects also are uneducated about basic wood flooring products, he explains. "It's a revelation, because some people say, 'I don't like oak.' I say, 'Well, what kind of oak don't you like?' It turns out they don't like plainsawn oak; they didn't know they could specify quartersawn. It's amazing how little they know." They also frequently ask why they have so many sanding and finishing problems, and for more information on building using "green" wood flooring products.
Overall, the experience has been overwhelmingly positive, Spitzer says, adding that the seminars provide another means to "remind architects that we are here," he says.
Creating A&D Rapport
At Rock Solid, Evans has built such a good rapport with some of his architect and design customers that they sometimes ask him to write the hardwood flooring specs for them. On a recent potential project, Evans was asked to write the specs for a huge condominium development involving 120,000 square feet of hardwood flooring. "They want someone like us to show them exactly what needs to be done, be done best and most economical," Evans says.
Being the go-to hardwood flooring professional for the area's A&Dcommunity is an enviable status. Such a relationship involves having the right skills, an impeccablereputation, and trust built overtime as an expert resource. Suchstatus can be lucrative to hardwood flooring contractors and distributors alike, but it is carefully earned. In large part, the business is built on word of mouth. One successful project leads to another.
Not every contractor is capable of jumping into the higher-end A&D business. "In order to do that, you need the kind of business that lends itself to doing that—I'm not sure that the small one-man operation or smaller companies have the ability to go out and meet with the designers and the architects who specify your product and material," Evans says. "A lot of times you have to pound a lot of pavement. You have to meet with a lot of people, and you won't see immediate results. It's creating goodwill with the specifiers and getting them to be knowledgeable about your product."
Today, Evans showcases Rock Solid's extensive repertoire with an impressive showroom highlighting all the possibilities necessary to pursue the high-end A&D community. "In our industry, anybody can be a hardwood floor man, and a lot of guys only do what they know; they don't try to break out and strengthen their repertoire by doing different types of species and installations," Evans says.
For Chicago-area distributor The Bahr Co., focusing on products beyond the norm was the company's impetus for hiring a rep specifically to pursue the A&D market. "Our original thinking was we wanted to specialize in unique products rather than just strip oak, because it was a commodity item," Schroeder says. "In doing those specialty products, you need somebody to go out and work with the architect and design community to get the product name and our name onthe spec so the job comes back to us."
Making the Approach
Deciding to actively pursue the A&D community is one thing; taking the correct approach is another. Architects and designers carry a reputation for being difficult to approach, and the worst thing to do would be to go after them with a typical sales call.
"Architects don't want to be sold, they want to be educated, so they protect themselves with lots of people in front of them," Hilscher says. "They're busy people; they don't want to see salesmen come in every day who will tie them up. They can't see somebody for every item bought on the job they're working on."
Rowe agrees. "It takes quite a bit of time to build a rapport with someone in that community, and the wrong approach would be to go in there with your elbows up trying to get someone to specify your product right out of the gate," he says. "The correct approach would be to work from an educational standpoint, a consultation standpoint, to educate the architect and designer as to what products are suitable for what installation." For the last four years, Rowe's company has taken the educational approach with box lunches and other training sessions; and the result has been fewer problems with specs, he says.
From an architect's perspective, the problem withmost salespeople is clear. "When calling on architects, specifiers and designers, most of the people who make the calls are in the business of selling materials or floors; they understand the sales model," explains Michael Chambers, FAIA, FCSI, of Eden Prairie, Minn.-based Michael Chambers Associates Specifications, who has been in the specification business for about 30 years and speaks professionally on how to present to architects and specifiers. "What gets them frustrated about calling on architects is they don't understand the sales model won't work with architects—we don't buy products. We specify, we design with product; product is important to us, but we don't buy product." Instead, Chambers suggests working off of a marketing model based on education about the industry, its products, and solutions based on those products.
Architects want a broad-based, factual education about the industry, he explains. "What are the industry issues, what are the competitive issues, who are the competitors and what, if any, are the real differences? Most of the time they're about features and benefits, not real performance issues." Focusing on marketing ploys instead of actual factual data, such as Taber test results, earns reps a quick exit, he says. "I find so often that the manufacturers will pick something that's different than the competition, make a huge deal out of it and literally package their whole marketing program around it—I'm thinking, 'I don't care about this—give me the real industry issues or get out of my office.'"
On the other hand, reps who offer honest information oftentimes earn a healthy working relationship with the A&D community. If they can understand specifications and offer their product information in a standard specification format instead of in a "marketing fluff format," they're a step ahead of the competition.
Reps also need to respect the fact that most architects are working under tight timeframes. "Their time is very critical. If you waste their time, you've lost any benefit," Hilscher says. "You have to be brief, and have short and direct answers. They focus on what you're talking about right then and there, so you need to have your act together when you go to talk to them." It helps if you're there at the right time, he adds. "If you can hit them at the moment when they're focused on a floor, then your timing is right. If you hit them when they're doing structural design stuff, you probably won't have their attention."
Compelling Education
One method to compel architects' and designers' attention is to take Spitzer's approach with the lure of continuing education. Requirements vary from state to state and among the different associations, but most architects and designers are required to complete a certain number of continuing education hours. Wood flooring education is especially desirable for both groups because it fits into the sought-after category of "Health/Safety/Welfare" education.
"Architects are not going to be experts on every material they use, but what we're trying to do is make architects a little more aware of these products and how they relate," says Thom Lowther, director, AIA/CES. Until recently, most people would try to bribe their way into architecture firms with food, buying five or 10 minutes of the firm's time, he says. With the continuing education requirements, that's begun to change. "Now we say people can still do their sales part before or after, but for one hour, we want them to talk about materials and how they work in the generic sense—not to make the architects experts, but to make them more familiar with what works or doesn't work." That information helps turn salespeople into consultants. (For more information, see "Resources" sidebar.)
It's also helpful that architects' attitudes gradually have changed about education, Lowther says. They're changing how they look at it. Instead of just seeing who knocks on the door with food, many of the firms now are saying, 'Here are the projects we're working on, and here are five providers who can talk about wood floors,'" he says. The result is that the projects and the education match, making it easier on everyone involved.
Industry Involvement
Continuing education is an appealing option ,but it isn't the only way to avoid the dreaded cold call. Architects and designers suggest that networking at industry functions is one of the most effective ways to meet them and their peers. "Networking is absolutely your best way," Chambers says. "If you want to get serious about talking to architects and designers, you've got to go where they go and be where they are."
Alene Workman, ASID, president of Hollywood, Fla.based Alene Workman Interior Design, agrees that meeting architects and designers in their own environment can be one of the best ways to make contact in an unobtrusive way. "Go to places where designers and architects would be; you get to socialize and speak to designers and architects out of the office. It takes time to develop," she says.
Where are A&D professionals found when they're out of the office? Many are active in their professional associations and local business groups. Associations such as ASID and AIA even offer special memberships for those related to their industries. Such memberships can be the vital foot-in-the-door if members take full advantage of them.
"ASID has industry partnerships, but that means nothing if people just pay their dues," Workman says. "What they must do is go to designer shows where they will meet designers, or better still, get on a committee somewhere in a chapter and work next to a designer."
Some people in the wood flooring industry who ignore the designer segment or even avoid it because of designers' fussy reputations are missing out on valuable contacts, Palmer Hall's Alderman says. "Why don't you take the opposite approach and try to educate them about what they don't know," she says. "If you want to educate designers and work with those who have the bigwig clients, call up the ASID and say, 'Can I have a meeting in my showroom?' You can be an industry partner, too—there are all sorts of things you can do with ASID in order to make yourself known to the design community."
Whether it's at a product show, a committee meeting or a chapter event, the personal contact in a nonsales environment is crucial. "They've got to make a connection," Workman says. "Most designers don't have the time; it's not that we're being rude."
Building a Base
Once the connection is made, it must be solidified over time. If all goes well, architects and designers build trust that the hardwood flooring professional is going to provide whatever information they need—without coercing them into using the most expensive product.
As a designer, Workman says she is looking for a long-term partner in the industry who constantly will feed her only the information suitable for her needs, such as unique product applications or a new finish look, not every single new product in the industry. When you're educated on the latest information in the industry, "you can be brilliant to your client," she says. Because designers oftentimes are working the closest with the client on a project, they also are particularly interested in practical issues such as finishes and long-term maintenance, she says.
At Palmer Hall, much of the company's business is done with professional designers who earn a commission for bringing their clients. Those relationships are carefully protected, Alderman says, by helping direct clients to products suitable for what the designer envisioned. "You have to develop a trust with designers that they can send their client, knowing that I'm helping their client on behalf of the designer. She may have called me and said, 'I want to steer them toward something like this'—we respect the relationships they have with their clients."
Sampling is another crucial and timely piece of the relationship. High-end designers and architects typically pull projects together under a tight time frame. "One thing a supplier for a design or architectural firm has to be is time-conscious, realizing that designers typically need things for presentations 24 to 48 hours after they call," Workman says. "Most of us are pushed to the last minute to get certain things together, and from what I've seen in every firm, it's pretty much the same."
Evans cautions that making free samples for everyone can be a money pit. At Rock Solid, a design fee is charged for samples if the project ends up going elsewhere. "Lots of times designers and architects will say, 'I never pay for samples,' and I say, 'Well, I'm sorry, but here you do.' You have to do that, because if you don't, you'll be making lots of samples for people who will never give you the work."
Evans spends time with his architect and designer clients trying to get them to understand how the application will work, sometimes steering them away from something that's inappropriate. "You have to work with the designers; they can be very picky, and they won't always think about the application. They'll say, 'Well, we want to do this—a log cabin matchingup perfectly in corners and we want it in an octagon room … They just want it to look a certain way, and you have to know what you're doing."
Coming to an Understanding
Sometimes, resisting a designer who wants you to do something that's risky by industry standards can be difficult. "You've got a designer on one hand saying, 'We'll pay you whatever you want if you can just do this for us'—that's a big trap and you have to know how to navigate it," Evans says. He tells the story of a client who wanted wood floors around the swimming pool. Instead of simply saying no, Evans bid the job with an elaborate drainage system and other precautions. When the clients saw how complicated it would be, they abandoned the idea, and Evans wisely settled for a much smaller part ofthe job installing floors only where they belonged.
Making architects and designers understand why they have to do the things they do with wood floors is part of the continual education in the ongoing relationship, and it doesn't always lead to using the most expensive product. On the contrary, sometimes the wood flooring professional has to help a specifier find what's less expensive but suitable.
"What we're doing is not necessarily an upsell as much as an appropriate sale," Rowe says. "A lot of times, there are value engineering concerns that come into play. People know what they want, or how they want the products to perform, but when they seek those products, they realize they are beyond the scope of the project or budget. That's where value engineering comes in, and the distributor can be very helpful with regard to options and alternatives."
Back in Chicago, those at The Bahr Company have spent years encouraging their A&D clients to seek them out for information. "What we really want them to do is come back to us for information and say, 'I've got a job; here's my problem'— it isn't really a problem, but they call it that. I say, 'Here's my solution.' Then we can mold them into the right area, and try to get product in there that we sell without being a salesman," Schroeder says. "We also make sure they get the right product down—the last thing you want is to get a product down that's going to fail."
In the end, a working relationship with A&D professionals benefits the entire wood flooring industry, as more specifiers realize that wood floors can be a trouble-free, versatile product. As wood flooring increases in popularity, these relationships are more vital than ever. When done right, the architects, designers, wood flooring professionals, clients and the product manufacturers all can be more successful and give the industry's products a good name.
Selling Without Selling
Industry experts largely agree that the most important thing to do when making a sales call on an architect or designer is to avoid "selling." Counterintuitive as that may be, it's what works. Here are some key points to remember when working with the A&D community:• Ask how you can help. Never ask, "How can I get this product specified?"• Come up with a list of common problems with your product and the accompanying solutions.• Educate them on the industry as a whole, avoiding proprietary sales pitches.• Be direct and to the point—architects and designers are pressed for time and frequently barraged by salespeople.• A&D professionals are 3-D oriented—have large samples available, and be prepared to make them quickly when necessary.• Use continuing education opportunities to make contact in a non-biased environment.• Network in neutral territory, such as at ASID, CSI or AIA meetings or conventions.• Word of mouth is the best sales tool—be professional, on time, do quality work and offer a trustworthy,long-term relationship.
Resources
American Institute of Architects (AIA) www.aia.org The AIA has approximately 70,000 members, and non-architects can join with an Allied Membership. AIA architect members are required to take 18 hours of continuing education per year, eight of which must be in the health/safety/welfare category (into which wood flooring fits). In addition, many states require continuing education in order for architects to maintain their licenses.
American Society of Interior Design (ASID) www.asid.org ASID has 31,500 members related to the field of interior design. Non-designers related to the field may join with Affiliate Membership. Many states require that interior designers take continuing education in order to renew their professional license.
Construction Specifications Institute (CSI) www.csinet.org The CSI's more than 18,000 members include architects, engineers, constructors, specifiers, building product suppliers, and other groups. It is widely known for organizing MasterFormat, the 16-division system widely used that categorizes building products in specifications. Certified CSI professionals must earn 24 hours of continuing education every three years.
American Institute of Building Design (AIBD) www.aibd.org This organization has 1,400 members who are high-end residential designers. Those in related industries can be Allied Members, and AIBD's approved Continuing Education Providers pay for an Affiliate Membership.
Wood Flooring Jargon
Before clients can knowledgeably talk about what they want in a wood species, they first must understand some of the basics about wood floors. Here's a quick primer to the jargon most of us use every day.
Wood Grain When ordering wood flooring, there may be great variation in the appearance of the boards, even in the same species. The type of cut used for wood flooring canaffect its grain appearance. Wood flooring typically isordered as plainsawn, quartersawn or riftsawn.
Wood Grades Some manufacturers' products are graded by an independent association, guaranteeing that the wood flooring purchased conforms to certain guidelines. These grades usually apply to commodity-type strip flooring in the most common species. Grades describe the appearance of the floor and are not reflective of the structural quality of the wood flooring; i.e. a "higher" grade of wood flooring is not necessarily a "better" floor.
In the United States and Canada, wood flooring grade rules are determined by: NWFA/NOFMA, The Wood Flooring Manufacturers Association: www.nwfa.org, The Maple Flooring Manufacturers Association: www.maplefloors.org, The Canadian Lumbermen's Association: www.cla-ca.ca
Sometimes manufacturers create their own proprietary "grade" names. These should not be confused with official grade names verified by an independent association. In addition, there is no standard grading system for the sizable amount of imported wood flooring available today.
Wood Flooring Types Wood flooring is either solid or engineered. A piece of solid flooring is created from one piece of wood. Engineered floors, on the other hand, have several layers—the number varies according to the manufacturer—that are laminated together.
Engineered floors previously were referred to as "laminated" wood flooring, terminology no longer used in order to avoid confusion with "laminate" flooring, such as Pergo, which contains no wood. Solid wood flooring may be installed on- or above-grade, but not below-grade. Most engineeredwood flooring may be installed in any application.
Wood flooring also is described as unfinished or factory-finished (also referred to as "prefinished"). Unfinished flooring must be sanded and finished at the jobsite, while factory-finished flooring requires only subfloor preparation and installation. Manufacturers today offer myriad finish types on their factory-finished floors, as well as myriad warranty offers. Acrylic-impregnated floors are a type of factory-finished floor in which acrylic actually enters the pores of the wood, making it very durable.
When choosing wood flooring, the options are strip, plank or parquet. Strip flooring still is prevalent, and it usually is considered flooring that is 3/4 inch thick and 2 1/4 inches wide. Plank is anything wider than strip. Plank flooring sometimes is sold as "random width," meaning the floor has a range of widths, such as "3-4-5 inch" plank. Parquet flooring is any kind of patterned floor—some well-known parquets include herringbone and fingerblock.