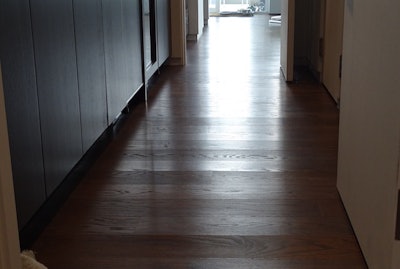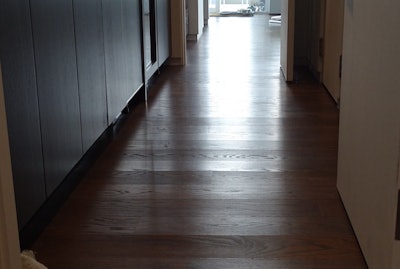 There has been a new trend in the building industry of sleeker designs, including the elimination of baseboards. The sheet rock is designed to come within ¼ inch from the top of the flooring, because the designers do not like the look of bulky baseboards or shoe. This new design has created new challenges to the wood flooring industry, as well as floor maintenance challenges for the property owner.
Wood floor inspections have increased due to this new design. In order to keep the ¼-inch spacing from the top of the flooring, the flooring has to be installed first, then the contractors hang and tape the drywall. This goes against all industry and wood flooring manufacturers' guidelines and presents the challenge of how to prevent excessive moisture or drywall dust from getting into the wood floor during the drywall process. Secondly, if the drywall is hung first, the installer cannot provide adequate expansion space without it being seen under the shadow recess. In many cases, the hardwood flooring requires a minimum of 1/2 inch of expansion space, which cannot be provided with this type of wall system.
Floor maintenance is also another nightmare for the contractor or property owner. Dust and debris gets under the shadow recess, and there is no real good way to properly maintain the wood floor under the recess.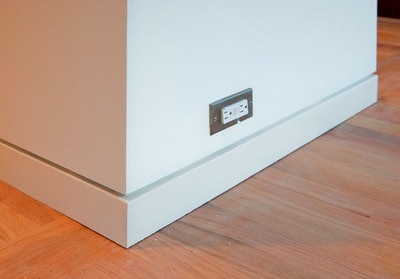 If you are a flooring contractor, retailer or installer, I strongly suggest thinking twice before getting involved in this type of design. Contact the hardwood flooring manufacturer to see if they will approve flooring install before drywall—we know the flooring manufacturer will not approve this installation method. This may give you the leverage you need to talk the GC or property owner and use a shadow recess baseboard (like the one shown at left). The benefit is the sheet rock is hung/taped before hardwood flooring installation. The baseboard is painted separately and installed after flooring installation, making it easy for future paint touch-ups rather than the entire wall. And the gap between the top of the flooring and bottom of the drywall is eliminated for ease of cleaning.