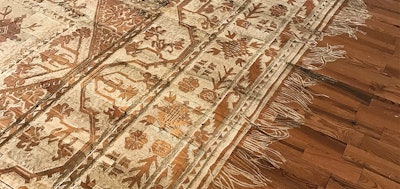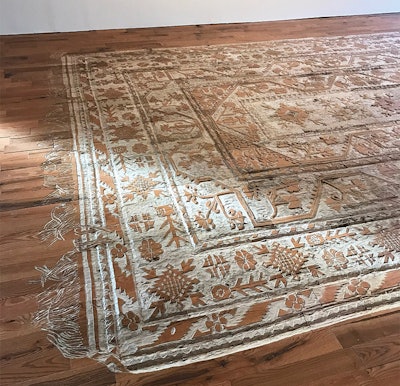 Most wood floor pros make no attempt to sweep their feelings toward rugs under the, well, you know. But with her viral "Childhood Memories'' piece, Chicago-based artist Selva Aparicio has created a "carpet" wood floor pros can finally get behind—one that's part of the wood floor itself.
Aparicio carved the 10-by-15-foot piece on red oak flooring in her studio using a mallet and chisel. "Most of the work was done carving at floor level," she says. "Fortunately, I still have good knees." She based the carving off of a rug she had while growing up near Barcelona. "I flew to Spain and copied the pattern with translucent paper," she says.
The carving took several months to complete. Aparicio decided not to apply finish to the carved portions of the floor in order to retain "a feeling of spontaneity and rawness." The completed piece was exhibited at Yale University and is currently in storage in Chicago. It was the lasting quality of hardwood flooring that made it the perfect material for the artist's message: "Memories are permanently etched, and as they are seemingly so passive, like a rug in a room, the memory of the objects that surround us are what bring us human comfort as they carry us throughout life," Aparicio says.