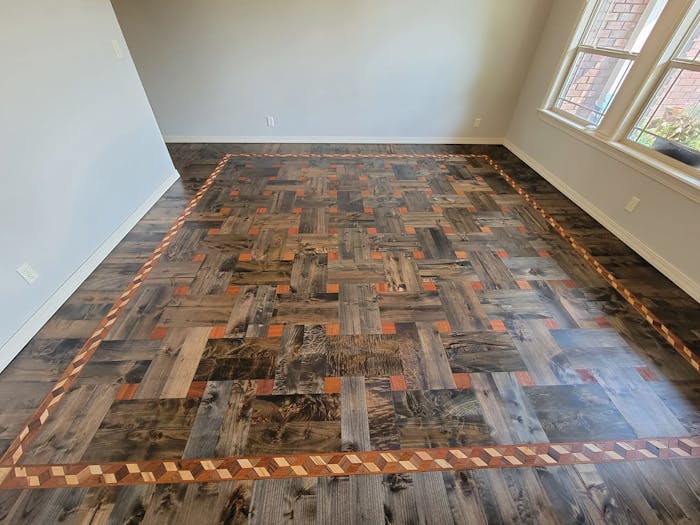 WFB asked wood floor pros to share their favorite jobs from 2021. For some inspiration to kick-start your new year, scroll through some of the submissions below.
Ed Sheridan
A gorgeous 42nd floor penthouse in Center City Philadelphia. Glue-down walnut on slab stained ebony. The rest of the unit was a straight lay, changing directions from the living areas to the bedrooms.

Joshua Crossman
Church floor. Had to use materials on hand, which were red and white oak in two different widths. Thus the design was born. Glued down solid on slab.
Dustin Bolin
Kyle Thompson
First big job under my business name, Resand & Finish.
Michael Schuetz
Hands-down this floor. It was so up and down a baby crawling would have tripped and fallen.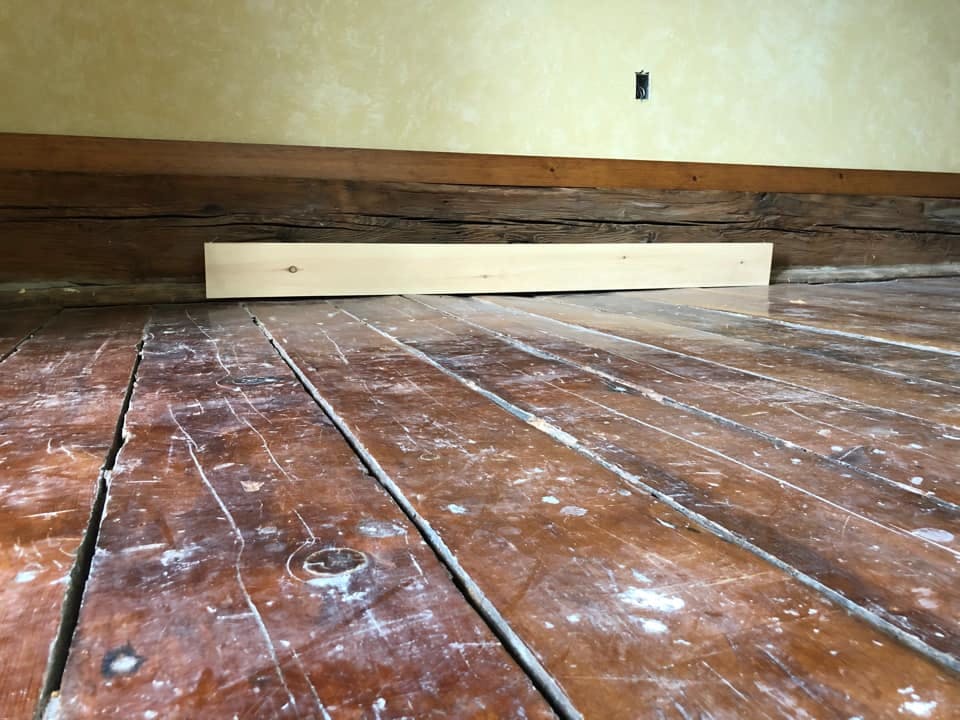 Jessica Colpron and Jonathan Colpron
Pat Goodman
5-inch hickory with Magic Oil 2K, red and brown.
Bob Jewell
Repaired and restored this 126-year-old floor.
Chris Pasquale Frate
Restoration of an amazing steakhouse in Warren, Ohio, called The Chophouse.
Danny Stenhouse
These were 100-year-old softwood (pine) floorboards. Tough sand but a nice custom 2K oil finish with a blend of colors.
Allen Rapaport
This white oak rift and quartered parquet de Versailles. Bona white stain and three coats matte Naturale.
Chris Head
Justin Hiers
Christopher Bock
Joe Smith
Jonathan Gramajo
This Old House TV show in Rhode Island, the Victorian house. The entire first floor. It's herringbone with a border perimeter, and the second floor is 5-inch planks, same material .
Matt Garcia

Justin Steiner
Urszula Klotz
Renaissance Floor In-lays
Che Polfliet
Loved Working on this floor at Castle of Groot-Bijgaarden Belgium with the masters of Workcamp Parquet.
Fino Oficio
Surprise bedroom floor for a little girl, with purpleheart inlays since purple is her favorite color…
Rihards Jeske
Jenny Riddle
11-inch sapele long-length custom engineered. Finished to spec by Premiere Finishing & Coating. Installed by Ethan Allan.
WS Custom Wood Floor Co.
7-inch Doug fir 2,800-square-foot refinish. 
Filipe Correia
Emilio Manzano Andres
David Friedland
Jacob Sheldrick
13-inch Vermont Plank Flooring with three coats of Invisible on top.
Rob Griswold
Joe Hartley
Oldest building in Minneapolis. Here's the before…
…and the after. Not bad for being 136 years old.
DM Hardwood Designs
A & L Florida Flooring
Greggles Ceglarski
Larry E. Clucas
Kristopher Jeter
Just some plain ol' red oak and white oak.
Ed Reneau
Resand in Knoxville, Tenn.
Raymond Chedester
Stairs and spindles.
Nicholas C Maxson
My first attempt at a border.
Jim Hyde
The day I took off to surf.