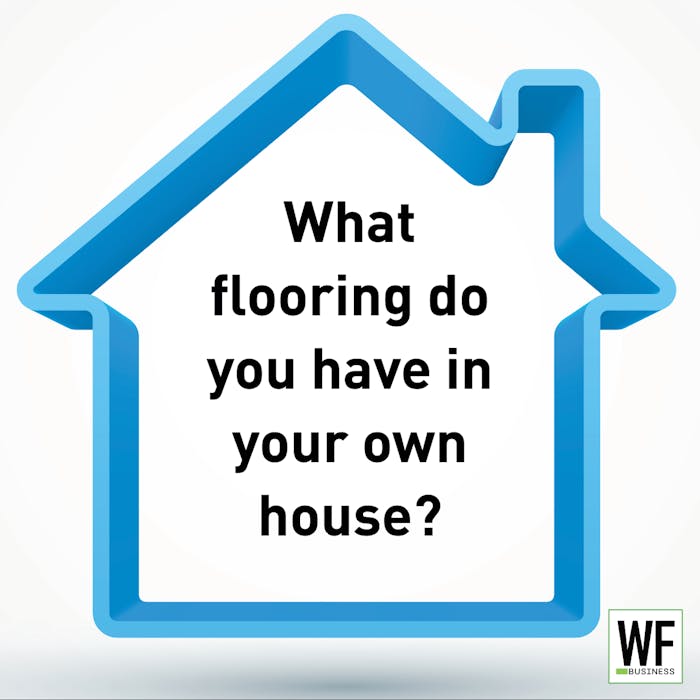 WFB asked followers on Facebook and Instagram to share what kind of flooring they had in their own houses. Here is what they said:
Eric Herman
Dave Amweg
Urszula Klotz
Renaissance Floor In-lays. Wood floor medallion and mahogany wood flooring.
Bob Patterson
jpresurs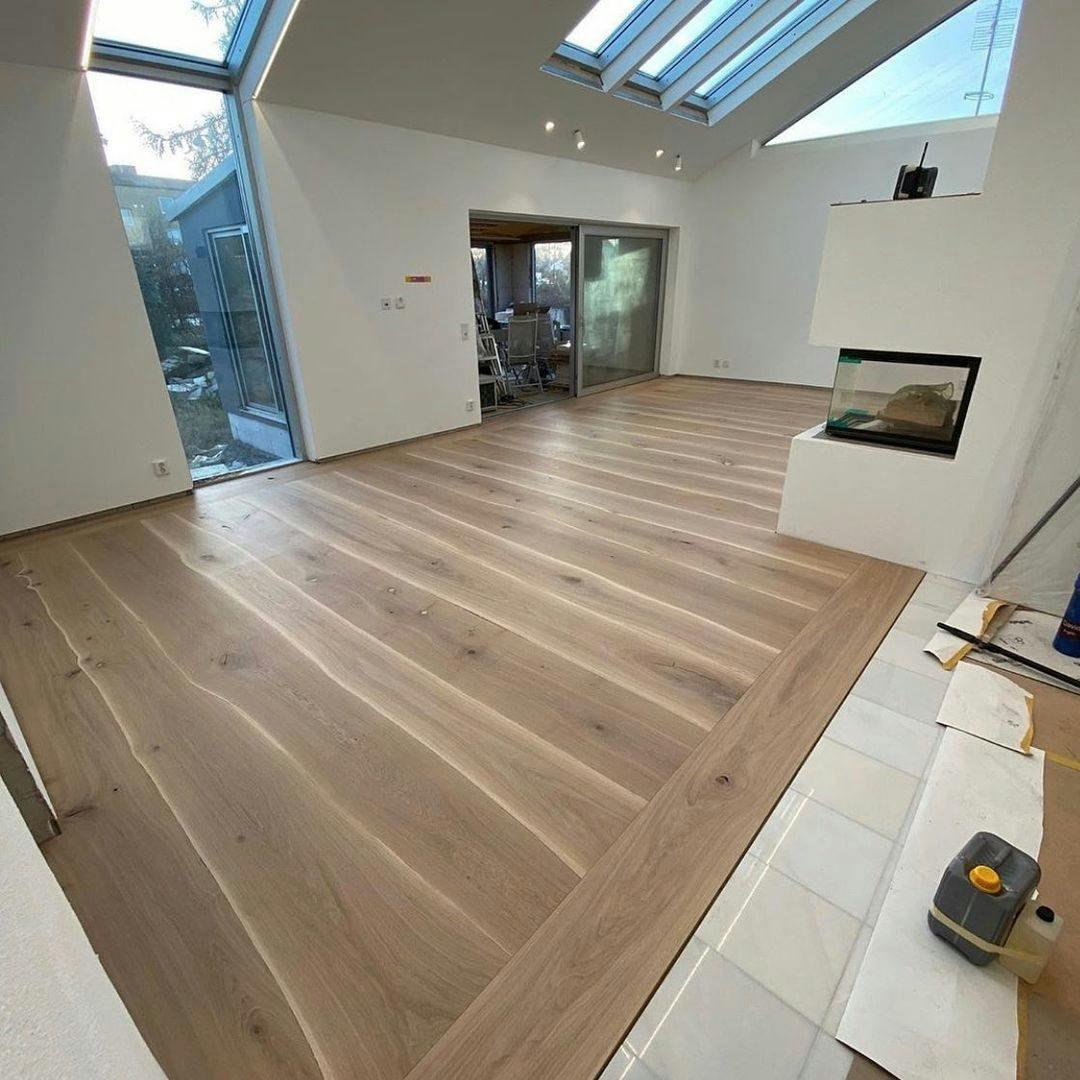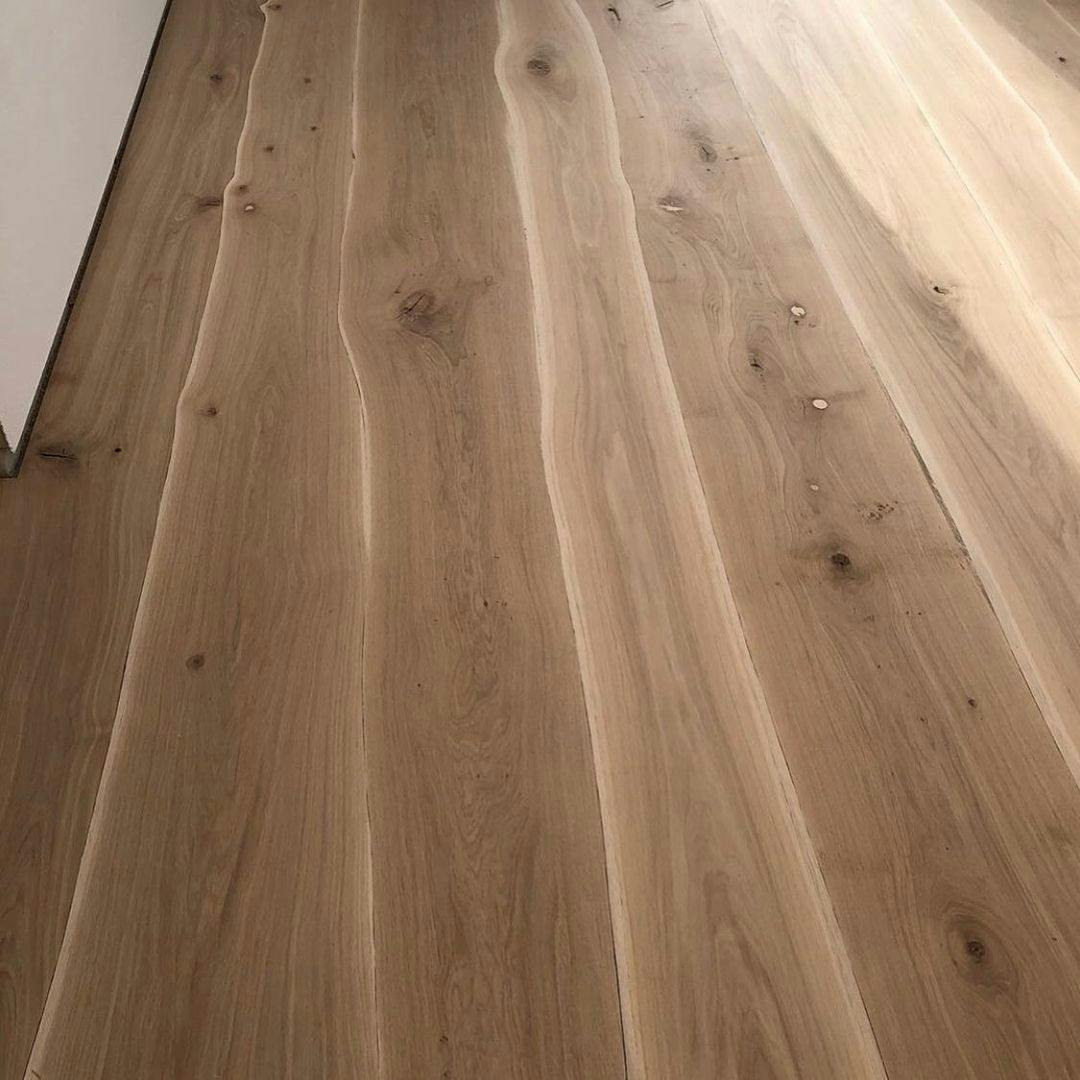 Michael Settlemyre
8-inch character grade walnut.
Calvert Hatton
Vinyl.
cottonwoodfinishesllc
I had carpet, floating engineered, 2¼-inch stained red oak. Tore it all out and now I have character grade rift-and-quartered white oak throughout. My supplier was cool and sold it to me "at cost."
ryebread75
I do floors, can't afford a house.
david.shafer512
White oak herringbone.
centralvalleyflooring
Rift-and-quartered white oak.
tara_jensen_
5-by-¾-inch prefinished hickory.
bellabonch
Carpet tile and CVT.
americashijo
Wide plank euro white.
518floorcare
5-inch tigerwood upstairs and 5-inch Brazilian cherry downstairs.
lookingglassfloors
92-year-old red oak, mixed cuts with some rift-and-quartered sprinkled in! Best part…board lengths from dreams…some 18-feet long. We refinished with Pallmann Magic Oil 2K three years ago. Absolutely love the floors in our bungalow.
halalhardwoods
5-inch solid #1 red oak rift-and-quartered with 2¼-inch solid BC in kitchen and office.
azuriteinnovations
7-inch engineered, dark walnut.
Matt Garcia
Rick Landry
Brazilian tigerwood.
Andy Castona
Chad Reagan
10.25-inch French oak. Custom stain and water-based matte.
Nathan Hourigan
Tina Darling Boone
Ceramic tile! I'm the only one in my family that doesn't have wood floors!!!
Brian Cooley
#2 Common RO, alternating rows of 3¼-inch and  4-inch, finished with Poloplaz Primero Matte.
Aaron Hall
Kevin Daniel
4/6/8 hickory.
Craig Tosland
Myra Smallwood
Ours is 3/5/7 red oak & white oak. It's stained 50:50 dark walnut/provincial and finished with Street Shoe satin.
Jim Hyde
Common red oak strip from 1964 with some random wide plank in the kitchen (which needs to be refinished), and some red birch in my rec room (which also needs to be refinished).
Jenny E Riddle
11-inch sapele with espresso stain.
Nora Gutierrez
5-inch walnut.
Micheal Seeley
Original 1940 2¼-inch red oak. The boards are on average 16 feet and some up to 19 feet in length.
Wesley Goetz
Leftovers from different installs.
Sydney Lebarron
Custom penetrating oil on 4.25-inch rustic red oak.
Oliver Flooring - Barry Oliver
Character hickory with Loba invisible finish.
Mike Reissig
4-inch rift/quartered white oak.
Jared Fitzgerald
Thomas Hayes
No. 1 common white oak with tung oil.
Daniel O. Saucedo
Joe Smith
FloorMaxx Inc.
White oak, rift-and-quartered, herringbone pattern.
Jeff Wilkinson
Two and a quarter white oak. Medium brown stain Bona, Poloplaz oil matte.
Paul Alexander
Engineered 5-inch, rift-and-quartered.
Kris Sylwestrzak
Michael Schuetz
Original sappy cherry in our house from 1948.
Matthew Elsasser
White ash. 3, 4, 5-inch. Majority is reject off our sawmill for the pallet pile. Pallmann Magic Oil, natural. It'll do for me.
Hardwood Flooring Products
Quartered white oak 3-, 4-, 6-inch.
Chris Kritzer
Greggles Ceglarski
Beautiful Cut n Loop.
DM Hardwood Designs
Mark Whatley
2¼-inch white oak rift only with custom inlays.
Taylor Elam
Steve Blackwood
4-inch rift-and-quartered white oak.
Michelle Schnorr-Deskins
Rift-and-quartered white oak chevron.
Gillespie Hardwood Floors
Eric Lehn
Dave Mitchell Jr.
Heart pine.
cashpyle_loba_wakol
Solid white oak and walnut.
scfllc
8-inch hickory, white oak end grain, white oak herringbone and cumaru.
plankd_flooring
Just started laying an oak herringbone.
jeff_loba.wakol
A variety of width and grade white oak left over from years of projects. The best floor is a free floor.
epichardwoodfloors
I got a Brazilian mix in main floor. Ipe, cumaru and jatoba in different widths. Jatoba stairs. Bedrooms are a collage of species and patterns. One room is a herringbone, another a Chevron, another a diagonal another a straight with rejects from jobs and wood clients gave us. It's been fun installing them all and they look amazing.
Kevin Knauff
5/16 strip …  it was a bi@$ trying to find repair bundles.
Ed Sheridan
Anthony Nance
Leftovers from many jobs!!
daniels_floors
White oak, 2¼-inch natural finish. House was built in the '50s. If I were building a house, I would install white oak in that as well.
beaver_hardwood
Maple.
miltsanz
62-year-old 2¼-inch red oak select with 50% classic gray and 50% special walnut stain mix.
cwhite801
4-inch ipe with a maple feature strip.
regalhardwoods
White oak wide plank engineered wood floors!!
debra.kirschnick.hpco
Antique heart pine.
dybing78
100+-year-old straight-grain fir.
allaround_flooring
Blackbutt in four different widths.
bigtplease
Nothing but @hickmanwoods period.
ecooptionshardwood
7-inch euro oak character grade. @rubiomonocoatusa pre-aging fumed light. Smoke oil.
yariebarahona
White oak 4-inch, fumed and finished with @rubiomonocoatusa.