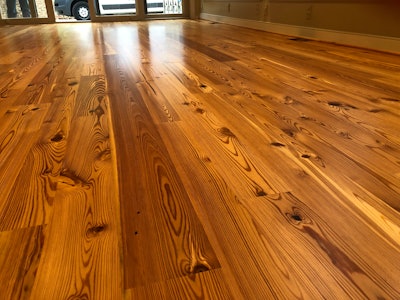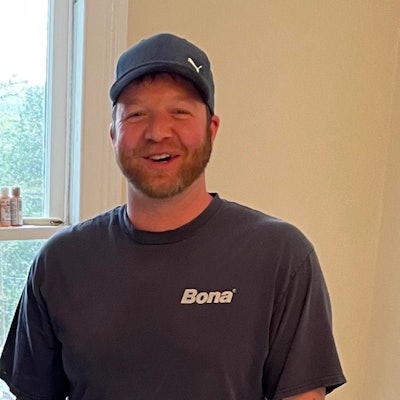 In his years of dealing with an abundance of old heart pine floors, wood floor pro Aaron Sheaves has learned one thing for certain: Heart pine is not for the faint of heart.
"It's just going to take time and practice to figure that species out," says Sheaves, who runs Sheaves Floors LLC in Weyers Cave, Va. "Some boards are soft, and some feel like you could sand for days and still not take anything out of them."
More often than not, Sheaves is restoring heart pine flooring that's been heavily waxed and varnished and polished over the past 150-odd years. But in this case, his company had the welcome opportunity to install well-milled reclaimed heart pine flooring in a new addition on a new home (new compared to the historic homes Sheaves usually works in, that is—this one was about 20–30 years old).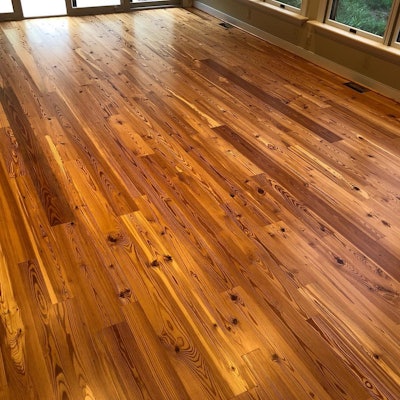 "They didn't have heart pine anywhere else in the house, but they wanted it in this area, as it was kind of special and unique," Sheaves says of the homeowners. "The way that stuff costs, not too many people are doing an entire house with this species."
The boards had 3-, 4- and 5-inch widths, and Sheaves installed 500 square feet in the space, gluing and nailing them over a ¾-inch AdvanTech subfloor.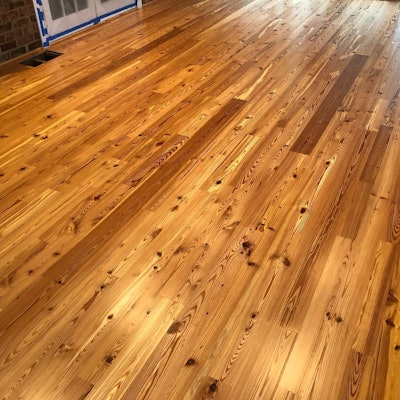 Once it was installed, Sheaves sanded the floor with a Bona PowerDrive, then used a Festool RO 150 FEQ 6 Rotex Sander on the perimeter, using a grit progression of 60-, 80-,100- and 120-grit. Sheaves battled the typical sap from notoriously sappy species, but it was smoother sailing compared with the much older boards he's usually restoring.
Sheaves coated the floor with one coat of Bona Intense Sealer and two coats of Bona Mega One Satin. The stunning flatness Sheaves achieved and the natural beauty of the heart pine made it an instant hit on the company's social media. The floor was also featured in WFB's February/March 2022 Techniques column, Wood Floor Sanding 101, Part 1.
The notorious trickiness of the species makes the stunning end results all the more rewarding. But as Sheaves notes, getting those results takes practice. "Half the year, heart pine is all I'm touching," Sheaves says.
Suppliers:
Adhesive, Finish, Multi-head sander: Bona US | Nailer: Primatech 250 | Rotex sander: Festool | Subfloor: AdvanTech | Wood flooring: Appalachian Woods LLC