SPONSORED BY:
"We can honestly say that this was our most demanding application job so far," the team at Fino Oficio says of their expansive Readers' Choice-award-winning floor. It is a common refrain among this year's WFB Design Award recipients when speaking about their winning projects. In a trade where even "simple" jobs can be precise and demanding, the wood flooring pros featured on the following pages, several of them previous recipients of this award, have continued to push themselves in their craft and set new bars for wood flooring excellence. "I've been doing more and more jobs like this," Jason Vivash says of his intricate multi-media floor—a floor no other local pro would attempt—"and you just have to go for it, you can't be afraid." Even in an environment often filled with uncertainties, supply shortages and delays, the following pros dared to be creative and use what they had to bring their visions to the floor.
We're honored to recognize their efforts this year with awards for Best Residential, Best Commercial, Best Stairs, Best Gym, Readers' Choice and Next Gen (for companies owned by someone 35 or younger).
Congratulations to all of the winners (chosen by an independent panel of wood flooring experts and, for Readers' Choice, via an online survey). Each will receive a $500 product voucher and a Swag Bag from this year's Design Awards sponsor, Bostik. Plus, one winner will receive a $500 Visa gift card.
Thanks to all who submitted to the 2022 Design Awards. We want to hear from you again next year—to enter our 2023 contest, which is open to all wood flooring professionals, go to wfbmag.co/da23enter. To see this year's winners, keep scrolling.
---
Readers' Choice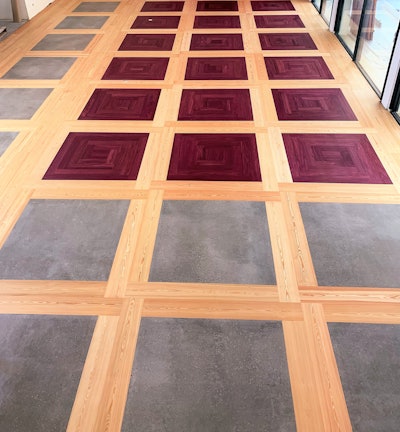 Fino Oficio | Vila Verde, Terrugem, Portugal
João and Susy Dias, the husband-and-wife wood flooring team at Fino Oficio, aren't known for taking on easy jobs. Their last Design Award-winning floor, for instance, featured 85,000 wood strips. But this 1,485-square-foot Siberian larch and purpleheart project, they say, takes the cake for their most challenging job yet. "One inch off and the entire project would crumble," João says.
The project took place at a small ranch where the owner wanted a "one-of-a-kind" floor for the main living area. Designed by architect Gonçalo Neves of RMood Group, the floor features 18 4-by-4-foot purpleheart panels inlaid in 7.2-inch-wide, 6.5-feet-long Siberian larch planks, as well as an 8-by-8-foot purpleheart panel in the home's reading room.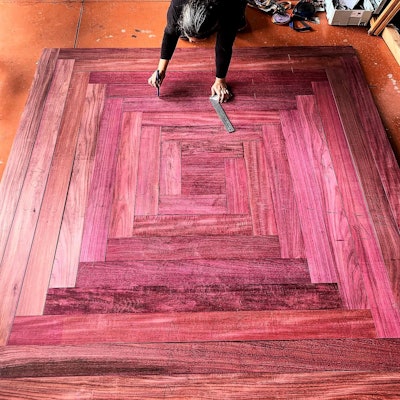 The panels were created in Fino Oficio's shop, where the company set up 18 massive square molds for each panel. They were assembled with polyurethane glue and tenons. The work was at times a family affair. "The assembling of the panels was done during our Christmas vacation, and our kids were there with us for two weeks gluing the panels," Susy says. "It was a really cool family time." Once assembled, the panels were sanded with a Festool BS 75 and transported to the site.
After carefully measuring the room, the team determined each larch plank would be able to remain the same length and width throughout, a critical factor for the overall design. Even though they measured multiple times, the install was still "nerve racking," as they only had 0.3-inch of cushioning around the walls. "As any wood floor contractor knows, the slightest deviation can cause a catastrophic result," João says. Fortunately, catastrophe was avoided with precision measuring, and the glue-down installation went off without a hitch.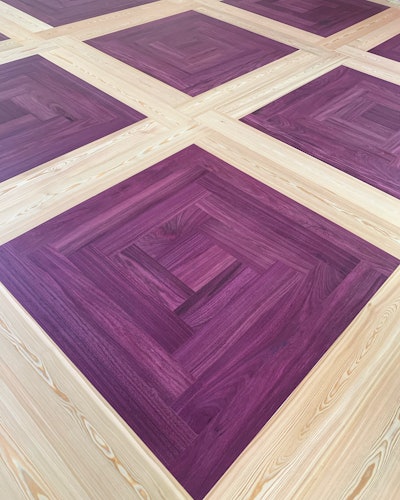 With the larch installed, they inlaid the purpleheart panels and custom tile panels into the floor. They then taped off the tiles and sanded with 50-grit and 60-grit, followed by 80-, 100-, 120-, 150-grit with a multi-head sander. "The biggest challenge was to assure a perfect flat floor, which is tricky when dealing with such a dense and hard wood like purpleheart and a really soft-grain wood like the Siberian larch," João says.
Avoiding any gloss whatsoever, they applied a matte water-based sealer and three coats of water-based finish. The large project took about four months to complete, and the clients were "over the moon with the final result."
As for their advice for handling grueling, complex projects with consistently stunning results, Fino Oficio's answer is simple: "Preparation, preparation, preparation."
"Always try to anticipate what can go wrong and deal with it before it happens," João says. "Try to make all the mistakes in your shop and not the job site!"—R.K.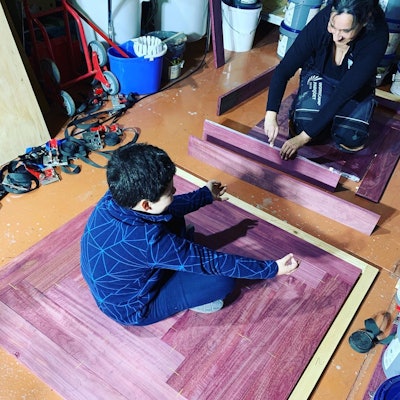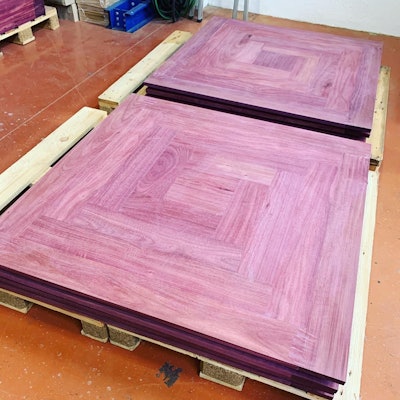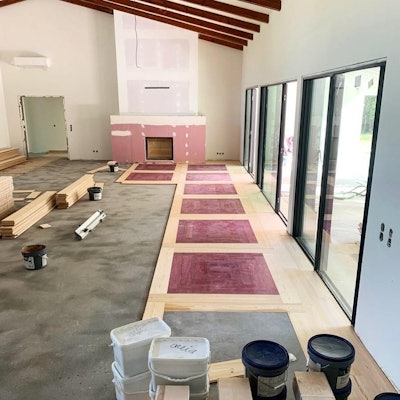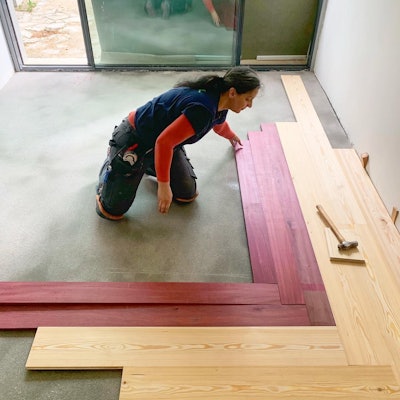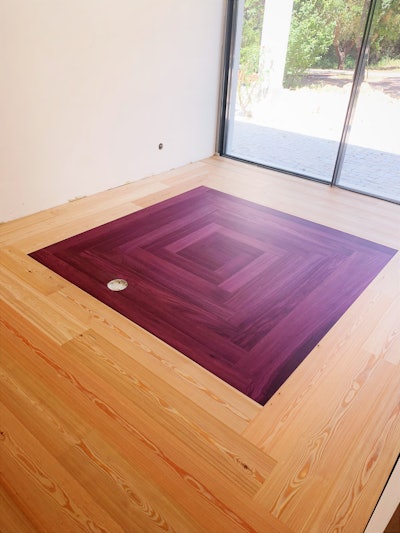 Suppliers
Advertisers appear in bold.
Abrasive: Bona, Sia, Festool | Adhesive: Pallmann | P6 Buffer: Bona Flexisand | Edger: Bona Dual Edge | Filler: Pallmann | Finish: Pallmann X325, Pallmann XZero 2K | Moisture barrier: Uzin PE 480 | Moisture Meter: Wolff Tools | Router: Festool OF 1400 | Sander (Big machine): Pallmann Cobra II | Sander (Palm): Festool RO 150, RO 90 | Saws: Festool Kpex 120, Festool TS 55 | Underlayment: Self-leveling Uzin NC 170
---
Best Residential


J.L. Vivash Custom Wood Floors Ltd. | Paris, Ontario
Jason Vivash got this job for a simple reason: No one else would do it. "They started building everything and could not find anyone interested in considering doing this floor," he recalls. "A millwork company I know well said, 'I only know one guy that has the skillset to deliver that level of work.' That kind of seems to be a theme now."
Over the last 10 years, Vivash has geared his company toward complicated custom unfinished floors, but this was a new beast for him: prefinished engineered plank with large marble inlays. "I was interested in the design and the intricacy of it, and I was interested in working with this builder and designer, but right away I was hesitant about inlaying marble into prefinished hardwood," he admits.
Faced with that, Vivash did what he always does: Said yes. First he tried to convince them that the inlays, which allude to the rings of a bit and the leather on a bridle, should be made of wood, or a combination of metal and wood, but that was a non-starter. So he began figuring out each step. No one local would touch cutting the marble, but he found someone close to Toronto who specializes in intricate cutting of marble with a CNC wet jet cutter. After considering CNCing the wood floor to fit it together with the marble like a puzzle, instead Vivash decided he would lay the floor first, then router out the spaces for the marble inlays. The wood flooring was ¾ inch thick, but the two colors of marble varied between ⅞ inch thick and 1⅛ inch thick. To make this work, they had to add an additional layer of ¾-inch plywood throughout the entire first floor—more than 5,000 square feet—so there would be no height difference in the flooring throughout the first floor, all while avoiding glue or fasteners in the areas that would be routered out for the marble inlay.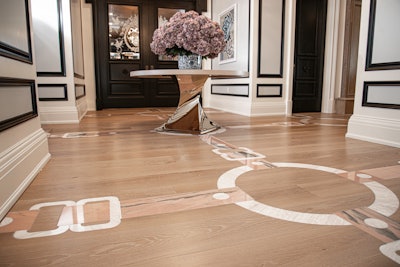 Once Vivash took careful measurements of the space—a process that had to happen before there was even finished wall treatment—the marble fabricator could start cutting the marble pieces, as well as router templates out of ¼-inch clear acrylic sheets. Before Vivash went anywhere near the actual job site, however, he spent several days in his shop experimenting with the prototypes to gain confidence in his process.
On the job, after sanding the existing subfloor to be dead flat and adding the additional plywood, he used string lines to center the floor layout and began the precise installation. When it came time to cut out plywood for the marble, he used his Festool 2200 ("just a beast of a plunge router") to cut out the curved areas and sped up the process by using his track saw for the straight cuts. "I started out with a ½-inch-wide combination router bit and routered out the whole pocket and then went back with a ¼-inch bit just to tighten up the radiuses," he explains. A "hidden little challenge" was having to include an isolation membrane and thinset underneath the varied thicknesses of marble. Every piece of marble had to be fit carefully for the correct height, all while protecting the prefinished floor, particularly when working with the 2-mm grout space between marble and wood. To further ensure flatness, Vivash used a wedge-and-clip tile-leveling system.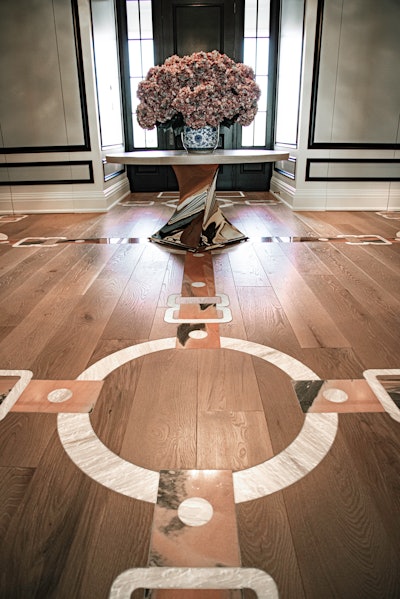 "Another big concern is that wood floors move, and this marble will never move," Vivash says. "I expected a bit of movement and some grout touchups, but it's been perfect, because the plank is engineered and because they did a great job of acclimatizing this house—they did everything they were supposed to, which never happens."
After three weeks of long hours on the job, the precise floor was complete, and everyone was "ecstatic" with the results. "I've been doing more and more jobs like this and you just have to go for it, you can't be afraid," Vivash says. "You have to trust yourself … I'm huge on doing prototypes and testing things in my shop … and if you can do all that, then you're good, you can do anything."—K.M.W.
Designer: LORI MORRIS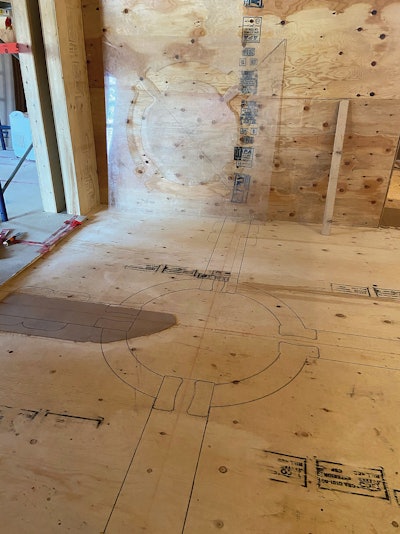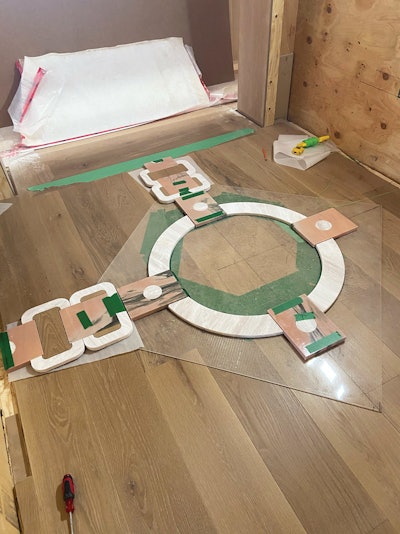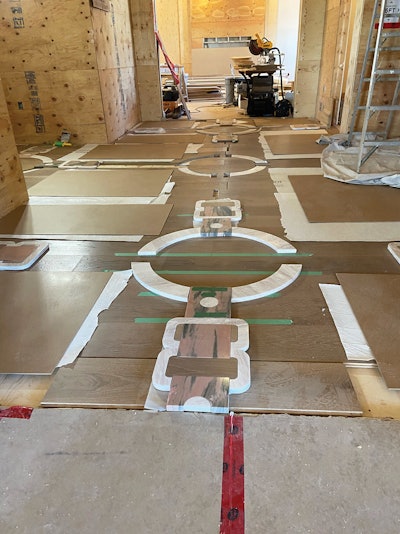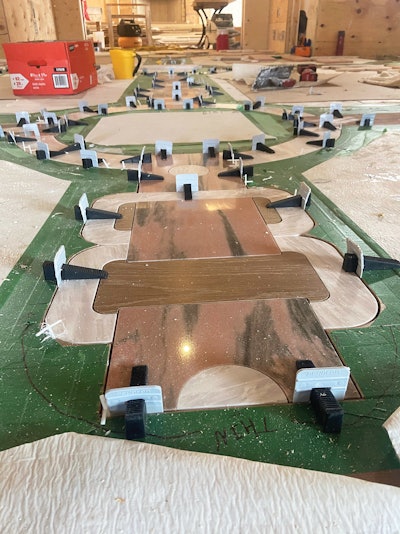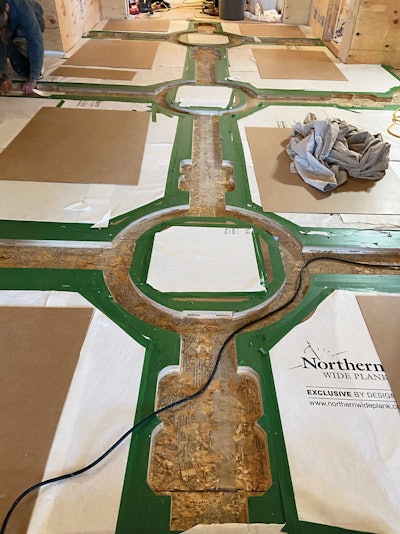 Suppliers
Advertisers appear in bold.
Abrasive: Norton Abrasives | Adhesive, Sander (Big machine): Bona | Edger: American Sanders | Nailer: Primatech | Router, Saws: Festool | Wood flooring: Northern Wide Plank
Watch Jason Vivash explain the complexities of this project:
Watch a time-lapse video of this project:
---
Best Commercial


Parquet Nobre | Rio de Janeiro, Brazil
The woodworking gallery, run by Xilo, an artist collective in central Rio de Janeiro, was created to showcase the versatility of wood. And what better way to honor that mission, thought Thiago Barros, than by creating the gallery's own wood floors using wood "waste" from previous wood flooring jobs.
Barros, who owns and operates Parquet Nobre, used leftover tauari boards and small pieces of leftover guajuvira for the gallery's intricate floor, crafted to resemble native basket designs. "In our market, small pieces are not really usable," Barros says. "But it showed the clients the potential that the wood can have and the technical potential of our company."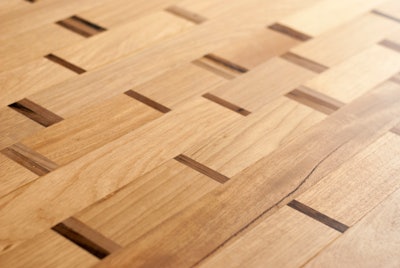 Barros cut the tauari boards to 2.7-inch widths, maintaining their random lengths, then began installing them in the older gallery building with adhesive over the concrete subfloor. He identified all the longest boards—2.29 feet—and spread them out in the install so they wouldn't bunch together, designating three per row. The floor was installed row by row in a repeating pattern that went one tauari board, one guajuvira piece, one tauari board, two guajuvira, one tauari board, three guajuvira. The 970-square-foot project took five days for the three-person crew to install.
After acclimating for another 15 days, they began sanding. "Tauari is really tricky to sand because it's a softwood, and the abrasives get used up really fast," Barros says. They also encountered some unevenness in the subfloor while sanding and had to remove some pieces, make adjustments and reinstall them. They completed the undertaking with three coats of water-based finish. "The building is open to the public, and everyone who arrives is like, 'Whoa, what's this?'" Barros says. "Because it's a really old building in the center of Rio de Janeiro. No one expects it to have something like this inside."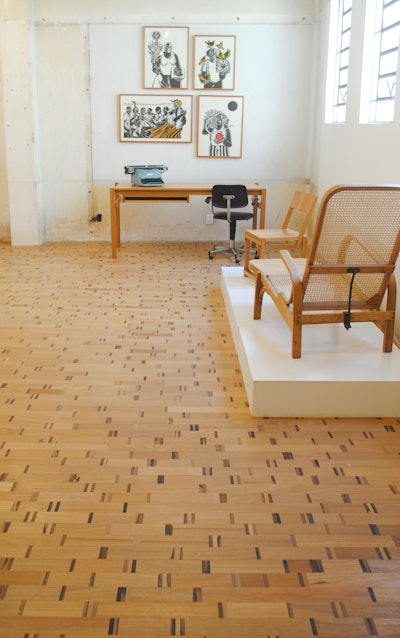 And the public aren't the only ones to be surprised by the versatility of the wood in the gallery's floor. "I was really not sure it was going to be cool, but it is much better than I expected," Barros laughs. Barros, who was previously recognized with the WFB Next Generation Design Award in 2017, says he's continued to gain confidence in the craft since then. "Wood is really tricky, and we're always learning," he says. "Everyone in our company is really passionate about what they do, and we feel the vibration of the team when a project like this is realized." —R.K.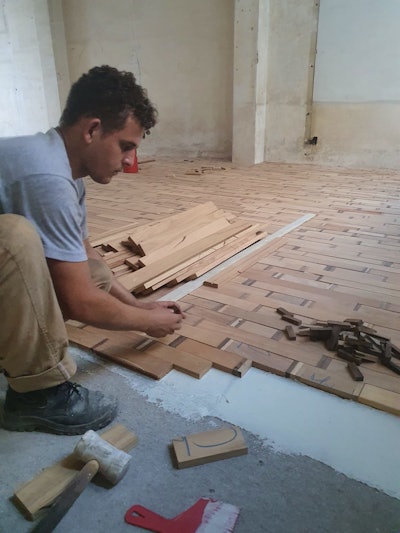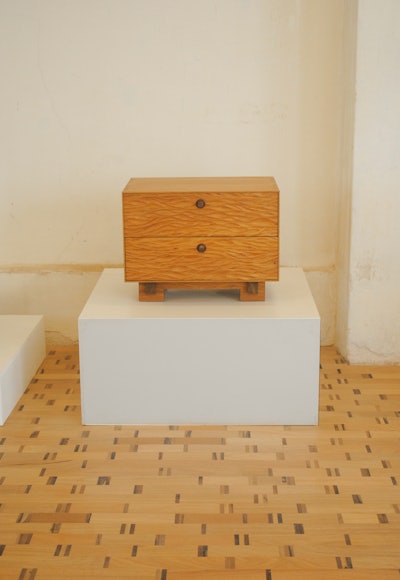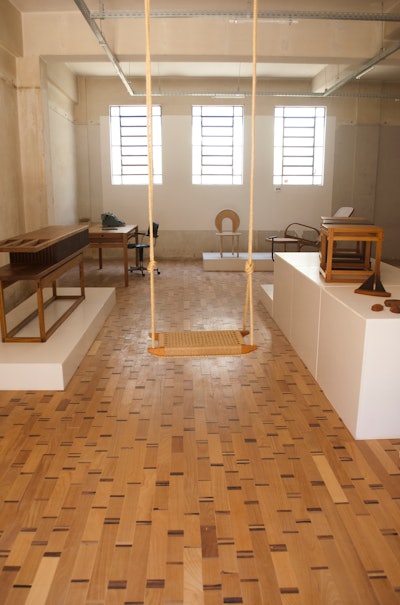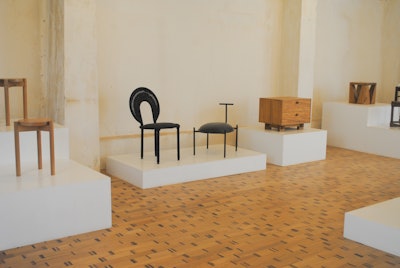 Suppliers
Advertisers appear in bold.
Adhesive, Finish, Multi-head sander: Bona | Big machine: Lägler
---
Best Stairs


Integrity Floors | Tampa, Fla.
When Corey Cathcart explains that his floor was the focus of this build, he isn't exaggerating: The middle point of the medallion is the geometric center of this entire commercial building, and the architects designed the rest of the building around that point. The stair treads were designed to radiate precisely off the 10-point star, creating a job that, along with 6,000 square feet of flooring and bent radii, made this the most technically challenging project the Integrity team has done.
Fortunately, they were not alone. In addition to his crew, Cathcart was able to resource the expertise of the architects and fellow wood flooring pros as challenges arose.
First was figuring out the angles for creating the stairs. "They are a single piece, which was interesting to do with that waterfall design and the tapered riser—and keeping it in line with the layout of the medallion," Cathcart says. The company had done custom stairs, but nothing with such complicated intersecting angles, all meeting up with a curved wall. "The architects were very cool with the math and how that all intersects," Cathcart says. "We tried it with simple miters, but there were several angles that had to be pieced together to make that work."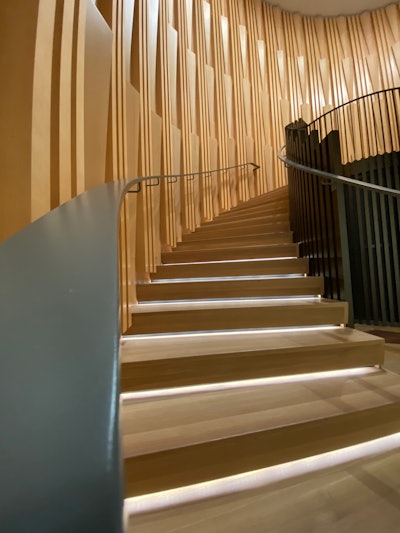 Once the technical aspects were solved, the stairs were templated and built off-site. "They were very specific on color-matching all those waterfalls that come down the side—those are all continuous grain from one piece to the next, so when you stand there you see the riftsawn turn down all the way through to that dado," Cathcart says. "We got them from Allegheny Mountain, so we were able to color-select that beautiful white oak."
The stairs had to include a channel for the LED lighting, and when Cathcart showed the concepts to fellow pro Dillon Moore of Moore Flooring in Chico, Calif., Moore suggested that instead of routering a flush 90-degree channel, they tilt the channel 15 degrees. "It shines the light at an angle so it's not as harsh ... you get a cleaner halo-type of effect," he explains.
The next obstacle was the medallion, which measured 28 feet across and was built on-site using a sled. When they ran into trouble figuring out a key angle for the cuts, Cathcart turned to Lenny Hall of Endurance Floor Company in Miami. "In true Lenny style, it took him about 7 minutes—when we had spent two days working on it before we called him," Cathcart laughs. With the confidence of Lenny's expertise behind them, the medallion was built amid a bustling job-site environment that included the Integrity crew working on the rest of the flooring. The final piece was the small walnut piece at the center of the medallion. To create that, Cathcart turned to their Shaper Origin job-site CNC. "We got the layout from the architect, downloaded it on the job site through their WiFi to the tool, and cut it," he says, explaining that the Origin cut the shape out of the floor and then cut the walnut piece. There was no option for test-fitting —they put glue on the back of the piece, pushed it in the space, and tapped it with a mallet. "We literally stood up, said 'I'm done' and went home, so it was a cool ending to such a mathematically difficult project," he says.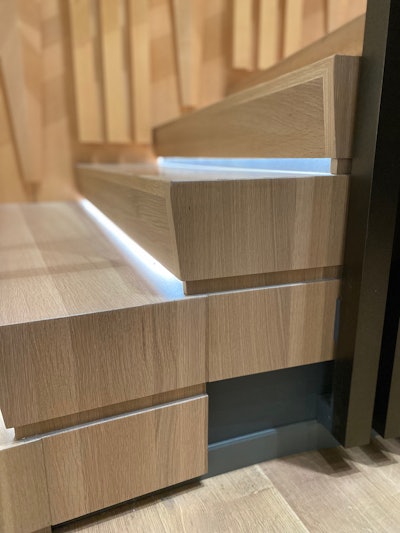 For Cathcart, the learning and teamwork were the most satisfying aspects of the complicated job. "We're not a very big company, so everybody who was there got to participate; everybody had an opportunity to learn and be involved," he says, adding that he doesn't know of another industry where fellow pros like Moore and Hall are so willing to share their knowledge. The entire job, he says, was like a symphony of cooperating trades operating at the highest level. "We felt fortunate, as a small company, to be involved with something at that level."—K.M.W.
Suppliers
Advertisers appear in bold.
Abrasive, Adhesive, Filler: Bona | Edger: American SanderS Super 7 | Finish: Bona Craft Oil and Traffic HD | Moisture meter: Tramex | Router: Tritan | Palm sander: Festool | Saws: Festool Kpex | Wood flooring: Allegheny Mountain Hardwood Flooring
---
Next Generation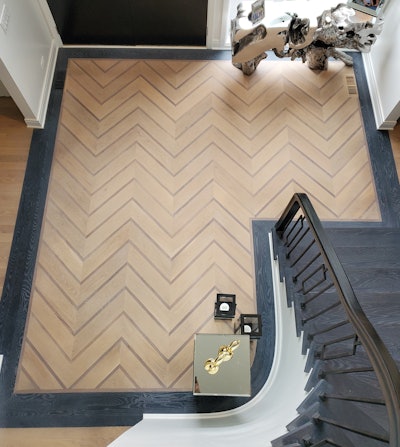 Floor Master Company | Des Plaines, Ill.
When Matthew Szyszka lost his father to brain cancer in 2019, he decided to change his life. He'd been working for flooring contractors in the Chicago area, but he wasn't doing the work he knew he really wanted to do. "After my father passed away, I came back to work and I was absolutely exhausted," he recalls. "One day, I was sitting with my brother at his place and I was like, 'Hey, look, we have to do something. I need to change my life, because I feel empty inside.'" Three and a half years later, after immersing himself in the wood flooring community and industry classes, Szyszka gets to choose his flooring projects—and the more creative, the better. This foyer, part of a 3,000-square-foot project located in Northbrook, Ill., was no exception.
The clients didn't know what they wanted for the 110-square-foot entryway, but they knew they wanted it to be special. Szyszka, aware that the floor would be competing with art pieces the clients planned for the space, pushed himself to come up with something memorable. The result was 5-inch white oak chevron separated by 1-inch American walnut strips and encompassed by a walnut and black-and-white-cerused white oak border.
Because the flooring for the special foyer would have taken an extra 6–8 weeks to arrive, Szyszka cut the chevron on site. Once everything was milled, he installed the field, using glue with a nail assist. As Szyszka worked on the foyer, his two workers installed 3¼-inch white oak in the rest of the home. "I wanted the pattern to be on me," Szyszka says. "I love this stuff—I love doing something extra—so I wanted to make sure I was going to take care of that." When the field was installed, he used a track saw to cut in the border and a router to cut the radius near the staircase. Szyszka glued strips of white oak together in a template overnight to create the curved portion of the border.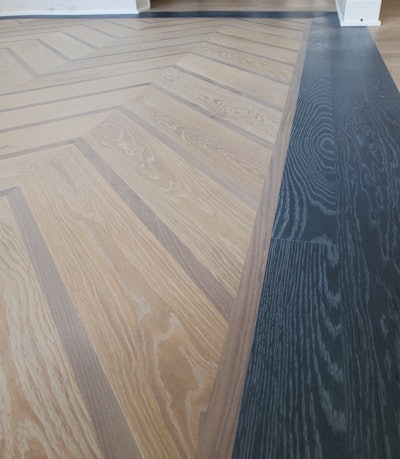 He then sanded with the big machine before switching to a multi-head sander and buffing with 120-grit. The border was treated with a black pre-color, chosen to match the stair treads, and Szyszka finished the entire floor with a light gray hardwax oil. "The stairs are going perfectly to the border," Szyszka says. "So I think that's the best part of the project, especially looking from the second floor down."
At age 31, Szyszka wants to continue pushing himself creatively and is doing work he didn't think possible even a year ago. "Basically, all the business that I do now, it's because of my father," Szyszka says. "I want to make sure that he's going to be proud of me and what I'm doing."—R.K.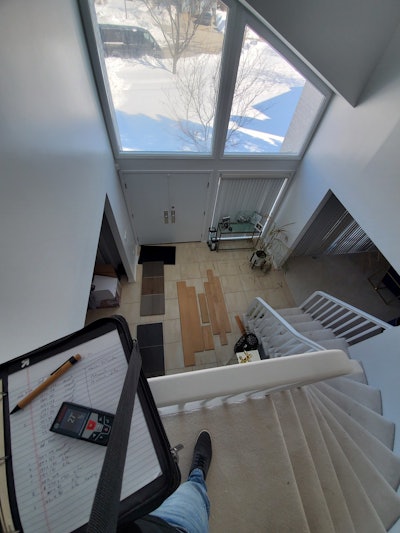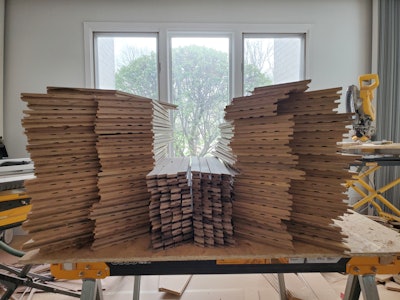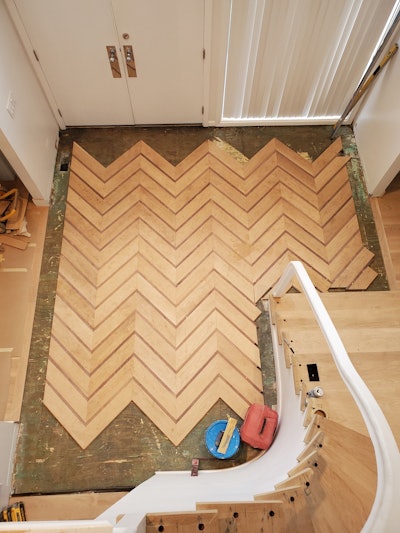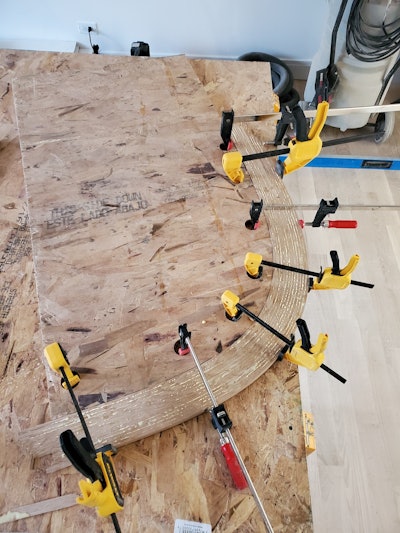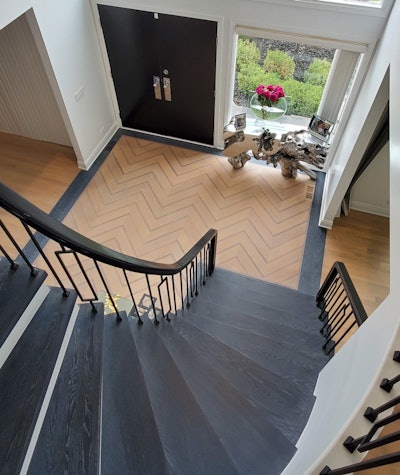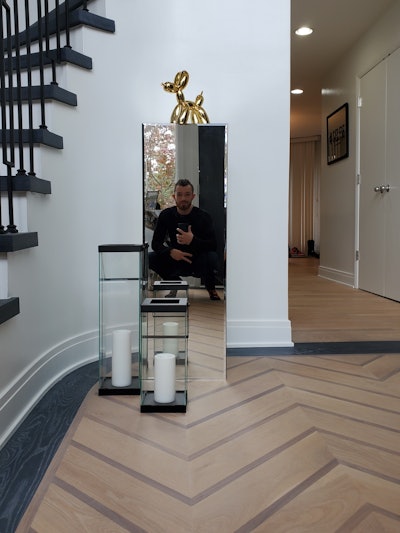 Suppliers
Advertisers appear in bold.
Abrasive: Norton Abrasives | Adhesive: Wakol | Edger: Lägler Flip | Filler: Loba Easy Fill | Finish: Rubio Monocoat | Moisture barrier: Wakol PU280 | Moisture Meter: Lignomat SDM | Router: Festool 1400, DeWalt Compact Router | Sanders: Lägler Hummel, Trio | Saws: DeWalt | Wood flooring: Graf Custom Hardwood
---
Best Gym


Praters Inc. | Chattanooga, Tenn.
Traditionally, for decades, the basketball floor business was low-bid. "Low-bid wins the deal, and that just cheapens the product for everybody because everybody is trying to figure out how they can not provide the best—just provide enough to get by within the specs," says John Prater. "We're the total opposite: How do you want to enhance your facility?" Since Prater's company began in 1989, it has led no less than a revolution in the mindset about basketball graphics.
"Whether it's a graphic design at a high school or an event for the NBA or NCAA Division 1, people want unique," he says. Not long ago, it would have been unheard of for a high school, much less a middle school or grade school, to request custom basketball graphics, but that has become the norm. Case in point: The Apostolic Christian Academy, a small private school in Maryville, Tenn., that approached Praters about their gym floor.
"The contact at the school asked me, 'Well, what can you do?' And I said, 'We can do anything you want.' He kept throwing me his wish list, and it started getting bigger and bigger," recalls Chad Mildram, senior territory manager at Praters, about this project. In a sign of the times, the school had its own designer, who created the vision for branding the Apostolic Flames' gym as "The Furnace" with an edgy all-black design.
The final design incorporated a combination of products, including stain that was buffed on, stain applied with a T-bar, and gym paint, too, all applied with the usual methodical process of layers of vinyl stencils. One of the most challenging aspects was making sure the sand job was excellent, since black is unforgiving of any sanding marks.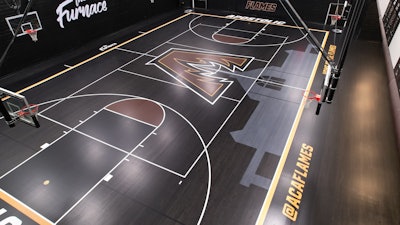 The school had another request, and it was one Praters was able to fulfill for its first time on a basketball court: matte. Although matte sheens have been preferred for many years in residential work, they've presented a challenge for the gym market, as flattening agents decrease the slip resistance of a coating, usually making a wood floor too slick to be safe for basketball. Because of Praters' work with the finishes from German company Dr. Schutz for vinyl floors, they became aware of the company's matte waterborne finish that would work for basketball floors.
In addition to being on-trend from an aesthetic point of view, the matte sheen has potential for floors that are on TV, reducing glare from bright lights, and is helpful for any site from a maintenance point of view. "If you have a matte finish and you get a scratch in your floor, it's not going to show," Prater explains.
What innovation will emerge next? As of press time, Praters was hard at work on a new technology for graphics and hoping it would be implemented by the time of the Final Four. As John Prater says, "We've always been the company that says, 'Yes,' and then figures it out."—K.M.W.
Designer: Dale McBroom
Suppliers
Advertisers appear in bold.
Abrasive: Norton Abrasives | Buffer, Edger: American Sanders | Finish: Dr. Shutz | Sander (Big machine): Floor Mack
Watch a video showing a view of this project from a drone: