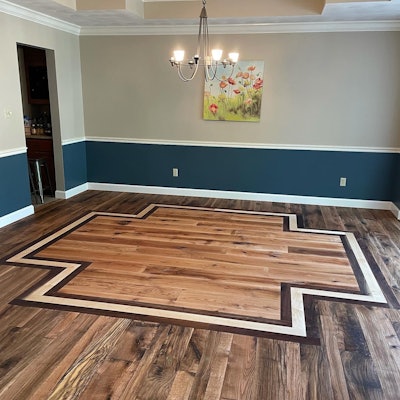 If a tree falls in a backyard and Joe Smith is around, it stands a good chance of becoming a stunning textured wood floor like this one.
The homeowners for this unique project removed a large red oak from their backyard and had it milled before turning to Smith, who runs Centralia, Ill.-based Smith Artisan Floors, for the wood floor design and installation. It was Smith's first "forest-to-floor" job. "I was pretty much in the driver's seat for the whole process," he says. "They reached out to me and said they wanted to do something cool." The boards from the tree spanned 3–8-inch widths and made up about 770 square feet of flooring. "It was about a year and half in preparation just between harvesting the tree and sending it off and having it cure and do everything it needed to do," Smith says. "It was a lot of prep."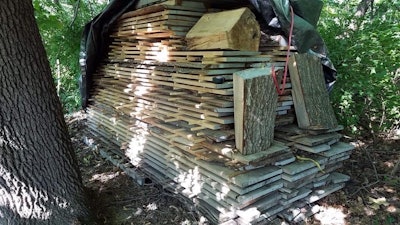 Because there still wasn't quite enough of the backyard red oak material to fill the space, Smith designed a custom centerpiece using livesawn red oak, maple and walnut that mimicked the plaster relief in the dining room ceiling, as well as a maple and walnut border around the fireplace.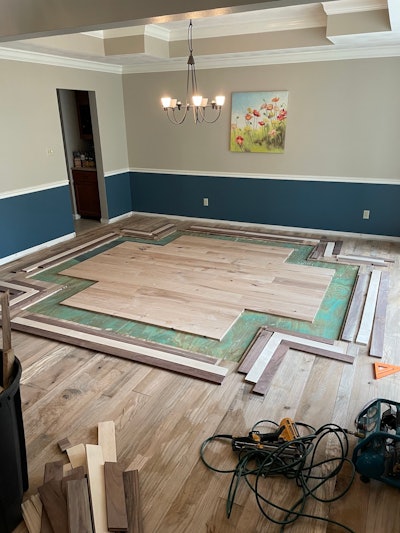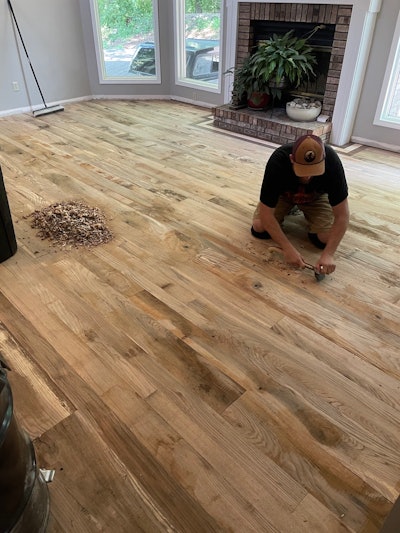 With the design approved, Smith and a crew member end-matched all the boards on site, then began the installation. They used full-spread adhesive and strategically top-nailed certain boards during the installation. For the centerpiece, Smith mapped out the 8-inch livesawn red oak with chalk and started the install from the middle, working out toward the walnut and maple boards encompassing it. Once the entire floor was installed, they hand-scraped each board. "The clients really loved the surface texture on these boards, as they had not been planed," Smith says. "They still had all the skipsawn marks from the mill, and they really wanted to preserve that." Smith also filled in "a couple hundred" knot holes in the floor with black epoxy, which they then hand-scraped, as well. After the intensive hand-scraping, they screened the floor with 80-grit, followed by 100-grit. "That cleaned things up enough and eliminated the fibers and things that we didn't want being loose, without eliminating all that great texture," says Smith.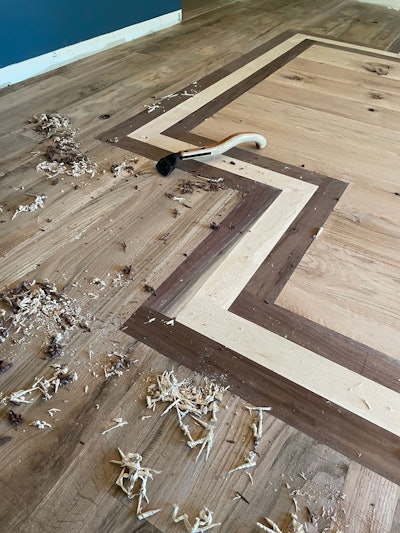 When the screening was completed, they vacuumed, Tampico-brushed, water-popped and coated with oil finish. "The oil enriched the tones—gave a real deep, warm look to them," Smith says.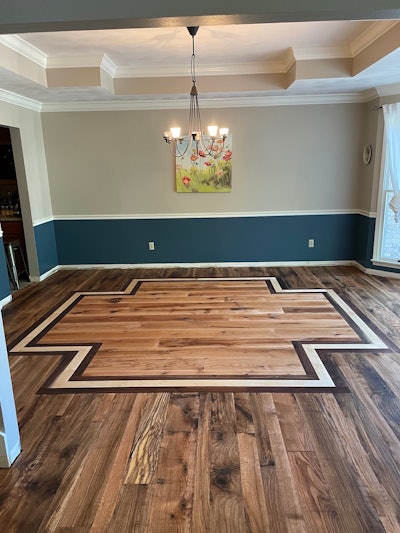 The entire installation took about three weeks. Smith's biggest advice for working with rough, multi-width boards is to forecast ample time to handle the wood. "It's so much more time-intensive preparing every board as you go," Smith says. "I don't think there's any way to streamline that process—you just need to make sure you leave yourself time to take care of the details."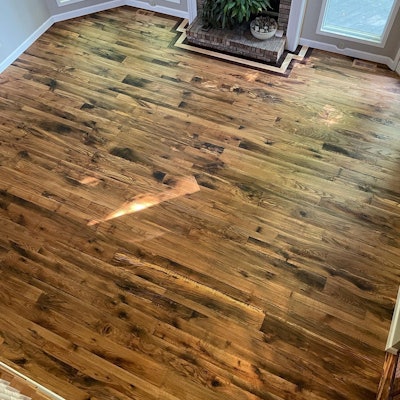 And when installing a tree that fell in a backyard, there's no doubt that taking care of the details makes a sound—namely, the sound of happy clients.
"They really like it," Smith says. "They've got several dogs and several kids, and they really like the versatility of the Impact Oil, and being able to touch up spots and maintain it."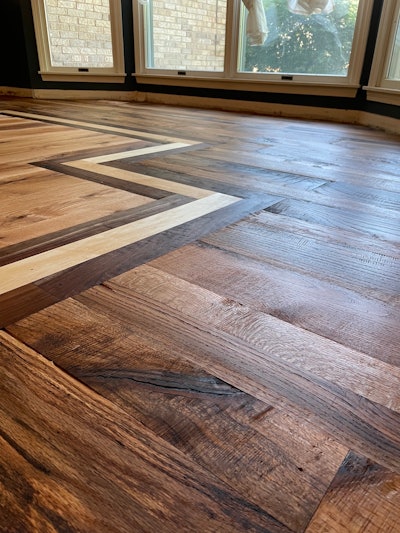 Suppliers:
Abrasive: Norton Red Heat | Adhesive: Wakol MS260 | Finish: Loba | Big machine, Edger: Lagler | Buffer: American Sanders | Filler: Bona | Moisture barrier: Wakol | Moisture meter: Lignomat | Nailer: Bostitch | Router: Makita | Sander (Palm): Bosch | Saws: DeWalt, Skil | Wood flooring: Virtue Hardwood