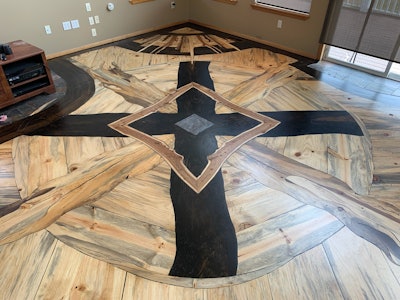 When wood floor pro Tom Ourada wraps up a project, he typically shifts all his focus to the next job. "When I'm done with a project, I stop thinking about it," he says. "I'm done and I'm off to another one."
But for this resand, Ourada had the opportunity to revisit one of his first outside-the-box wood flooring creations, completed around 2014 and featuring 350 square feet of custom-milled honey locust, walnut, maple and pine.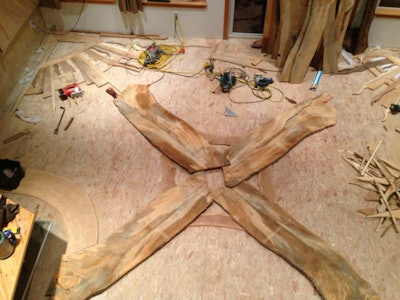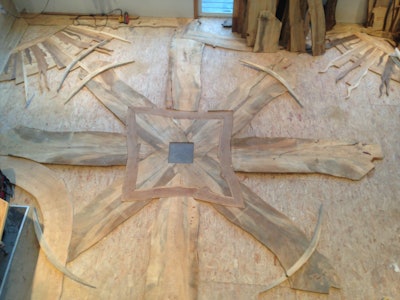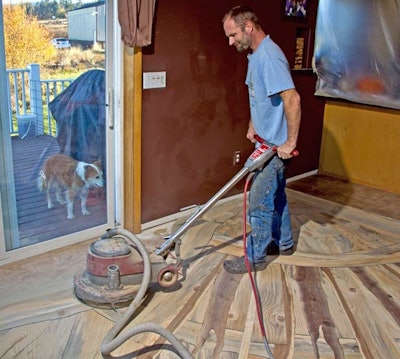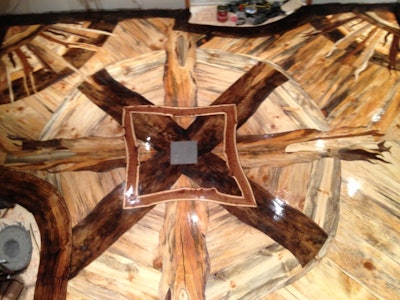 Ourada, who runs Ourada Designs in Nine Mile Falls, Wash., and is known for his artistic approach to the craft, originally made the complex floor for a friend in exchange for a kiln. The new owner of the home who called Ourada for the resand said the floor was the reason he'd bought the home years earlier.
"They purchased the house because his wife was dying of cancer," Ourada says. "They came and saw the house and saw the floor—and she said that's the floor she wanted to die on. She didn't want to look anywhere else in the house."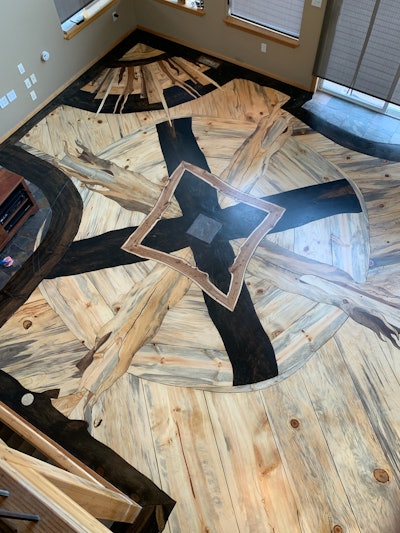 The homeowner's wife passed away last year, and the refinish was to prepare the house for another sale. As the floor had borne the brunt of multiple large dogs over the years, Ourada had his work cut out for him. He began sanding with the edger, getting the floor, which varied in thicknesses within ⅝ of an inch in some areas, as flat as he could. He then did a pass with the big machine, followed by two passes with his Trio.
"I was able to fix what I didn't know how to do before," Ourada says regarding the multi-species floor's flatness. "I just wanted it to be the best that I possibly could get it."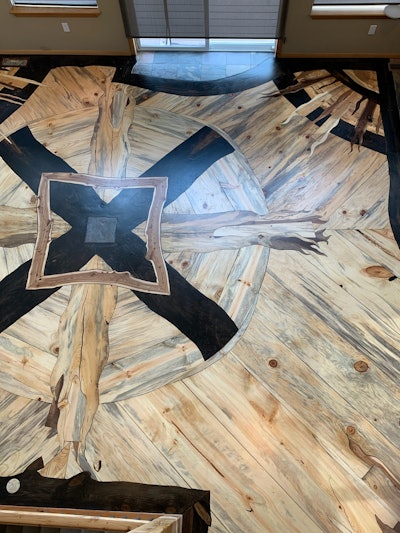 At the client's request, he applied brown stain to portions of the floor, spending a lot of time taping other areas off. He then applied two coats of satin polyurethane finish, wrapping up the job in just a couple of days.
Ourada tends to be the biggest critic of his own work, but says seeing his previous flooring project up close and personal again was a positive experience.
"I always critique my stuff in the hopes I can learn something," Ourada says. "I don't beat myself up about it. There is a chance to learn from it and make my life better in the future."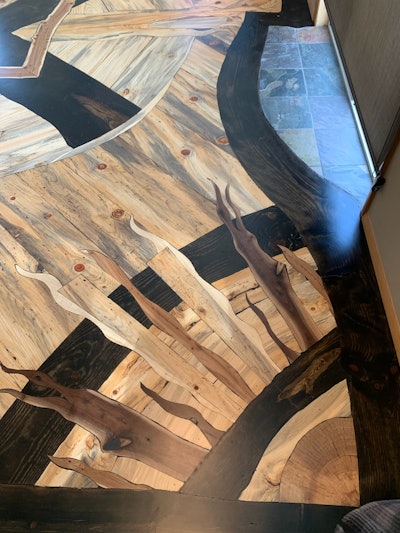 Ourada estimates he's kiln-dried around 20,000 board feet in the years since he traded this original floor for a kiln. In this way, the floor that held special meaning for the new homeowner and his late wife generated many more stunning Ourada floors.
"That is such a good feeling that a floor I've done can make someone feel that they want to be there, and they can choose a palace, but this floor is where they want to be," Ourada says. "I have appreciation for someone to be able to love it that much."
Suppliers:
Finish, Stain: DuraSeal | Multi-head sander: Lägler Trio