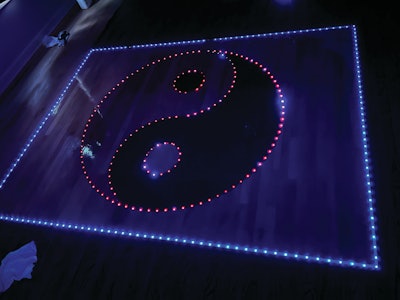 The yin-yang symbol needs both light and darkness, but wood floor pro John Booth added another element: glitter-filled epoxy. Booth, who owns Louisville, Ky.-based Louisville's Best Choice Flooring, was asked by a friend from a local real estate group to refinish this 300-square-foot oak floor; Booth agreed to the job with one condition: "I said, 'Leave me the living room and give me full rein over what I want to do.'" Deal.
Booth began by finding the center of the room and drawing a box. "I was like, 'What's the opposite of a box? A circle!' And inside I drew a circle and then it hit me: yin-yang." The LED lights were something he'd been wanting to incorporate into a floor for a long time. "I knew I was going to make it work," he says. After sanding the floor to 100-grit, he routed the square and the yin-yang symbol, then installed the peel-and-stick LED lights in the routed grooves. Because the room didn't have crawl space access, Booth ran the wire through a floorboard to reach the wall. He mixed epoxy with mica powder and glitter, poured it over the LED lights, then sanded again.
---
RELATED: Light-Up Wood Floor Compass Points to the Beat
---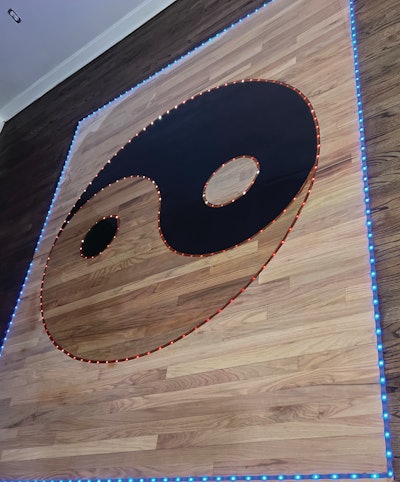 Booth also used the creative opportunity to play with colors, applying black PreTone water-based pigment stain on the dark side of the yin-yang, followed by an oil-based sealer mixed with black, blue and regular glitter and then another coat of water-based. The light side of the symbol was coated with oil-based sealer and glitter. Outside of the symbol and inside the square he applied white PreTone. He stained the rest of the floor brown, then sealed and finished it.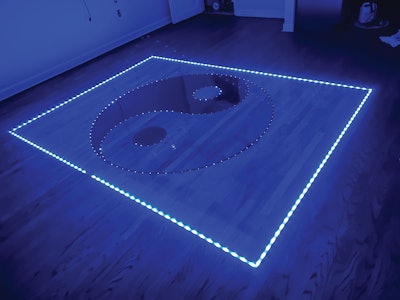 Booth says several people told him the lights and design in the floor wouldn't work out. But he kept pushing through, even during setbacks, motivated by an inspirational quote he'd heard: "God gives you a vision and nobody else. Only you can see it." Today, combined with glitter and color-changing LED lights, Booth's craftsmanship and vision are hard to miss. "Do what you see, and everybody else will be stunned if you follow through with it … and I did," Booth says.
---
RELATED: A Bright Future for Wood Floor Feature Strips
---
SUPPLIERS: Abrasives: Bona, Norton Abrasives | Big machine: Lägler North America | Finish: Loba-Wakol, Bona, Wearmax | Multi-head sander: Bona | Router: Ryobi | Saws: Skilsaw