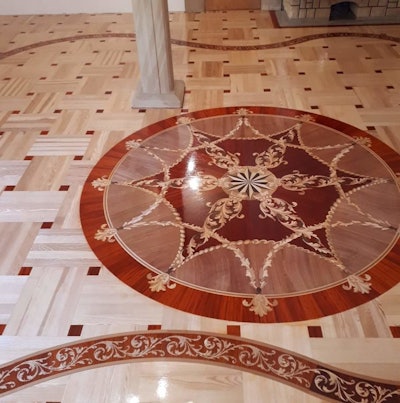 When you need a stroke of wood floor medallion genius in Poland, it's no secret that you go to Urszula Klotz and her team at Chróścina-based Renaissance Floor In-Lays.
For this private residence in Nowy Sącz, Poland, Klotz's clients chose one of the many intricate, multi-species patterns from the company's catalog. This particular parquet was maple with padauk squares, with a border featuring marabou and maple. The medallion was a blend of padauk, walnut, maple, wenge, sapele and beech. "The whole floor was made by hand," Klotz says. "The inlay designs were cut on the Hegner scroll saw by hand, and the parquet was assembled by hand, as well."
A majority of the 577-square-foot project was fabricated in the company's shop and transported to the residence, where it was glued down.
"The most challenging part of the project was the installation of the borders because there were no corners in the room," Klotz says. "Production was easy compared to the installation."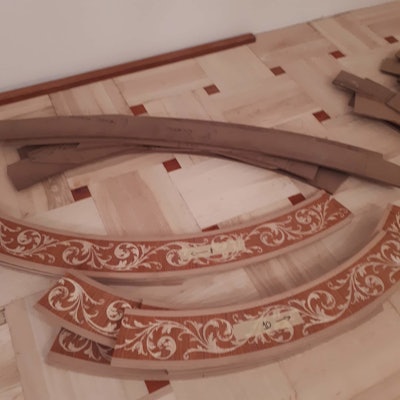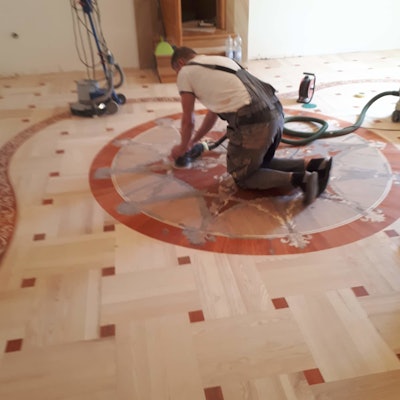 Once the curving borders were in place, the floor was sanded three times and given three coats of high-gloss polyurethane, plus one protection coat to prevent the padauk from bleeding, Klotz says.
The extra effort on the border installation ended up paying off for Renaissance. "The customers love it," Klotz says. But sometimes the price of genius is hard work: It turned out so well the clients want the same floor again—and again.
"On this day we have two more projects from that client," Klotz says. "The same layout and the same pattern."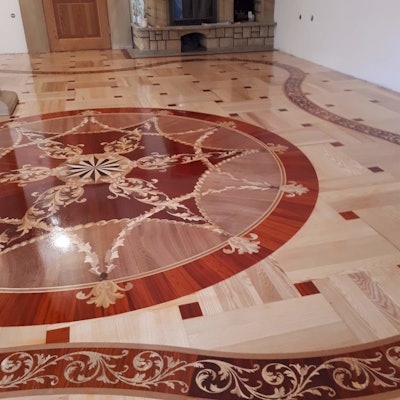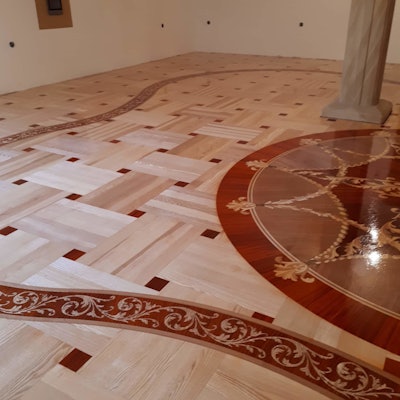 Suppliers:
Abrasives: Wurth | Adhesive: MAPEI | Big Machine, Buffer, Edger: Janser | Finish: Saicos | Router: Festool