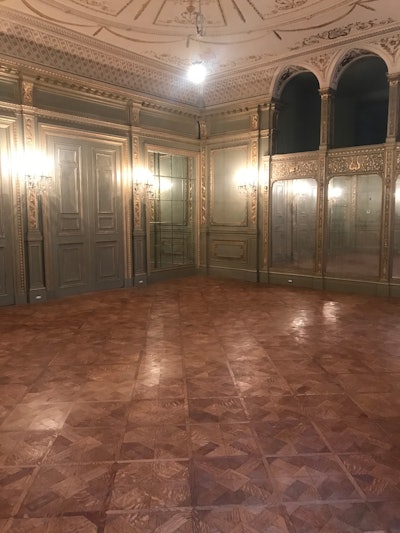 The Ames Mansion was a gem of Boston's historic Back Bay area, complete with sweeping murals, stained glass and intricate woodwork almost everywhere you turned. But by 2013 the building had fallen into disrepair, and the fate of one of the mansion's most impressive details—its parquet floors—was in question.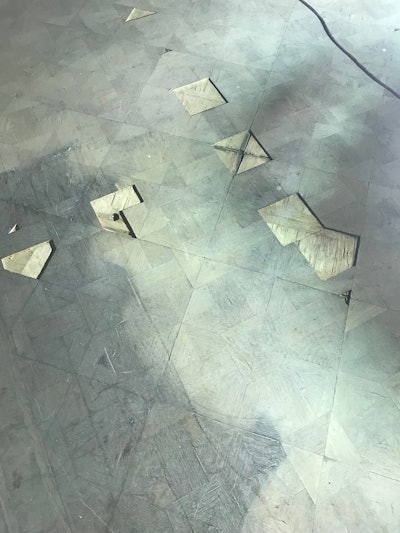 Enter John DiPonzio with Blackstone, Mass.-based Design Wood Floors. DiPonzio looked at the intricate-but-grime-covered wood flooring and saw much of it still had life to give. He had already won acclaim for replicating the pattern of the wood flooring in the famed building's entryway. For this restoration challenge in a different portion of the building, he was determined to save as much of the original oak flooring as possible.
"Our first challenge was addressing the aftermath of a long channel cut into the antique pattern floor that was about 25 feet long and 2 feet wide, which had been cut to drop a pipe in," DiPonzio explains.
He considered new wood for replacement pieces in the floor but found the color didn't match the existing floor well enough. So, he decided to source replacement pieces from 150-year-old beams reclaimed from a teardown in the seaport of Mystic, Conn. "Although these did not match, either, they had a more neutral aging, which gave us a better place to start as we added color," DiPonzio says.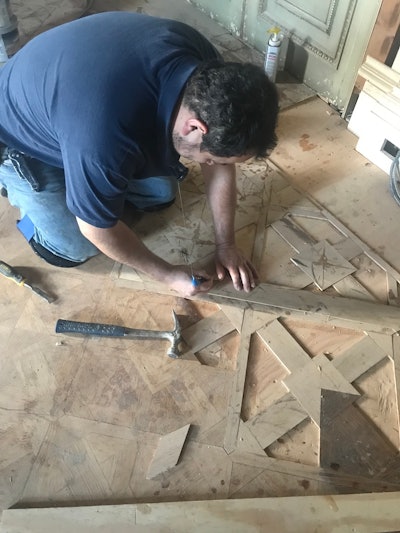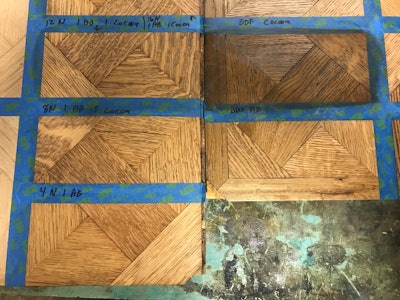 First came a long bout of chisling work as DiPonzio and his team carefully removed and replaced the floor's unsalvageable areas with ¼-inch-thick replacement material, a delicate process that took over a month to complete.
When the repairs and replacement flooring were completed and the entire floor was sanded, DiPonzio applied a mix of stain and penetrating oil to the existing floor, then taped off that flooring and used a different mix for the areas with replacement oak, resulting in matching color.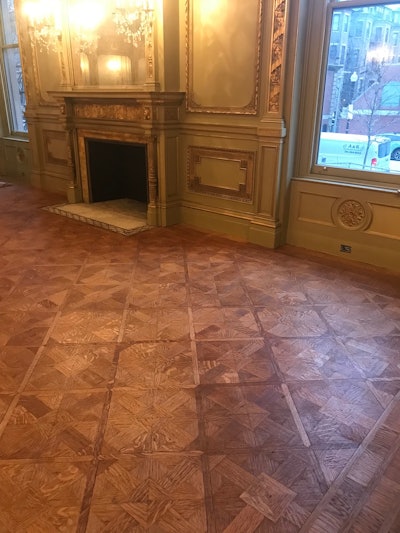 The extensive restoration to the floors of the mansion, which is now used as luxury apartments, was completed in two months. It takes a certain amount of skill and craftsmanship to make antique floors look new—particularly when, technically, they're about 20 years older than they were before.
Abrasives: 3M, Festool | Adhesive: SCL Epoxy | Big machine: Lägler Hummel | Buffer: MasterCraft | Edger: American Sanders | Filler: Woodwise | Finish: WOCA Diamond, Bona DriFast | Palm sander: Festool | Saws: ​​SawStop, Bosch, Festool