The team at Tamworth, Ontario-based Sheffield Hardwood had several run-ins with the past while working on the wood flooring in this 1878 Victorian Italianate Mansion in Cobourg, Ontario.
Whether it was uncovering the stamped name of the 100-year-old floor's original builder (locally renowned craftsman Martin Jex) or being greeted by the face of King George V on an old quarter under the boards (they're much more used to seeing Queen Elizabeth II on Canadian currency), it was hard to not gain a newfound respect for the history of the building and the craftspeople who came before them, says Heather Adams of Sheffield Hardwood.
The approximately 1,000-square-foot project included redesigning the entryway flooring, which had been framed by a worn chevron pattern. The Sheffield Hardwood team was also tasked with installing new birch flooring in the mansion's kitchen and one bedroom.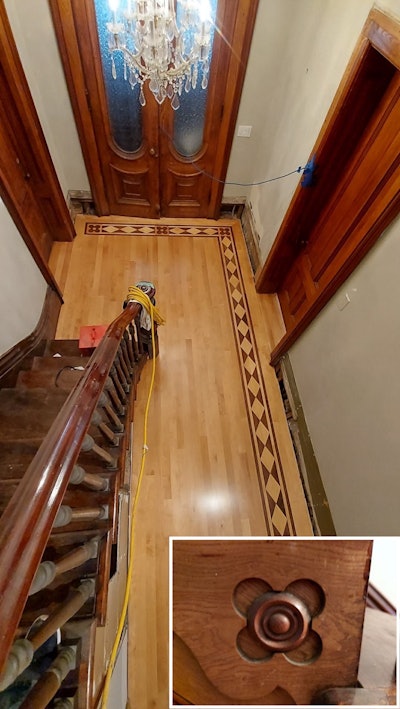 The next challenge was interlacing the new birch flooring in the kitchen with the existing beech in the living room. For optimal blending, they sanded with the Hummel, followed by the Power Drive, then finished with Bona AmberSeal and IntenseSeal and two coats of Bona Traffic HD.
Throughout the project, the Sheffield Hardwood team used the original craftsmanship all around them for guidance, and were able to honor the past as they left their mark on the historic home.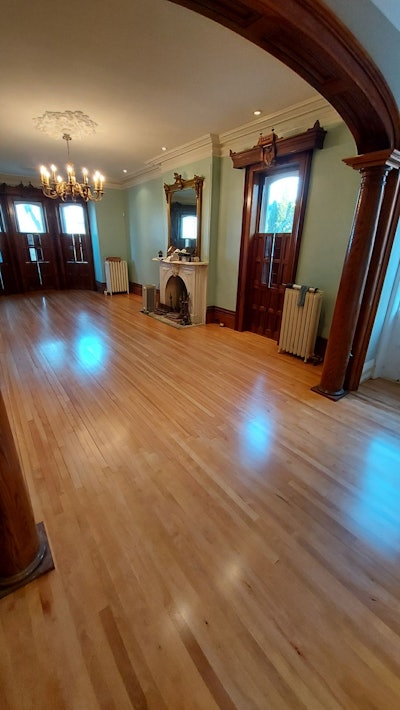 "The contrast between the light tones of the floor and the rich woodworking that makes up the trim, molding, window valances and pillars throughout the house is striking and cohesive," Adams says. "One's imagination starts to take off, contemplating how different a world it must have been for these laborers who came before us, over 100 years ago. They built the base upon which we are working."

Suppliers:
Finish: Bona | Sanders: Bona, Lägler