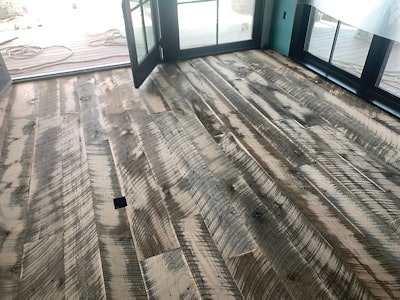 We asked the above question. Here are our favorite responses shared by our readers on the WFB Facebook and Instagram pages.
Lorie Davidson
This is my home's hallway. It's a 2¼-inch white oak in a rhombus pattern with a soldier border and walnut accent strips. I used the rhombus pattern because of the odd angles of the hallway when it turns to the right in this photo.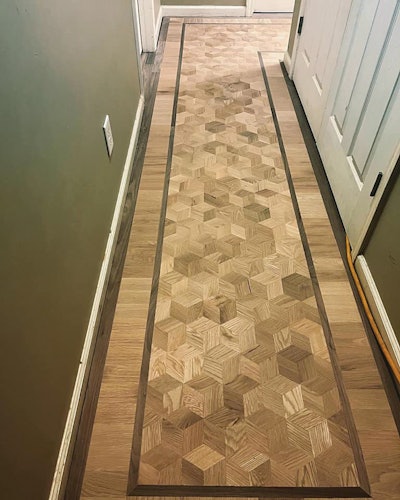 Jonathan Gramajo
These are 7-inch red oak reclaimed planks. The customer asked us to install it upside down because he loved all this imperfections, saw marks and cuts marks all over the place. So, we ended up adjusting some tongues and groves, then nailing it down with glue-assist and filling all those knots with black epoxy.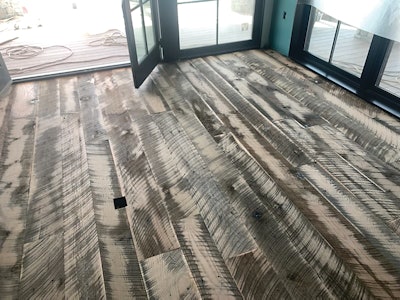 Spencer Hulbert
I recreated a picture-frame floor in my upstairs using only quartersawn red oak. My home was built in 1881.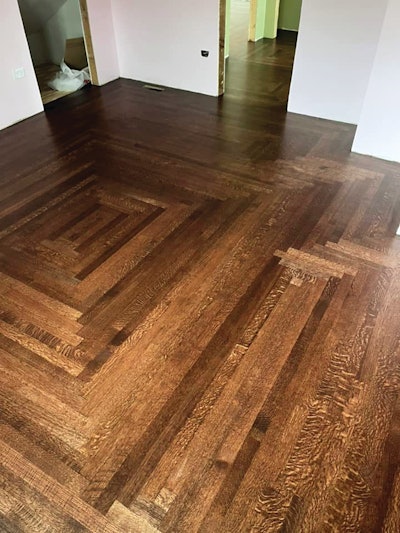 Jason Vivash
This reclaimed oak pattern with leopardwood and wenge diamonds.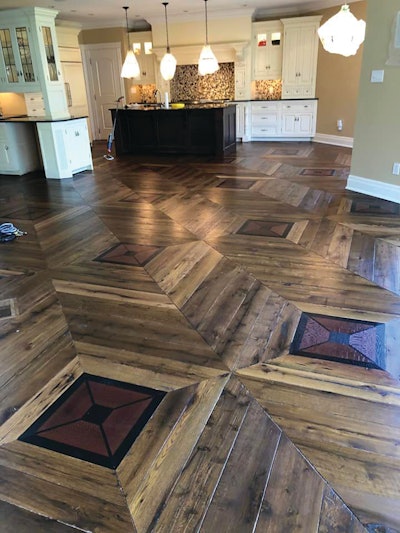 Che Polfliet
I designed this floor with a compass rose for customers who like to sail around the world. That's why I chose to use these types of wood from four continents for north, east, south and west: Merbau from Asia, American walnut, afrormosia and wenge from Africa, and European maple. Not to make it too easy, the north point comes out of the compass.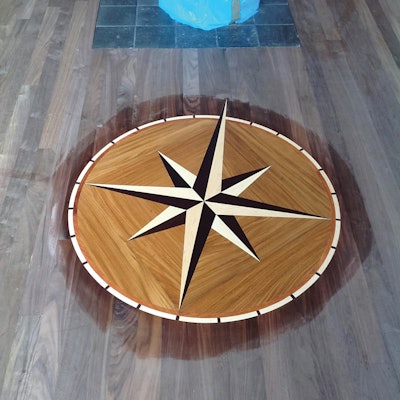 Justin Hiers
This is 2¼-inch select red oak with a 3¼-inch sapele inlay. It's stained with DuraSeal and coated with ProCoat Titan.
DM Hardwood Designs
This Navajo war bonnet that won my first Floor of the Year award in 1996.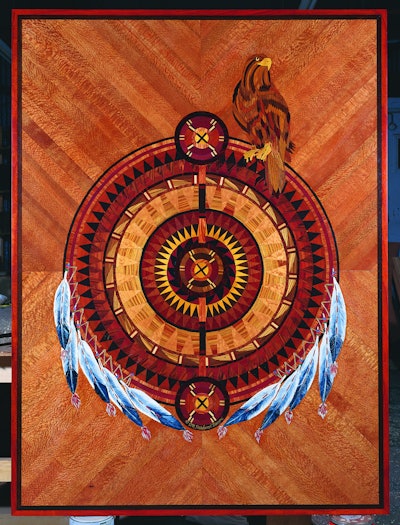 Casey Ditsworth
For this red oak and walnut floor, I had to do one side of the fireplace at a time: one side complete with staggered rows, then the other. So just gluing up the curve took me a week of a few minutes here, let it dry, a few minutes there, let it dry. The field and the rest of the borders were gravy.
Lenny Hall
This hand-made trompe l'oeil parquet we designed in 2006 and made from Gaboon ebony, English sycamore, Brazilian ebony, massaranduba and sapele.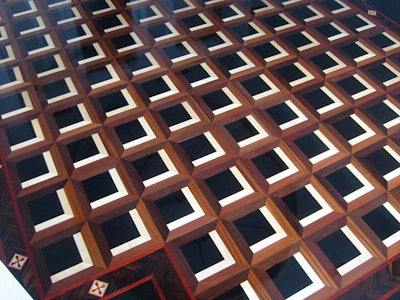 Follow WFB on Facebook and Instagram to see the next chance to be in the Talking Shop column.