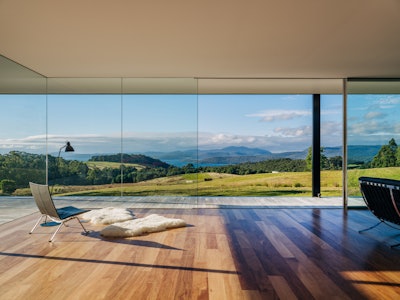 Photos courtesy of Adam Gibson
People who live in glass houses shouldn't throw stones, and they also shouldn't settle for anything less than pristine wood flooring, as the acclaimed Koonya Pavilion in Tasmania clearly demonstrates.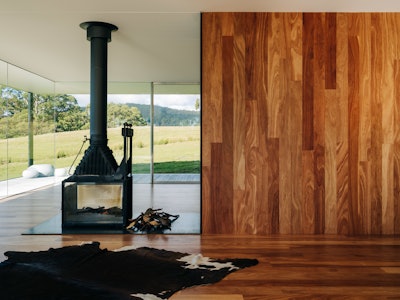 South Hobart, Tasmania-based Room 11 Architects designed the remote pavilion, also known as "Glass House" and recently featured on the cover of the 2023 WFB Resource Book, for a repeat client as a retreat for writing. The building features four glass walls and sweeping views of the Tasman Peninsula. The spotted gum flooring and walls were chosen by the architects to complement the glass and concrete and connect the structure to the landscape.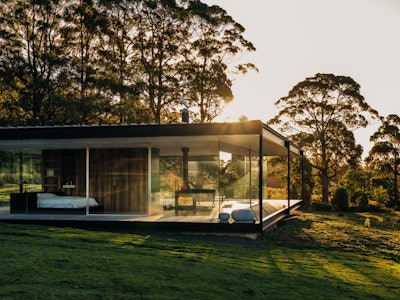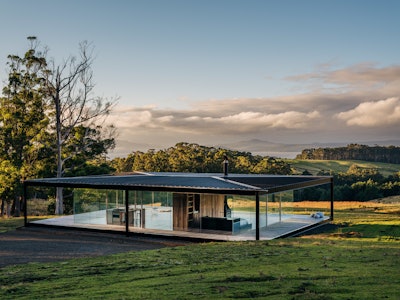 Jon Tew of Elevate Building Tasmania oversaw the construction of the 2,755-square-foot building and also installed the flooring. The most challenging part for Tew and his team was also one of the building's best features: It's far away from everything. "We always had to make sure we had everything we needed on site, as we couldn't just go get something," says Tew, who is based in Hobart, about an hour away from Koonya.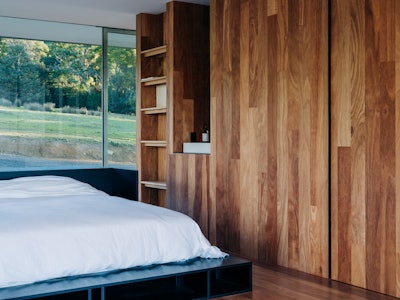 Tew and his team glued the unfinished engineered boards over the concrete slab subfloor. Following the installation, Moonah, Tasmania-based Jason Davey Floor Sanding and Polishing was brought in to sand and finish the flooring, completing it with three coats of water-based finish.
A goal of utilizing engineered wood floors in the project, Australian floor manufacturer Big River Group notes, was to reduce the need for high levels of maintenance in the out-of-the-way writer's retreat. "All products used in the pavilion were selected with longevity in mind," the company stated. This way, all the owner needs to worry about at Glass House is having plenty of pens, paper, and, most likely, Windex.