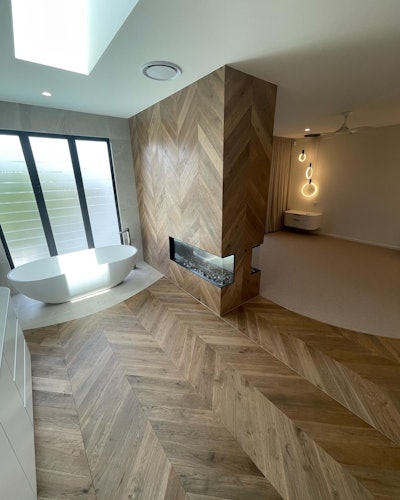 Lukas Harris of Palm Beach, New South Wales, Australia-based Harris Timber has been installing wood floors for only about six years, but his career is already on its way up—and, in this case, so are his floors.
The European oak chevron floors in this new building in Burleigh Heads, Queensland, transition from the floor to the walls. The architect came up with the design for certain sections of the home, including the bathroom and master bedroom.
Due to a delay on the supply of timber, Harris and his team came in at the very end of the build to install the flooring. "We had minimal trades on site at this point, but there was a big push to finish and hand it over before Christmas," he says.
Harris and his two- to three-person crew installed the chevron flooring, gluing down 710 square feet of the prefinished European oak. "It was a small area in the bathroom, so it did get a little bit cramped at times," he says.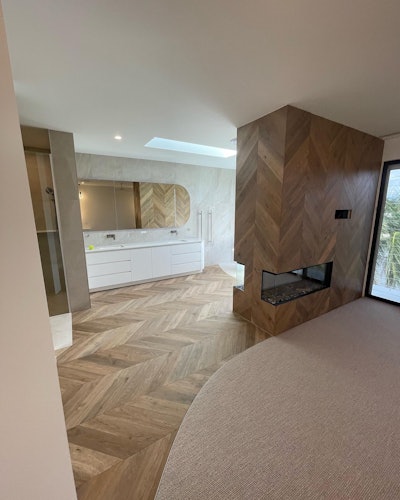 After the flooring was installed, they began installing 322 square feet of European oak on the walls. "We squiggle-glued every piece of the wall cladding to ply, which we also fixed to steel framing," Harris says. "We had previously done some work similar to this, but this definitely challenged us."
The entire job took three weeks to complete, with three to four days spent carefully perfecting the flooring's transition up the walls. Harris made the deadline in time for Christmas, decking both the halls and the walls with wood. He says he's excited to tackle similarly challenging projects and highlight the creative potential of wood flooring in the future. "Precision is my passion, and I really love what I do," he says. "I feel like timber flooring is a bit of a rockstar trade, as a beautiful timber floor always attracts lots of praise and compliments."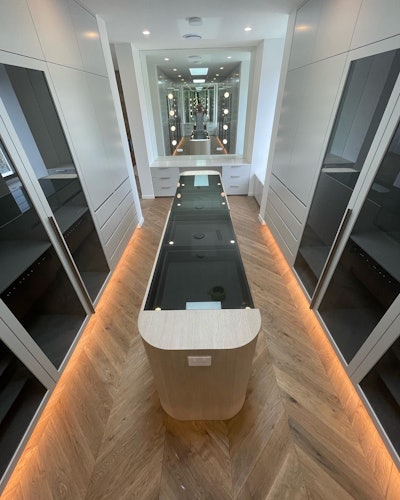 SUPPLIERS:
Adhesive: MAPEI Ultrabond P990 1K | Moisture barrier: MAPEI 1K Turbo | Palm sander: Makita orbital | Router: Festool OF 1400 | Saws: Festool CS 50, Kapex 60, TS55 | Wood flooring: Tongue & Groove