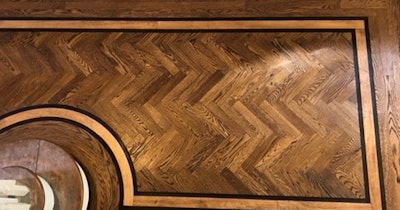 Lately, when a border needs to be bent in the Port Chester, N.Y., area, brothers Fabio and Márcio Gonçalves of Port Chester, N.Y.-based Creation Hardwood Flooring Specialists get a call.
This particular multi-species job in Rye, N.Y., was one of the duo's biggest wood border curving projects to date, says Fabio. The plainsawn white oak herringbone project in the residence was being completed by Edgewood Flooring, but when they ran up against the curved base of the grand staircase, "they asked us to come and do the radius part," Fabio says. The two companies had worked together on a smaller project in the past, with Creation handling the wood bending.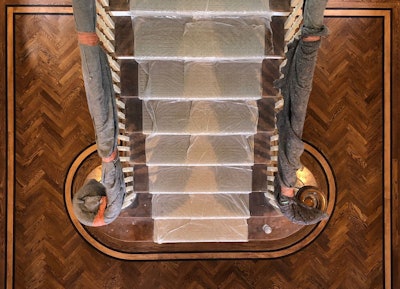 So, after the herringbone was installed, Fabio took measurements for the borders and made a template that he took back to his shop. There, he began the intricate process of cutting the thin strips of white oak, Peruvian walnut and first-grade maple on his table saw. He marked each of the boards he cut with a marker to ensure the grain would line up again after the strips were cut and clamped together for the bend. "So with the grains lined up, it looks like you actually bent the board," Fabio says.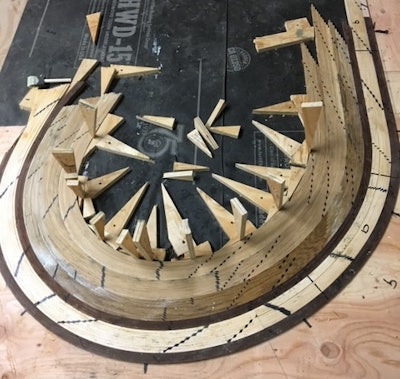 The process took two weeks, after which they transported the 20 or so bent pieces to the site, where they were installed with glue and a few nails to hold things in place.
They worked outward, installing the white oak, Peruvian walnut, maple and final Peruvian walnut portion around the staircase. Fabio gave the border a rough sand, and then the Edgewood Flooring team returned for the final sanding, which was followed by a walnut stain and three coats of polyurethane finish.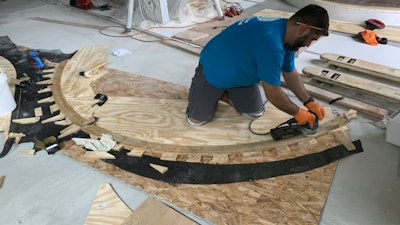 Fabio's biggest piece of advice for bending wood is to simply take it slow. "You've got to think very well in the beginning about all the steps and procedures you're going to take," he says. "Measure all the time and don't go too fast, because if you try to go too quickly it's not going to work."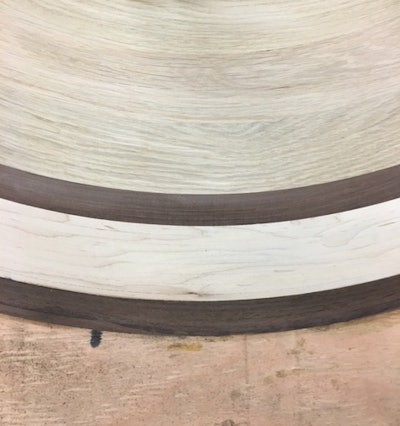 One downside when you're handling just part of a wood flooring project is you're not around for the homeowner's reaction. But in this case, "I heard, and they sent me a message, that they were stunned," Fabio says, "and very happy."
Suppliers:
Adhesives: Bona, Titebond, Sika