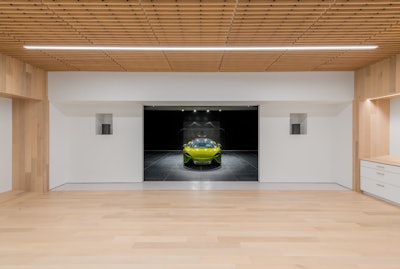 Wade Griffith / Merriman Anderson Architects
As major corporations continue to flood the Dallas area and populate it with high-end office buildings, the team at Dallas-based Woodwright has been on the ground floor of providing their wood floors. So when luxury car manufacturer McLaren Automotive needed wood floors for their North American headquarters, you can guess which company they handed the keys to.
At 333 square feet, the straight-lay project, featured on the cover of the 2024 Wood Floor Business Resource Book, was a relatively straightforward one for Woodwright. "It's called a meet-and-greet area, where people can walk in and see that car," says Rick Farrell, architect and design consultant at Woodwright. "It's a very popular thing to put wood in that focal area and then warm up the space that way."
The designers for the space chose engineered rift white oak, Woodwright's most popular spec. "It's also the most expensive flooring you can buy, and the hardest to get with the longest lead time," Farrell adds. "But in the case of the straight, lineal, grained, contemporary look that it has, it's very difficult to provide a substitute."
As with many of Woodwright's jobs for Dallas transplants as of late, the designers wanted the wood flooring to do some traveling of its own up the walls of the room. The monolithic look served to further dramatize the eye-catching, otherworldly sports car. "It creates a 'portal' effect," Farrell says of the matching floor and walls. "It literally looks like a portal."
Woodwright sanded the wood flooring and coated it with its UV finish line before bringing it on site, where the planks were glued down. Plywood was installed over drywall to prepare for the 240 square feet of 5-inch white oak that transitioned seamlessly from the floor to the walls.
From sampling to completion the project took around six months, which is a relatively short span in the commercial flooring world, where it's not unusual for a project to span years.
"The corporate and commercial have been our speciality and bread-and-butter item for quite a while," says Farrell. And with that kind of experience, new Dallasites know they're safe stepping into another kind of "portal" Woodwright has carved out—a portal to high-end wood flooring excellence.
SUPPLIERS:
Abrasives: 3M | Adhesive: Bostik | Finish: Klumpp | Wood flooring: Saroyan Hardwoods