"They look at it and wonder, 'How did they do it?'" this year's Next Generation category winner Daniel Saucedo says of customers who spot his 13-species safari inlay in his showroom.
It's a fair question, and it's one that each of this year's Design Award winners might answer similarly: years of experience, dedication, creativity, attention to detail and hard work.
Whether the task was installing long walnut treads without nails, scavenging for the right sticks in upstate New York, steam-bending maple and padauk for a special client, melding two cultures into a palace parquet, carving each wrinkle on an elephant of white oak, or playing against Mother Nature herself on an outdoor basketball court, none of the winning wood flooring companies in this year's contest took the easy way out.
We are honored to feature them and their craftsmanship in our third annual Wood Floor Business Design Awards, which once again include awards for Best Residential, Best Commercial, Best Stairs, Best Gym, Readers' Choice and Next Gen, which recognizes the outstanding work of a wood floor pro under the age of 35.
Thanks to all who submitted this year, and congratulations to the winners, who were chosen by an independent panel of wood flooring experts (Readers' Choice is selected via an online survey).
Prizes include a $500 Visa gift card and prize packages from this year's Design Awards sponsors, Bona, Osmo and Bostik.
Do you have a project you'd like to submit for next year? To enter our 2020 contest, which is open to all wood flooring professionals, go to wfbmag.co/wfbdesign20. To see this year's winners, keep scrolling.
Readers' Choice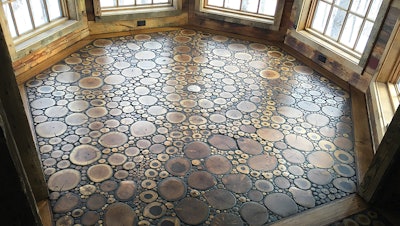 Legendary Floors of Florida LLC | West Palm Beach, Fla.
After living most of his life between Indiana and Chicago, multi-award-winning wood flooring pro Chuck Crispin now calls the year-round sunny clime of West Palm Beach, Fla., home, but this job drew him back to the frigid north once more.
Unlike Crispin, the homeowners of this Lake Placid, N.Y., cabin, love winter, and they pack up their family in New Jersey every weekend to take full advantage of the winter wonderland of upstate New York. When they spotted Crispin's log round flooring on Houzz.com, they knew it was perfect for the addition they were putting on their beloved winter retreat.
The majority of the flooring, however, was assembled in Florida. Using the builder's drawing, Crispin created the layout and devised a panel system such that he could build most of the flooring on ½-inch Baltic birch plywood, then drive it north for final installation. Pegs were designed into the border to disguise where the panels are screwed securely to the subfloor. (See that flooring on the cover of this issue.) With the help of Eric Rout from start to finish, the panels were built with the largest rounds, comprised of white oak, and the 3- to 6-inch sized rounds, made of walnut, glued to the plywood, then driven to New York.
As happens, the plans from the builder turned out to not be exact, requiring reconfiguring on site. They then turned their attention to an octagonal room (pictured above), which they had intended to build on-site all along, and discovered an electrical box smack in the center of the room. "After thinking about it a little bit, I started with a smaller piece and did a spiral off that electrical box to kind of make it look like it belonged there," Crispin explains. "The more we worked at it, the better it started looking."
With the main logs all glued down, it was time for the smaller pieces. "The real challenge of any floor like that is in calculating and cutting enough of the little twigs that go between the bigger tree rounds to leave as little grout space as possible," Crispin says. "Everything smaller than the walnut is whatever dead tree we found in the yard and cut up that day." Among them were maple, ash, sassafras, hickory, pine, fir and juniper.
The log rounds received a sanding and two coats of sealer before installation, then a coat of stain and tung oil on site. Then they were grouted using a proprietary recipe that includes cork dust, sawdust and oil binders that harden over time. Crispin applied the grout once, let it dry and shrink, then applied it a second time. He expects to return after a year to grout a final time, but don't expect him to linger and take advantage of the local pastimes. "The last time I was skiing I hit a tree," Crispin says.—K.M.W.
Suppliers: Advertisers appear in bold.
Abrasives, Router, Random orbital sander, Saws: Festool |Adhesive, Moisture Barrier: Bostik | Buffer: American Sanders | Finish: Watco | Moisture meter: Lignomat | Stain: DuraSeal | Wood flooring: Studabaker Specialty Woodworks
See the grout and how it was applied in this video:
Best Residential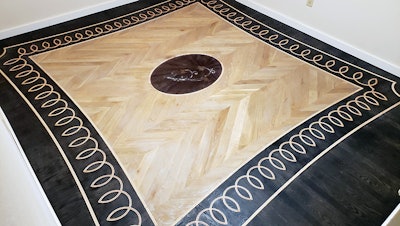 Artistic Floors By Design | Parker, Colo.
Those familiar with Joe Rocco's work expect him to take wood floor artistry to another level (literally, in the case of his still-viral floor that bends up off the floor to support a bartop). So when his own mother told him she would like a wood floor in her sewing room, the chances of him installing an average wood floor were zero.
"She loves the mountains and living in Colorado, so I wanted to do a chevron pattern, because it would be kind of like the mountains," he explains, adding that he thought it would be a great teaching opportunity for his employees. "And it kind of snowballed from there." Rocco conceived of an offset white oak chevron with different flooring lengths. Then he considered how "chevron always ends in these weird angles, and this room wasn't super square, so I thought it needed an apron."
Rocco decided the apron should be soldier rows of red oak with offset fan corners, and it should intersect with the field on a big arc, so he and his workers created MDF templates for a 43- and 46.5-foot radius. They cut the inside radius first, laid the soldier border and fanned corners, then routed out the outside of the apron. The border pattern, conceived to look like a seamstress's stitch, was created from steam-bent maple and padauk set in a jig to dry. Then they were glued, put back in the jig to dry again, mitered and fit such that the "thread" appears to cross itself. The stitch insert was hand-routed using a template; tips were hand-chiseled. Once installed they were left slightly raised and sculpted.
"While all that was going on, I was like, 'It really needs something in the middle,'" Rocco recalls. He and his crew had created an offset wenge starburst oval medallion as a teaching opportunity, so he decided to use it but add inlaid flowers using Ecopoxy UV epoxy with different colors and metallics.
They wire-brushed the chevron and cerused it with a silver metallic coating, then coated the floor with waterborne finish.
"Joni's [Rocco's wife and business partner] been calling it our first commissioned piece," Rocco says, noting that it was a paid job "because there's no way my mom would have let me do it for free!" But it did allow him the flexibility to try new ideas. "That's what it's all about—being able to push the boundaries and let my guys do something new," Rocco says, noting that he's particularly proud of his employees Kevin Eder and Paul Chaffin, who cut the white oak chevron and wenge offset starburst, and Yezid Ortiz Castro, who—with less than a year of experience—assisted from installation to coating. His pride, however, undoubtedly can't compare to that of his most important customer ever—his mom.—K.M.W.
Suppliers: Advertisers appear in bold.
Abrasive: 3M | Adhesive, Moisture barrier: Stauf USA | Buffer, Edger: Lägler | Filler, Finish: Loba | Moisture Meter: Wagner Meters | Routers: Festool, Bosch | Sander (Palm), Saws: Festool | Wood Flooring: WD Flooring
See the floor up close in this sponsored video and hear more from Rocco about how it was created:
Best Commercial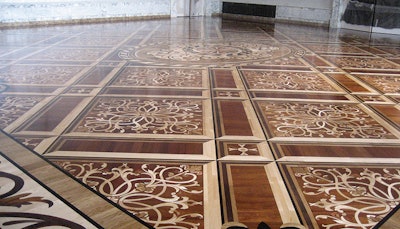 Yantarnaya Pryad-Parquet/Art Parquet | Khimki, Russia
If wood floors could talk, many of Art Parquet's past projects would undoubtedly have a knack for Eastern European diplomacy. The company is no stranger to installing stunningly elaborate wood floors in government buildings in and around Russia, nor is it a stranger to collecting awards for them. Its latest award-winning tour de force adorns the Palace of Independence, where the president of the Republic of Belarus resides in the capital city of Minsk.
"This building is intended for different official events such as award ceremonies, press conferences and meetings of foreign delegations," Art Parquet Import and Export Manager Natalia Lebedeva explains.
Because the building's function is to welcome officials from around the world, Art Parquet worked closely with the architect to design the intricate flooring accordingly. "The interior construction had to observe elements of both the Western and Eastern cultures," Lebedeva says, noting that it was made to resemble an elaborate carpet (a nod to Eastern tradition) and that the wood and form of the tiles were meant to reflect a more Western style. The floral-themed floor was also designed to have a 3D effect, a look achieved through the combination of light and dark woods. "Because of the contrasting wood species, the flooring looks deep," Lebedeva says, referring to the oak, merbau, ash, maple, wenge and walnut in the floor.
The impressive palace hall spans 3,358 square feet, and it took 40 days to CNC-cut its 42 tiles, each of which measured 6.6 feet by 6.6 feet. After installing three layers of plywood substrate over concrete, the five-person crew marked off the center of the room and then began laying the heavy square tiles around it. Once the tiles were glued and nailed into place, the crew carefully inserted the central medallion and then installed a border, completing the installation process in 35 days.
With the parquet in place, the team sanded four times, ending on 100-grit, then applied two coats of primer and three coats of finish.
Laced with both Eastern and Western traditions, the completed project also continued one of Art Parquet's own traditions: installing staggering wood floors in preeminent buildings.—R.K.
Suppliers: Advertisers appear in bold.
Abrasive: 3M | Adhesive, Filler, Finish: Chimiver Panseri S.p.A | Edger: Mafell | Sander (Big machine): Eugen Lägler GmbH | Wood flooring: Yantarnaya Pryad-Parquet
Best Stairs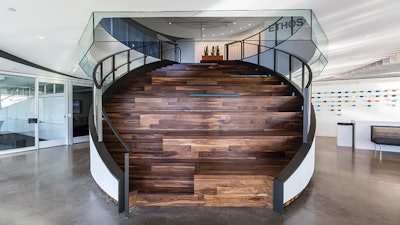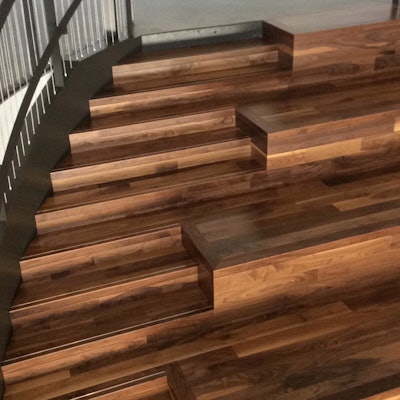 Woodwright Hardwood Floor Co. | Dallas
For a wood flooring company with commercial projects as colossal as the ones Woodwright handles, from the George W. Bush Presidential Library to The Kimbell Museum in Fort Worth, Texas, it's rare that a job isn't a team effort.
So perhaps it's fitting that the company has been tackling one of the latest team-building design trends in corporate offices around Dallas: staircases that double as stadium seating—otherwise known as "Social Stairs."
"The real purpose of that design is to be a gathering place for people," Woodwright Architect and Design Consultant Rick Farrell says of the company's winning walnut staircase. "It's almost like a mini Starbucks." Farrell says he first noticed the concept in a 2013 Owen Wilson comedy called "The Internship" (as a wood floor pro and designer, naturally what he took away from the film was the staircase design).
Although the popular Social Stairs are meant to foster a casual atmosphere, putting them together takes intense precision, particularly when dealing with prefinished product. "You've got to take your time and get it right the first time," Farrell says of the custom walnut nosings manufactured by Woodwright to fit the unique shape of the stairs, which are hugged by an oval frame. After gluing down a plywood substrate over the metal staircase, the installation team glued 2-mm rubber sound underlayment on the plywood to reduce echoing. When it came time for the walnut, they installed the custom nosings first, backfilling them with the prefinished walnut and using buckets and sandbags to weight down the treads on the adhesive overnight. "One of the big challenges is gluing all that stuff down to that tiered seating and not being able to nail it," says Farrell, noting they couldn't puncture the sound pad.
The final piece of the Social Stairs was the ¼-inch aluminum "distraction strip" installed on each stair tread to distinguish them from the tiered seating area and keep people from mistaking the seating for the steps (walking up or down the seating area of Social Stairs is frowned upon).
In the four months it took to complete the Social Stairs, 15 people from Woodwright contributed to the project, including the installers, project manager, superintendent, estimators and manufacturers, proving that some of the best jobs take a team effort. "In the end, it's a relatively small job in comparison to what we do," Farrell says. "It's just a really cool, unique look, but it has so much detail work."—R.K.
Suppliers: Advertisers appear in bold.
Abrasives: Norton Abrasives | Adhesive: Bostik | Wood Flooring: Hallmark Floors, Owens Flooring
Best Gym
Praters Inc. | Chattanooga, Tenn.
Typically a wildly out-of-the-box design for a portable basketball court combined with an extremely tight time frame for a high-profile event—held outside, no less—simply wouldn't be possible. But the technology developed by Praters Inc. has been a game-changer, so when the company organizing a celebrity Adidas event during the NBA All-Star game in Los Angeles asked Praters if they could pull off the design—created in conjunction with the release of new shoes from Pharrell Williams—the answer was yes.
The key was the company's patented decal system. "In 2011, the NCAA came out and said decals on the court had to have a consistent surface with the rest of the court, so we had to figure out how to put gym floor finish on them," says Mark Frainie, Praters COO. (Although the company applied for the patent five years ago, it was just approved this year.) This meant Praters could get the design less than two weeks before the event.
"For events, that's very common," Frainie says. "These guys are trying to think of how to make the events the best they can be up until the time when the event goes live, so things are always fluid." Because this was a full-court wrap, it had between 80 and 100 decals. Praters printed them in Chattanooga, laid them out on a portable court in their facility to make sure all was in order, printed extra pieces, then carefully organized the boxes.
In Los Angeles, the portable court, which had been sanded and coated with no game lines, was installed in four hours. Applying the decals, which requires skill and patience even under ideal conditions, proved to be the most challenging aspect of this installation. "We were sticking outside, and we could only stick during certain parts of the day. If it's real sunny, the heat from the sun makes the install difficult because the material will want to stretch from the heat," Frainie explains. "Also, every night at 9 or so the dew would start to fall … so a lot of work was done between midnight and 8 a.m. and between 6:30 and 9 at night." The crew had a huge tarp that was being used to protect the court from potential rain and dew, "so we were constantly uncovering, working for a minute and covering it back up," Frainie says.
With the limited hours, the decal application took three days, and the court was ready for its starring role in the Adidas event, dubbed "747 Warehouse St—an event in basketball culture." Over the weekend it hosted celebrity games and performances by Pharrell Williams and other high-profile performers. At the event close, the decals were simply removed, leaving a plain court ready and waiting for its next turn in the sun.—K.M.W.
Suppliers: Advertisers appear in bold.
Finish: Bona US | Wood flooring: Connor Sports | Creative agency: Kamp Grizzly
Next Generation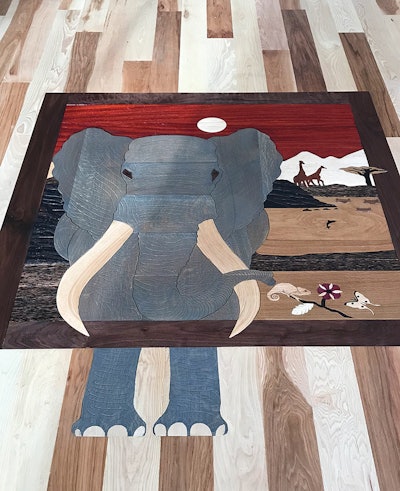 Daniel Wood Floors | Humble, Texas
Love, passion, countless hours on the scroll saw … those are the ingredients Daniel Saucedo says were necessary to create this unique African scene in a wood floor. What the piece didn't require, he notes with pride, is filler.
Its story began when a customer saw a zebra-rug inlay Saucedo had created for his own home and asked if he could create an elephant for her. He replied that he could, taking inspiration from a poster he had bought. With her approval, he began to create the behemoth, and then she asked him to add more elements, like giraffes and trees. When the price increased to accommodate the changes, though, "She said, 'Daniel, I can't do it, you are already charging too much,'" and she backed out, he says. Left with a partially built ultra-custom floor, he decided to complete it and install it in his showroom's hickory plank floor, despite one of his own employees telling him he was crazy to attempt it by hand.
Saucedo ended up working on the floor when he could every day for about three months, experimenting with different species and adding small details, some that worked (a lizard) and some that didn't (a dragonfly that was too small). The final floor has 13 species. He originally intended to use end grain to make the elephant but determined that it would take too long and used quartersawn white oak instead, leaving it slightly higher than the rest of the floor. With the elephant created and sanded, he drew the wrinkle lines with a pencil and carved the texture, a task requiring four days of 8–10 hours clutching a Dremel with a small carving tool.
The elephant is the only element that was stained; Saucedo taped it off and used dark gray stain. The other colors in the piece come from the species' actual colors. For the elephant's tusks, Saucedo bent maple, and he used walnut, wenge and Brazilian cherry for the eyes. The ground beside the elephant is black palm, the sky is padauk, the mountains are bird's-eye maple and the sun is ash. The water where the hippos are is oak with Peruvian walnut and wenge stones; the flower is purpleheart, maple and wenge; and the butterfly is maple, wenge and padauk. The lizard is red oak.
Once built, the entire piece was coated with hardwax oil, and it's now a focal point that literally stops customers in their tracks. "They look at it and wonder, 'How did they do it?" Saucedo says. After so much hard work, Saucedo is thrilled the work went from being a paying job to a stunning showpiece. "I'm happy to have it here in my showroom," he says. "I see this piece every day and I'm so excited."—K.M.W.
Suppliers: Advertisers appear in bold.
Abrasive: 3M | Adhesive: Bostik, Fortane | Buffer, Edger: American Sanders | Filler: DuraSeal | Finish: Pallmann | Moisture Meter: Tramex | Nailer: Powernail Company | Router: Porter-Cable | Sander (Big machine): Lägler | Sander (Palm): DeWalt | Saws: DeWalt, Bosch | Underlayment: Fortifiber Building Systems Group | Wood Flooring: Shamrock Plank Flooring, Heritage
Listen to Daniel Saucedo talk about his winning floor:
See a closeup video of the texture of the elephant: