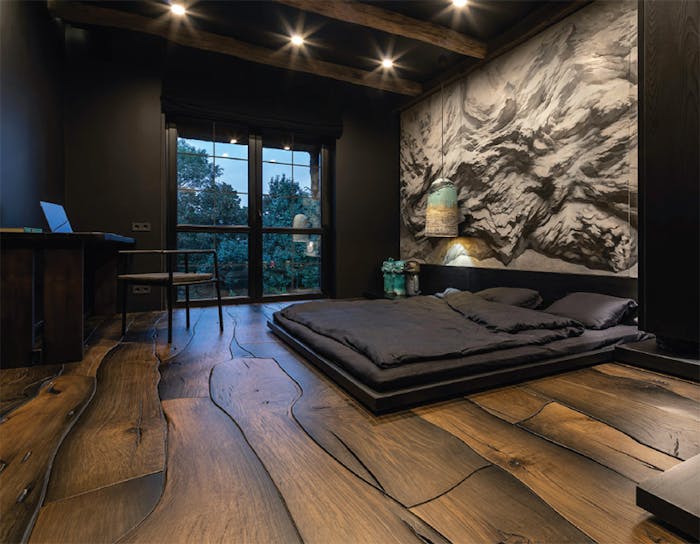 This is the story of a Ukrainian floor, inspired by a Japanese aesthetic, that went viral in the U.S. And with thousands of shares on social media, it's easy to see why the dramatic bedroom resonates across cultures—the live-edge bog oak flooring heralds the return of "live, natural interiors" to home designs, says designer Sergey Makhno.
The 200-square-foot room is part of the "Shkrub House," a 4,000-square-foot home created by Kyiv, Ukraine-based Sergey Makhno Architects. Makhno, a student of Japanese architecture and the wabi-sabi philosophy that embraces imperfection, designed the home for himself and his family. The bog wood acquired for the room, a bedroom for his eldest son, is an estimated 500 years old, extracted from the bottom of swamps and rivers. "We have long dreamed of implementing such a floor and, finally, we succeeded," Makhno told WFB via email.
Preparation of the wood was handled by Dmitry Zolotarev, a wood specialist Makhno frequently teams up with for projects. The boards, which feature cracks formed in nature, were hand-cut using band and circular saws. "Such work doesn't depend on expensive equipment," Makhno says. "The [wood] master is responsible for everything." They were "assembled into a mosaic and each segment was adjusted to each other;" then they were planed and sanded off-site, sealed and coated with several layers of finish. "It was originally thought to be done in dark shades," Makhno says. "But it was important not to overdo it and leave the natural color of the tree." The prefinished antique boards were carefully arranged and glued directly to the slab, an installation process that took three days to complete.
The floor and home are a tribute to Makhno's family ("Shkrub" isn't a Ukrainian word––it's a term of endearment between Makhno and his wife, Vlada). But they're also a homage to nature.
"It is very important that in this way we are able to pay tribute to the history and nature that are hidden in every living crack of this oak," Makhno says.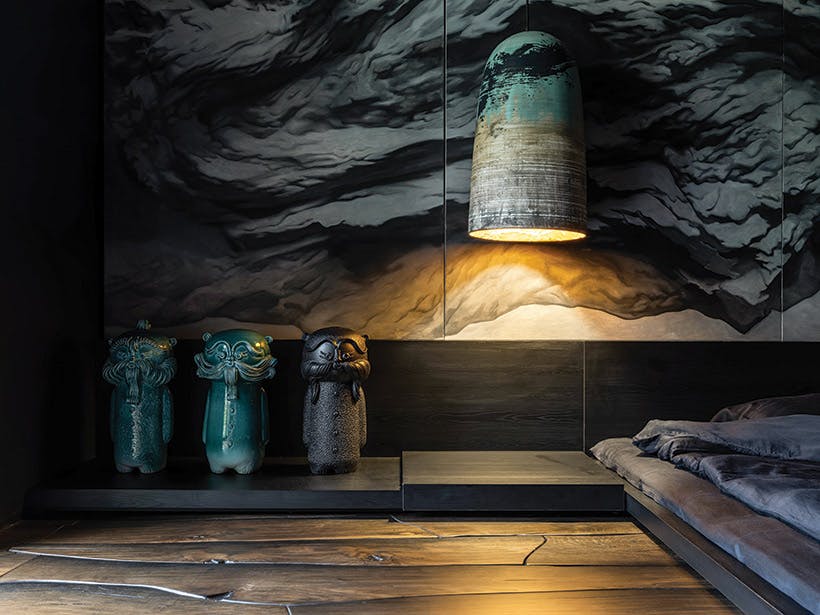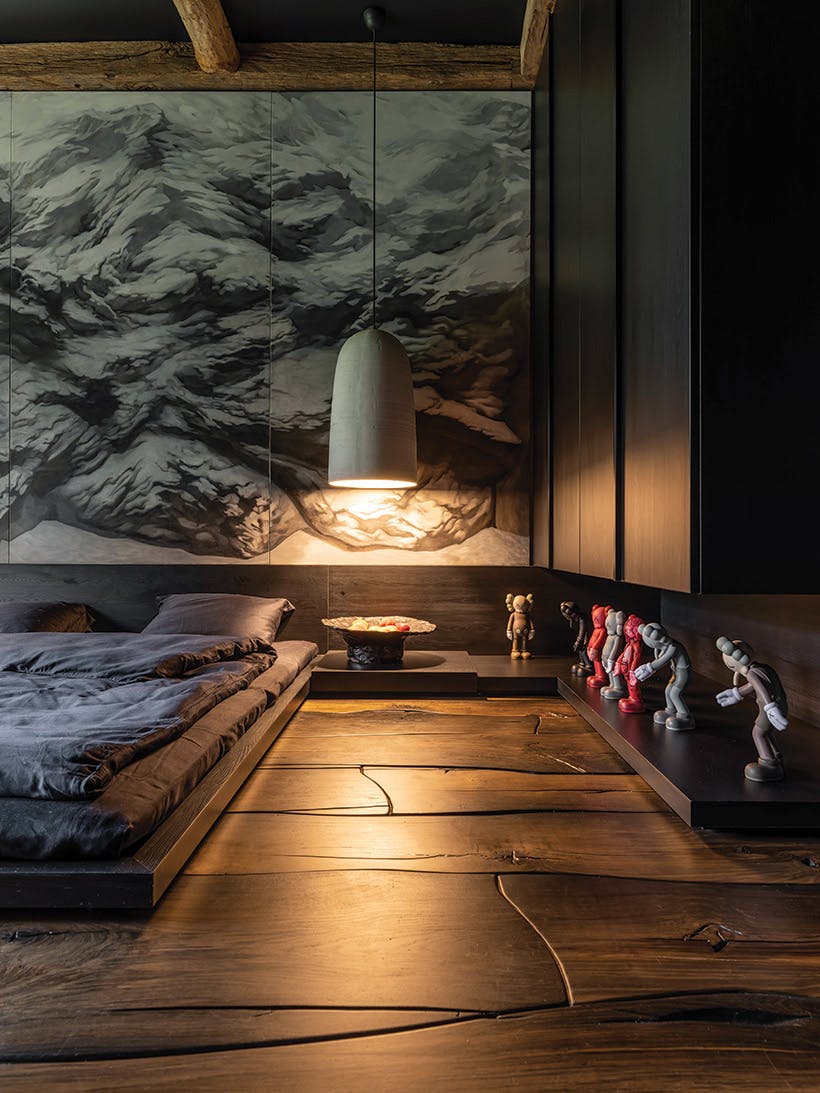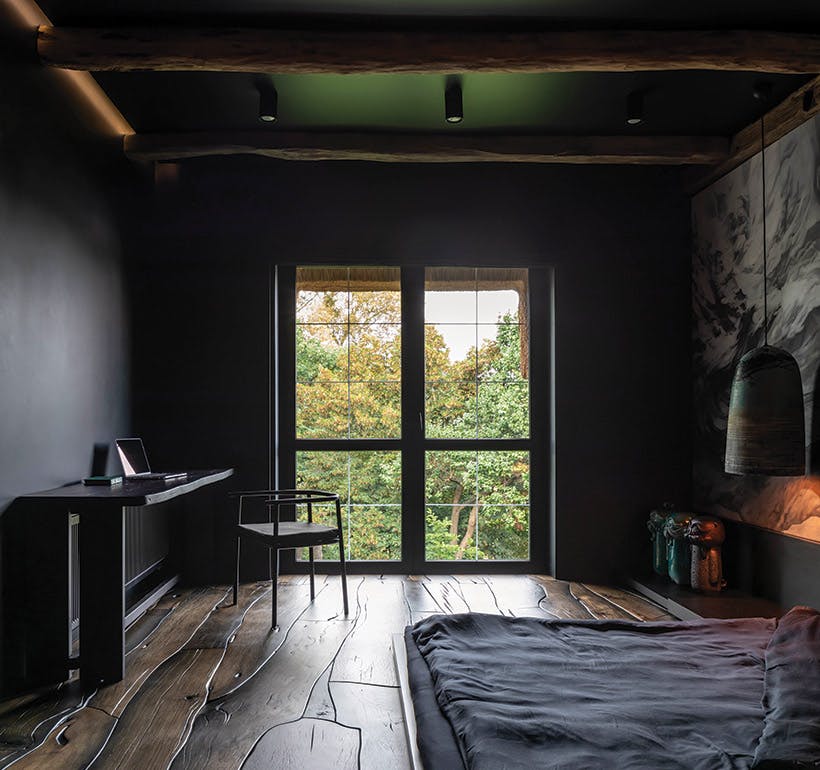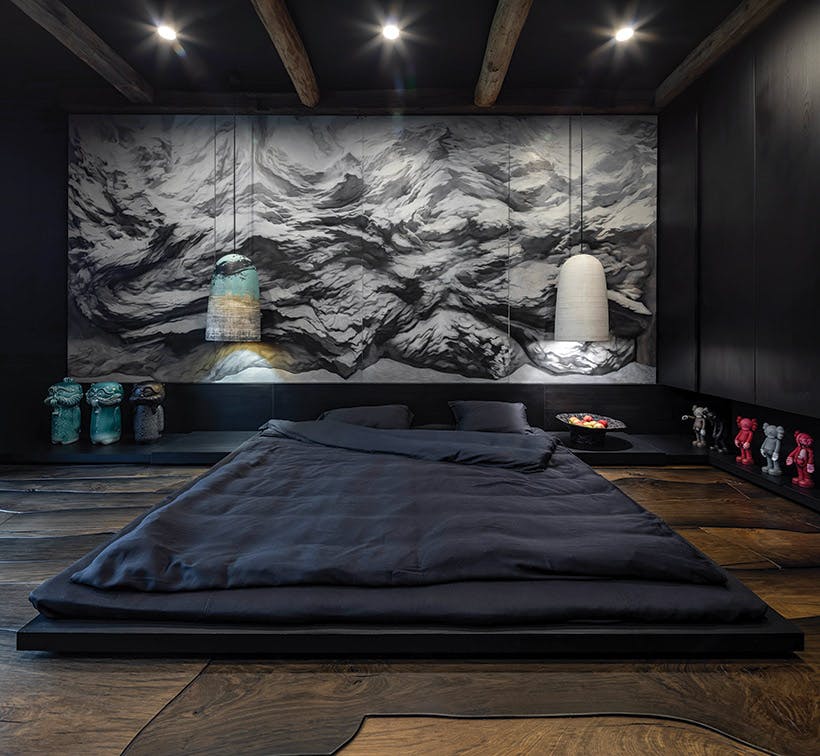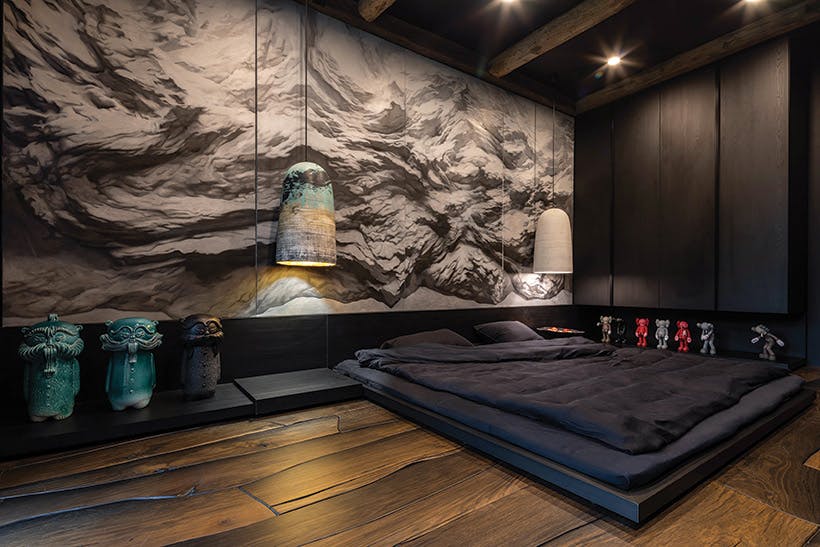 ---
RELATED: A Cherry Tree Floor and More Inside a 165-Year-Old Inn
---