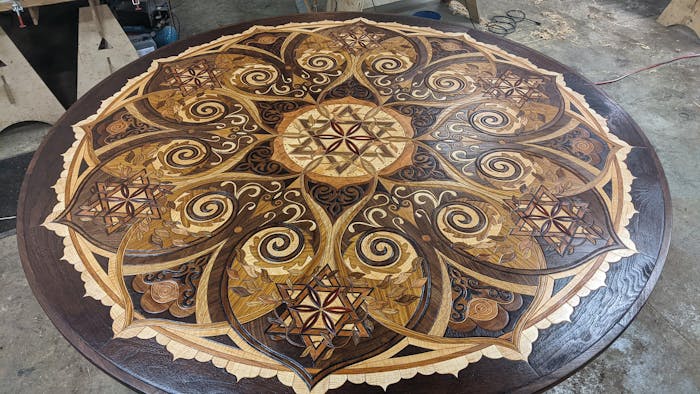 When longtime wood floor pro Dan Antes saw the work of artist Eileen Bradley almost 15 years ago via a Facebook group on sacred geometry, he knew he wanted to recreate her work, originally acrylics and oil on canvas, using wood. "It took me 12 years of failed attempts," he says, due to the extraordinarily curvilinear designs being difficult to replicate well using CAD. He managed to create two of Bradley's mandala designs previously, but his latest creation based on Bradley's piece called "Unity" is far more ambitious and more meaningful. "It was more complex than anything she had ever done … I just started drawing it in CAD—I wanted to see if I was back on my game," Antes says, explaining that in 2021, COVID left him fighting for his life. As a complication of COVID, he had a heart attack. "It deprived my brain of oxygen, and I had a lot of cognitive/emotional/psychological issues. There was a time when I couldn't remember my home address, let alone find my house to drive home," he says. After 9 months of barely being able to work and undergoing intense occupational therapy, "This was to prove I'm back together," he says. Only Antes' many years of honing his craft in CAD, along with an upgraded CNC machine, made even considering such a piece possible. Because he refuses to have any filler in his inlays, his tolerances for each piece are minute—about the width of a human hair. Even with that, once the 14 species were cut out and all 3,060 pieces were assembled for the wooden version of Unity did he and his crew decide the tolerances had been too much. "When we got it all inside the frame, we weren't super happy with the overall tolerance, so then we were like, 'Well, where can we fix this without starting over?'" he recalls. The solution was to redo the curly maple scalloped pieces around the edge to be slightly larger, which "tightened everything up beautifully," Antes says. The completed piece was too big for the UV coating machine, so Antes hand-coated it with a penetrating oil finish. "I want something that feels organic, so the finish being in the wood, not on the wood, is a big deal to me," he says. Now that the massive piece is complete, Antes is unsure if it will be sold as artwork for a floor or for a wall, but what's most important is that he's proven he can, once again, push the boundaries where wood floor technology and art collide.—K.M.W.
SUPPLIERS:
Finish: ProCoat | Wood: Bohlke Lumber, Zero Impact Brazil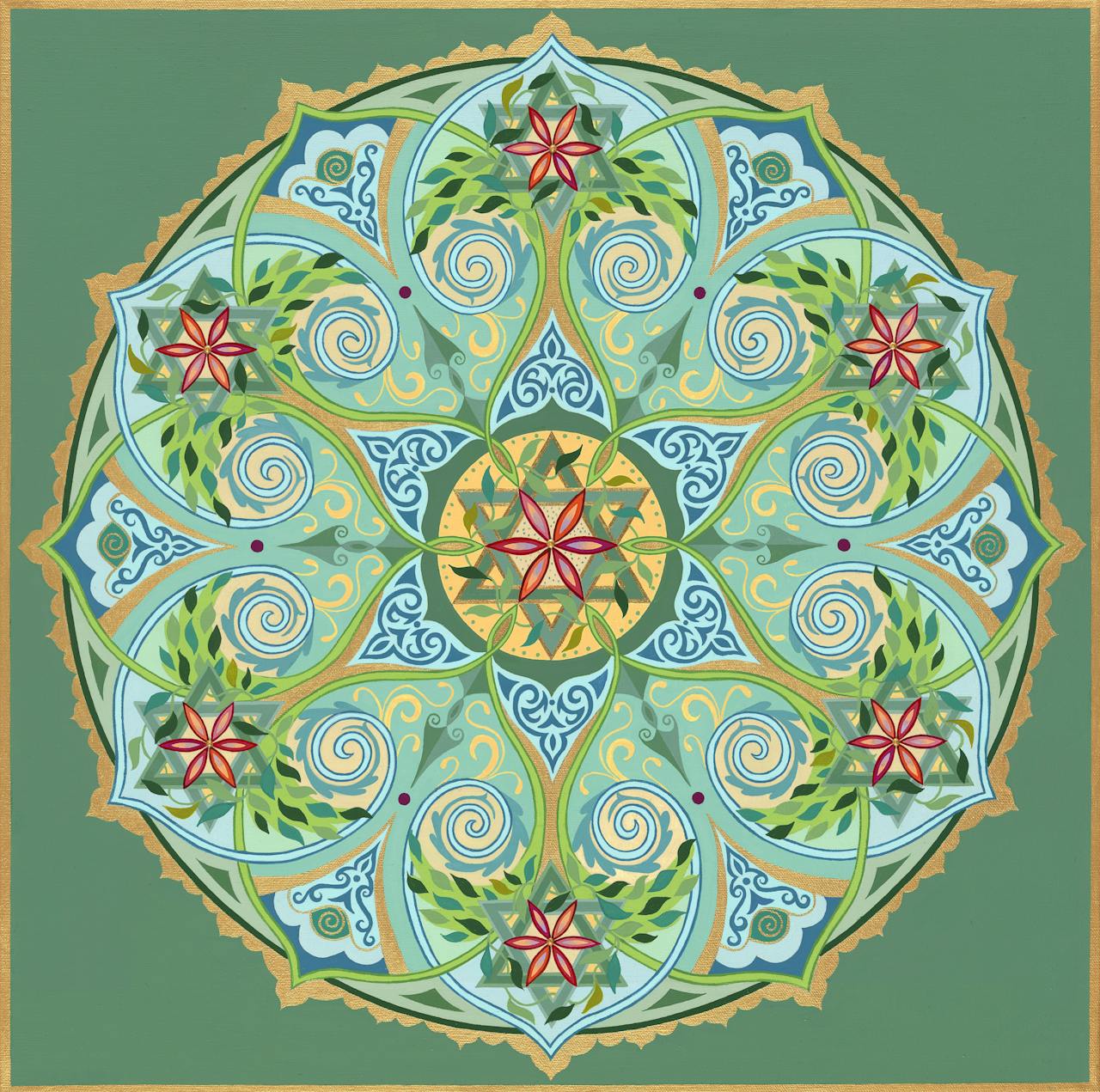 Artist Eileen Bradley's "Unity," in acrylics and oil on canvas.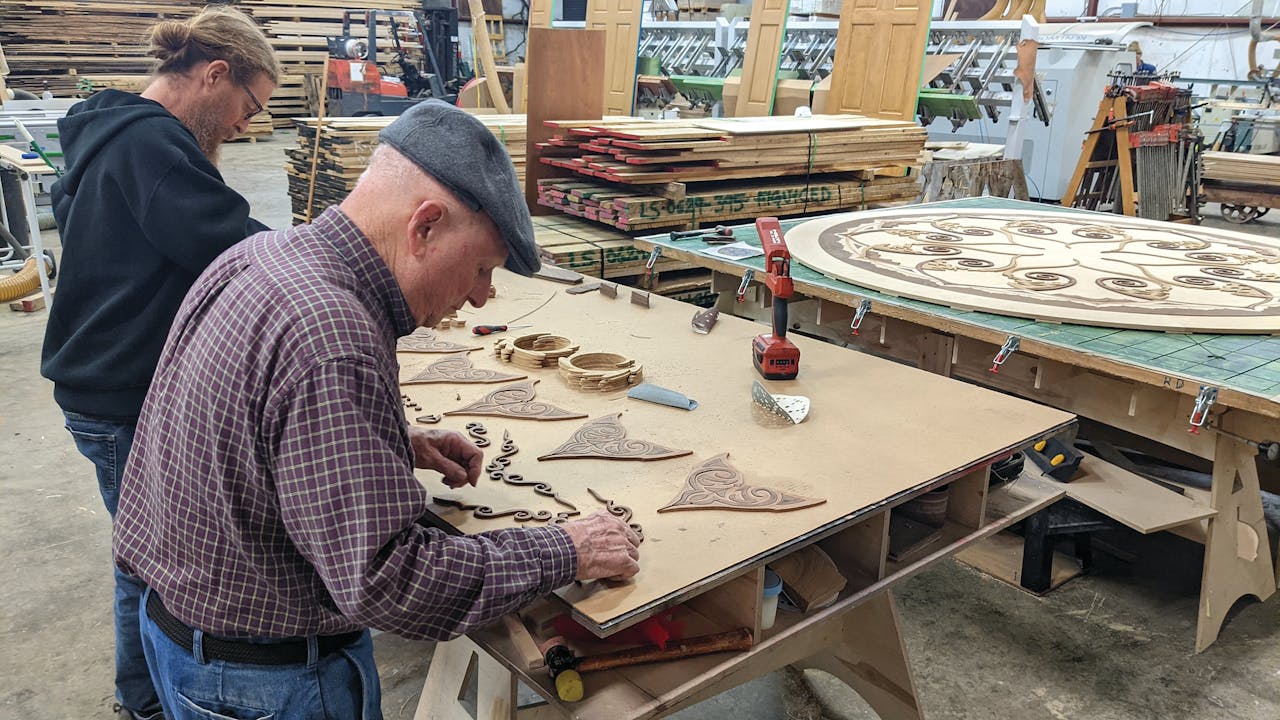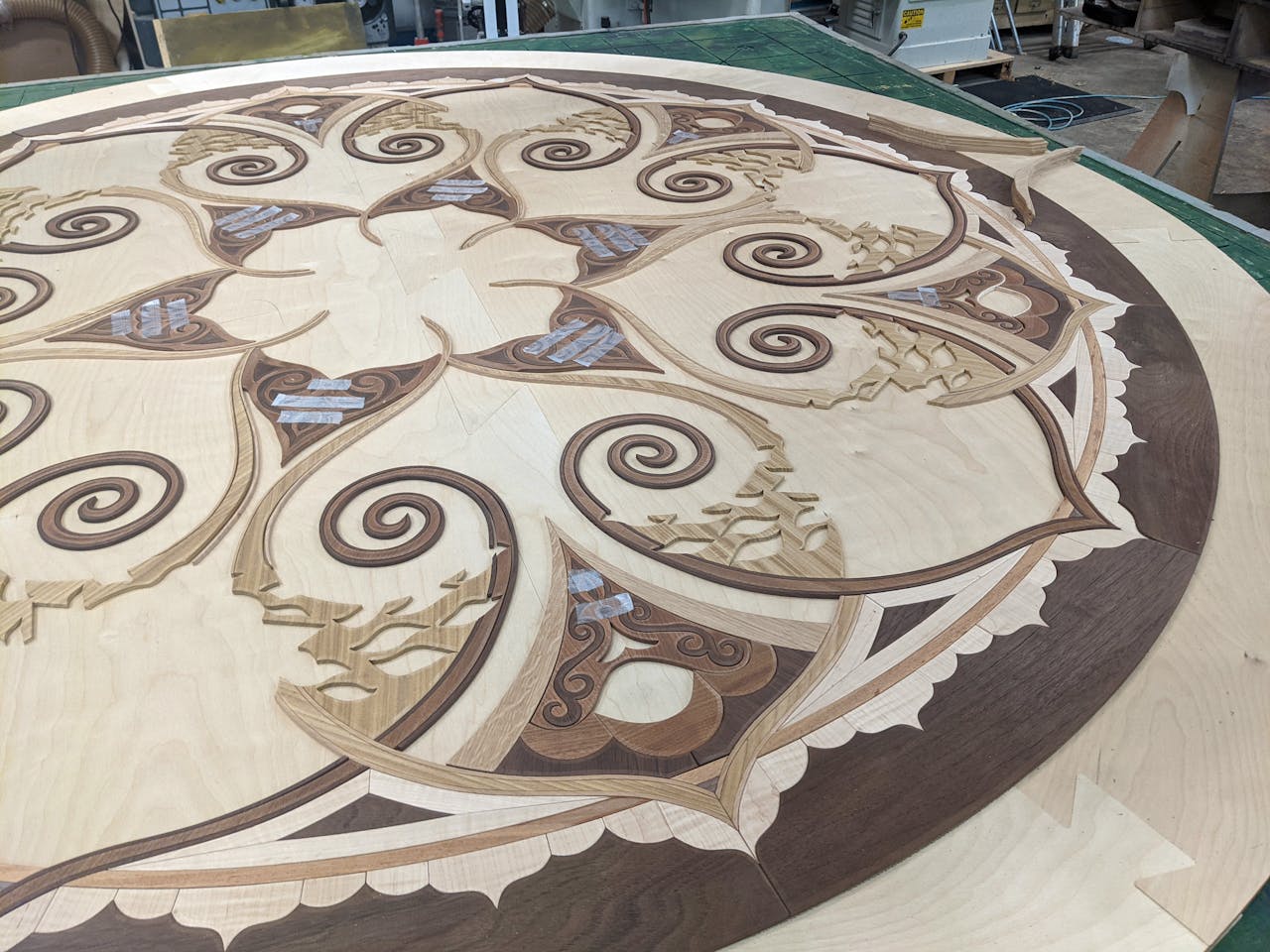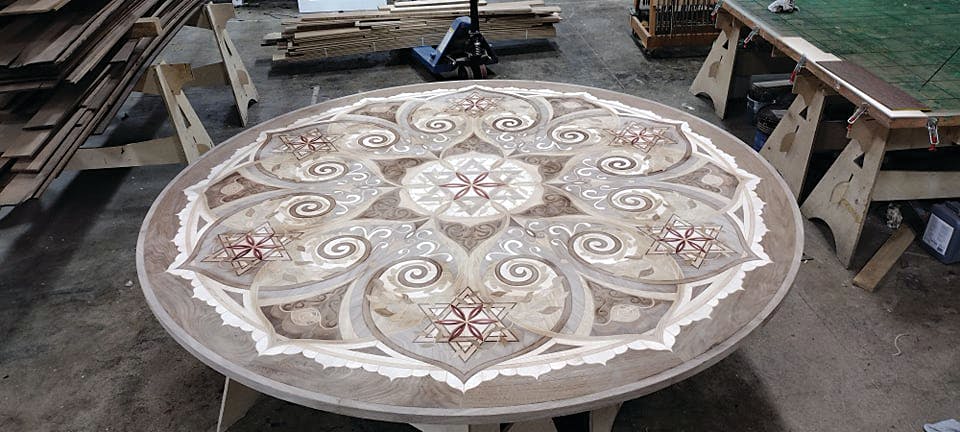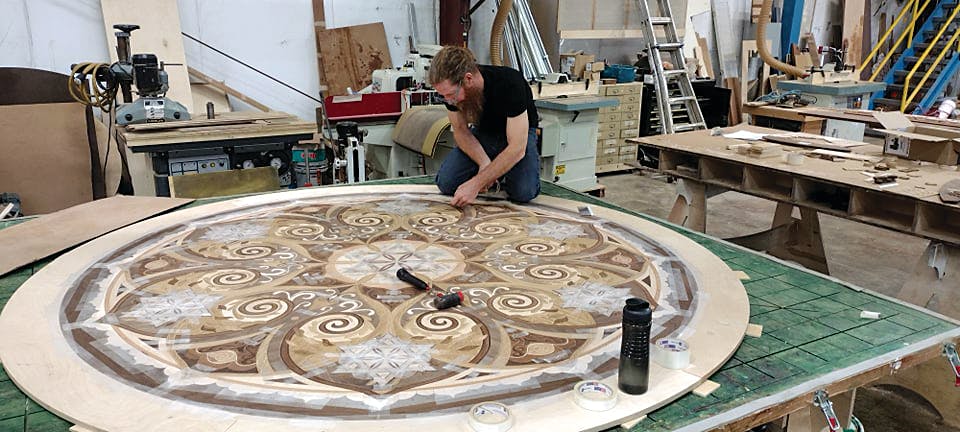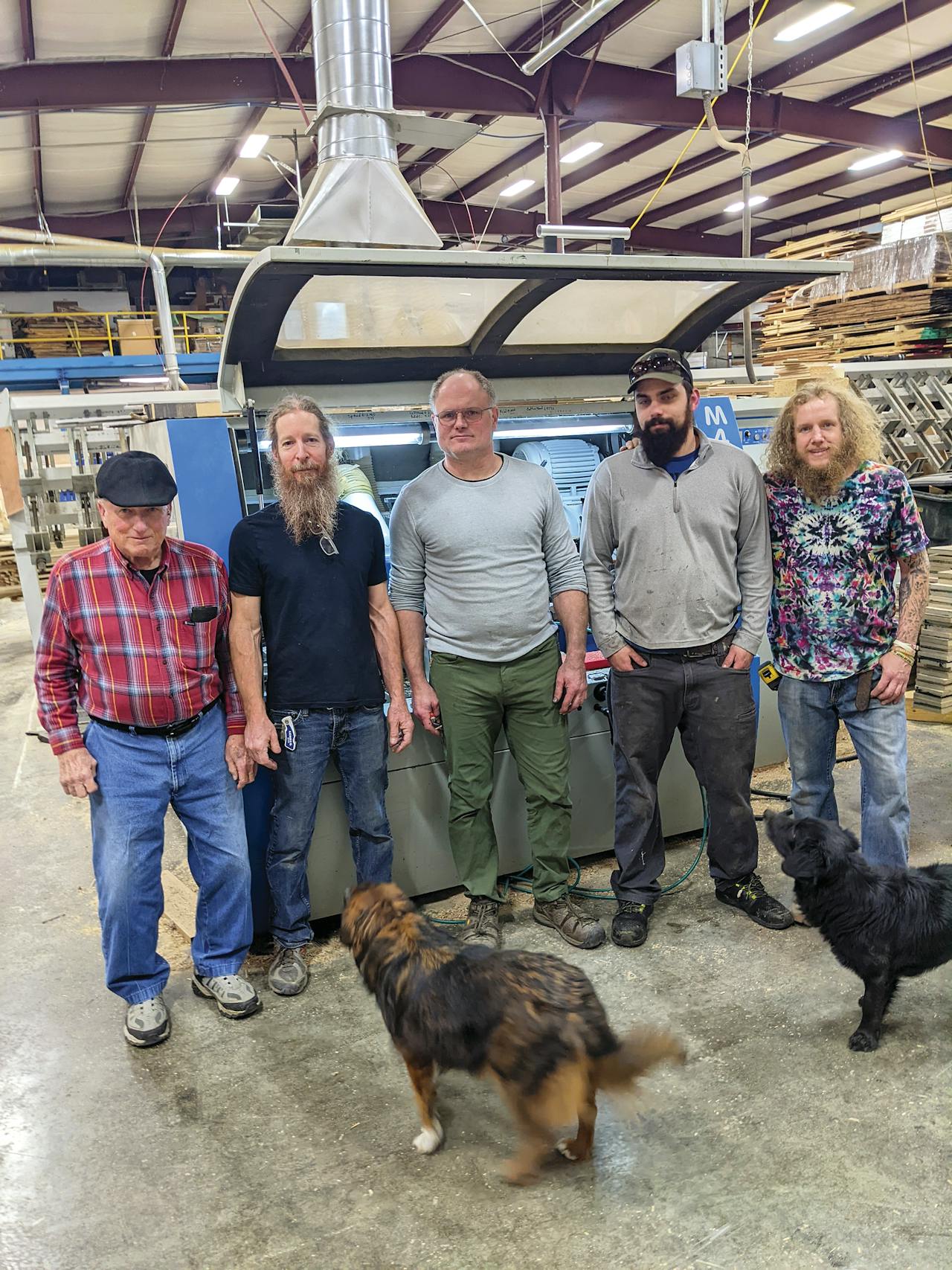 The Antes team (left to right): Richard Antes (aka "Pops'), Jon Stedge (shop manager), Dan Antes, Iain MacDonald (CNC operator) and Thomas James (moulder and rough mill operations).