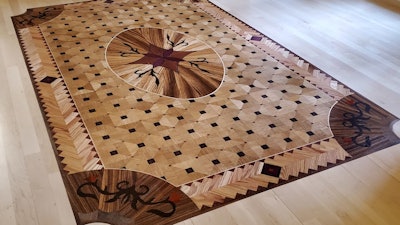 It all started with some splattered paint. Matthew Szyszka of Chicago-based Floor Master Co. was asked to return to a maple floor he'd recently refinished to clean paint drips left by some painters. When Szyszka was done, he showed the client some of the intricate inlay designs he'd worked on at a Dave Marzalek-led wood flooring class he'd just attended in Texas. The client was impressed—and asked if Szyszka could do something similar in her home. "At that moment, I was the happiest flooring guy ever," Szyszka says.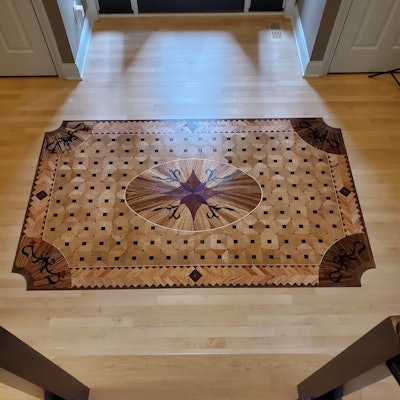 Szyszka sketched out a design and selected nine species, including purpleheart, wenge, leopardwood, zebrawood, maple, white oak, walnut, red oak and bubinga. He cut over 2,000 ¼-inch-thick pieces by hand in his shop and glued them to a ½-inch plywood panel, working on it over the course of a year in between other jobs.
He sanded the panel in his shop, using 60-grit on his edger, then he sanded with the multi-disc. He delivered the panel to the home, where he let it acclimate while he used a router and multi-tool to remove the portion of maple flooring where the inlay was planned. He decided as he was installing to add bent walnut to the corners for additional flair. "Because it took me so long, I think it turned out even better, because I added a few little details at the end that I didn't plan to do," Szyszka says, "and all those little details made a huge difference."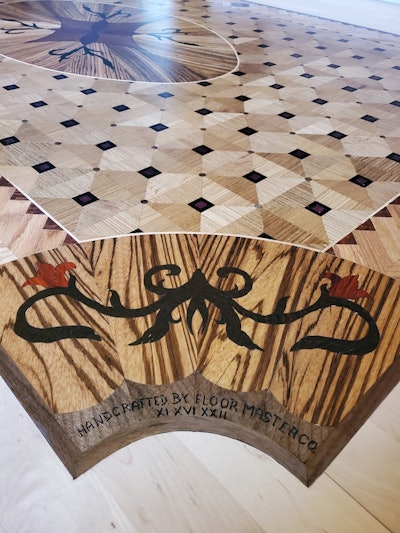 With the panel glued securely in place, Szyszka sanded its edges with 100-grit to ensure it was flat with the surrounding ¾-inch maple, then gave it a final pass with 120-grit on his multi-disc. He then applied one coat of sealer, followed by two coats of waterborne finish.
After the work was done, the client surprised Szyszka with another request: that he sign the work. "She said, 'If you're going to get famous, I'm gonna tell everyone,'" Szyszka laughs. "I said, "'Hey, I don't have time to be famous!'" Szyszka used a wood burner to sign and date the work, a fitting end for a project that started with a cleanup and ended with an artwork.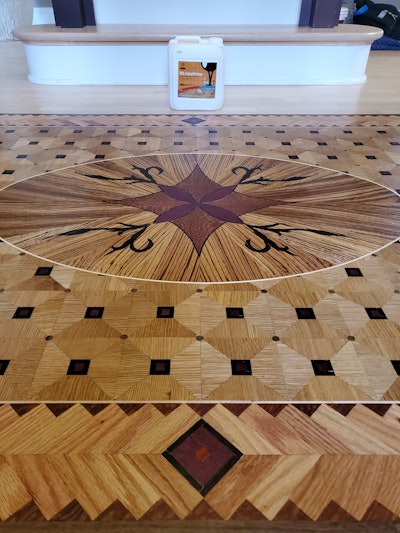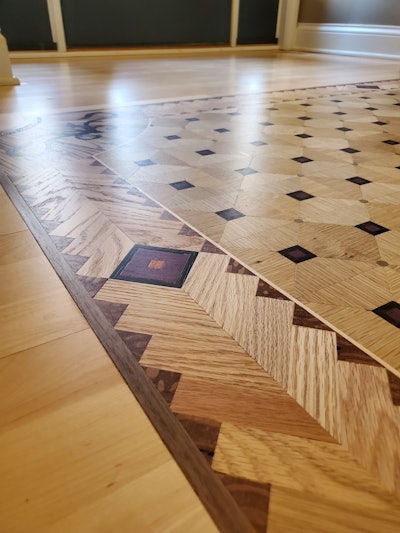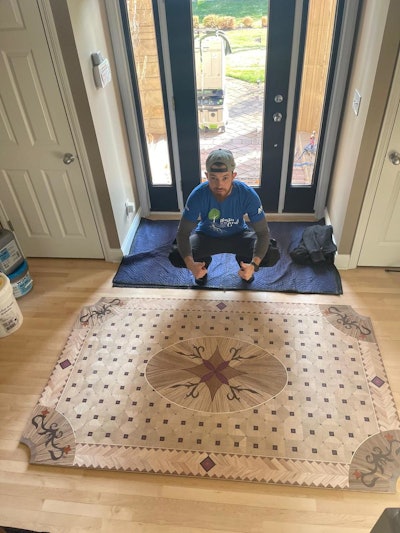 SUPPLIERS: Adhesive, Finish, Moisture Barrier: Loba-Wakol | Edger, Multi-Disc: Lägler | Router: Festool 1400