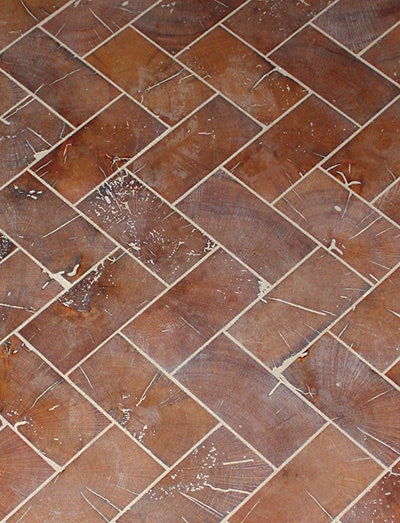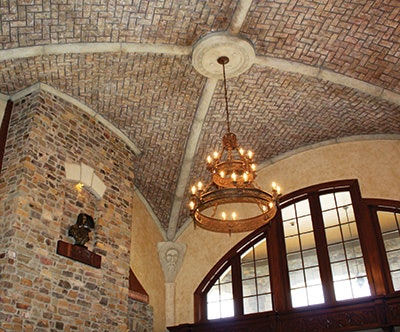 Dan Antes of Distinctive Hardwood Floors in Nashville, Ind., wowed the wood flooring world in 2012 with his live-edge white oak floor. The ultra-custom floor with 27-foot-long planks won the Wood Floor of the Year trophy for "Best Limited Species" (see the article from the June/July 2012 issue). What most people don't know is that the other wood floors in that multi-million-dollar home, including this end-grain that mimics bricks, were also stunning.
This room's floor was originally conceived as plank herringbone to echo the vaulted ceiling pattern, but after the customer saw end grain lying around in Antes' shop, he asked if that could be made into herringbone. Antes sourced reclaimed white oak barn beams, then denailed and cut them into 12-inch-long blocks for kiln drying. Once dried they were cut to 5⁄8-inch thickness, and a chop saw was used to get their final 4-by-9-inch dimension.
After installation, the end grain was sanded using a buffer with a Satellite attachment, then wire-brushed with the Satellite, as well. Antes used a lye wash to give the floor its rich brown appearance. "The lye wash is caustic; it breaks down the softer wood fiber and gives it a weathered wire-brushed appearance," he explains. The end-grain surface was waxed by hand, being careful to not get the wax on the sides of the end grain to allow bonding to the grout mixture, which is made of clear resin, granular pigment and cork.After grouting, the grout mixture was cleaned off the end grain surface, and another coat of wax applied. Together with French limestone, the floor mirrors the ceiling.
Although Antes says engineered end-grain can be tight-laid, with solid pieces this big he feels the grout is a necessity. In this Indiana home, the owner also has a water feature that cascades from the second story to the basement, and the flow can be tweaked to adjust the home's relative humidity. Between that and Antes' careful drying and expert installation process, the floor is performing beautifully. "It's actually on radiant, and it's behaved remarkably well," he says.