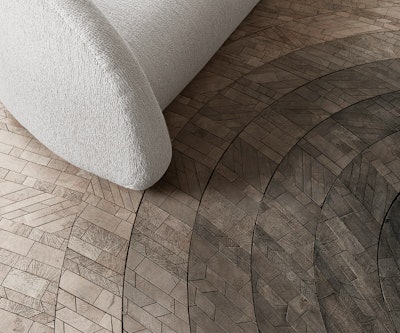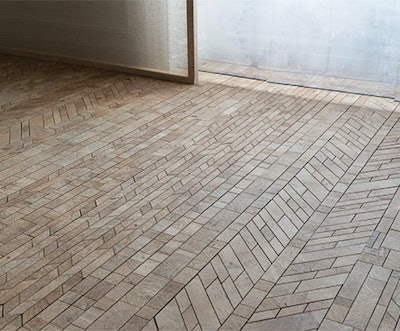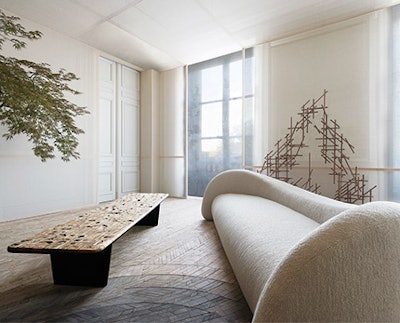 Is there a way old-world parquet flooring can be modernized for contemporary design? French designer Raphael Navot makes a case with his collection "La Forest de Bois de Bout."
Roughly translated to "the forest of end grain," the engineered collection from Paris-based high-end manufacturer Oscar Ono features end-grain mosaic shapes cut by hand and by machine that, when pieced together, could appease even the strictest minimalists. The collection consists of seven products, each with its own mosaic pattern sketched first by Navot and then cut from oak end grain by the woodworkers at Oscar Ono. The shapes—squares, rectangles, parallelograms—are 4 mm thick and glued on top of a 20-mm base. Gaps between each shape were intentional and make the floor come alive, Navot says (although future retail versions of the floor will be sold with filler options). The tongue-and-groove boards are 40–200 mm wide (roughly 2–8 inches), depending on the pattern.
In this installation, Navot combined the seven patterns and glued them to the subfloor. He also built and installed a concentric ring inlay, with each ring shifted 5 degrees and stained darker than the one preceding it. The floor was finished with a UV-cured oil.
The result is an innovative blend of old and new practices. Navot says: "It's extremely contemporary in its expression, but extremely traditional in the way its crafted."