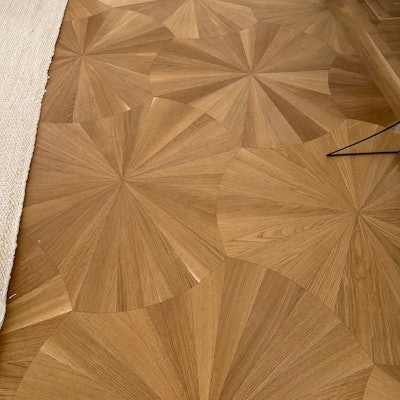 Private island. Gorgeous mansion. It seems like a place James Bond might find himself trapped. But inside this immaculate 23,000-square-foot home you'll mostly just find stunning wood floors, including this one-of-a-kind parquet floor.
The show-stealing parquet on Tarpon Island, the only private island in Palm Beach, Fla., was the result of a collaboration between Alex Calderon of Miami-based Cal & Son Carpet & Wood Floors and Winneconne, Wis.-based Oshkosh Designs. It's located in the home's 700-square-foot "club room" with a view of the outdoor tennis courts. "We came up with an idea for a parquet because the room is hexagonal," Calderon says. Designers drew up a lily-pad-like white oak parquet, and Calderon pitched it to Oshkosh, which knocked it out of the park (or, in this case, the island).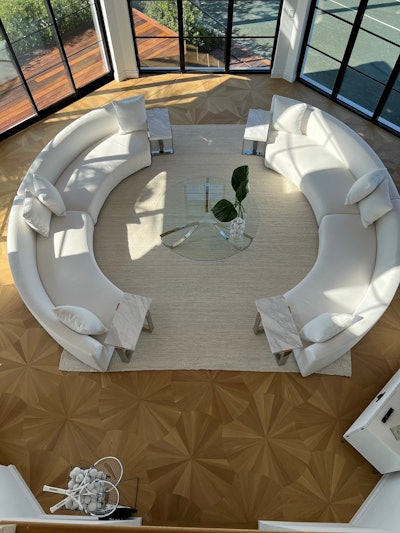 Prior to installation, Calderon added two layers of birch plywood for the subfloor, going to great lengths to ensure it was level. "If you start with a perfectly level floor and you have good installers, then the end result will be perfect," he says.
The ⅝-inch rift white oak parquet arrived taped together, and Calderon and a three-person crew measured and began the install slightly off center so the parquet wouldn't be cut off at awkward angles against the walls. The thin triangles that make up the parquet were a particular challenge, as they narrowed "down to zero" inches. "It was too thin to nail, and we were worried that the glue wasn't going to hold it," Calderon says. "So we made these little blocks and put a screw through it to squeeze those little tips down into the glue. We did that for each one of those."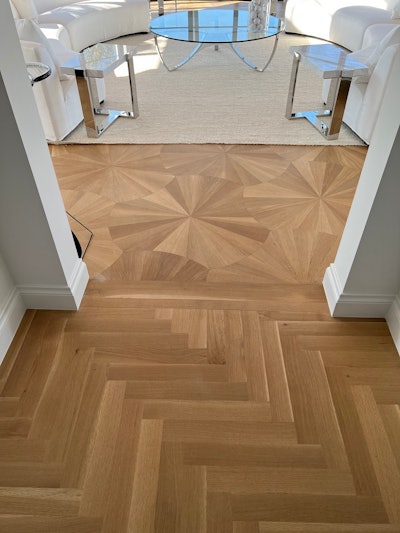 Sanding was an equally meticulous process once the install was complete. "We had to run the sanders several times in every conceivable direction to avoid getting swirl marks," Calderon says. They coated the floor with one coat of waterborne sealer followed by three coats of waterborne matte finish.
Installation, sanding and finishing took about two weeks to complete. Calderon and his crew also installed 17,000 square feet of rift-and-quartered white oak from Maxwell Hardwood Flooring with stainless steel feature strips throughout the majority of the renovated 1930s home, which is currently for sale for $218 million. Word about the parquet spread pretty quickly—it's hard to keep a gem like that a secret on Tarpon Island. "The whole house is over 20,000 square feet, and this one room is what everybody keeps talking about," Calderon says.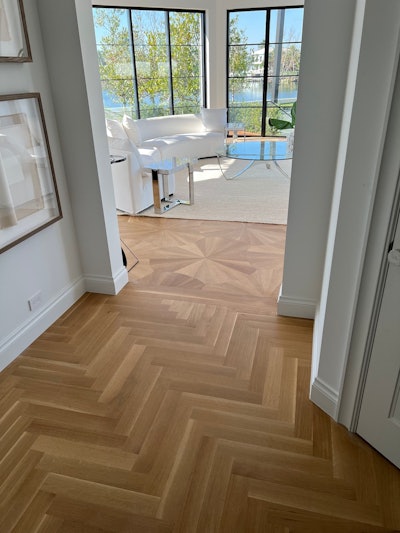 SUPPLIERS: Adhesive: Sika T35 | Finish: Bona Amber Seal, Bona Mega One | Wood flooring: Oshkosh Designs, Maxwell Hardwood Flooring